---
Select a material to learn more about each product.
---
Commercial Bathroom Partitions From One Point Partitions
In a commercial setting, clean, attractive and functional bathroom stall partitions and dividers are important. You want your customers to feel safe and comfortable when they use your bathrooms, which gives them a good impression of your business and a better chance of coming back. Dirty, broken bathroom partitions that don't close or lock properly are not inviting and may encourage your customers to go elsewhere.
Take advantage of the commercial bathroom space you have available with our high-quality bathroom partition walls and some help from our experienced design team. We offer free design consultation so that you can benefit from our expertise in bathroom divider design and layout. With years of experience designing partitions for commercial bathrooms of all shapes and sizes, our team can handle your bathroom design as well.
A Custom Layout in Your Choice of Materials
Not only will we work closely with you to create a clean, attractive, efficient bathroom stall partition layout, but we'll also help you choose the perfect materials. Having the right style in your commercial bathrooms can enhance your brand and the impression you give your visitors and customers.
At One Point Partitions, you can choose from five different product families, each offering a unique combination of value, durability and style.
Powder-coated steel
Laminate
Solid plastic
Phenolic
Stainless steel
You can also select from a wide range of finishes and colors to get the style and appearance you want. All of our products meet the legal requirements for commercial bathroom dividers in terms of health and safety. Built right here in the USA, our bathroom partitions keep hard-working Americans employed.
Thanks to our local production, we're sure of the quality and safety of our products, unlike those that come from foreign countries where we can't control the raw materials.
Free Design Consultation
Our team here at One Point Partitions likes to go above and beyond to offer you added value. We offer you free design assistance for your commercial bathroom layout. This allows us to share our experience and help you gain in bathroom comfort and efficiency. In many cases, we can help you gain precious space through intelligent bathroom divider layout.
Tell us about your project! You can fill out our online quote form or give us a call at 800-756-6817. Do you have an idea of your budget or the style and colors you want? Click through our selection of bathroom partition walls and see just how many choices we have available to you. You'll be getting American-made quality and a durable finish that's easy to install. Check the different materials for the length of guarantee we can offer.
Once you've identified the materials and colors that interest you, let us know and we'll ship you some free samples. You can view them in person and choose your favorite, which we'll integrate into your commercial bathroom design. Contact us today and we'll get started right away on your all-new bathroom stall layout.
POWDER COATED STEEL
STARTING FROM
$275 per stall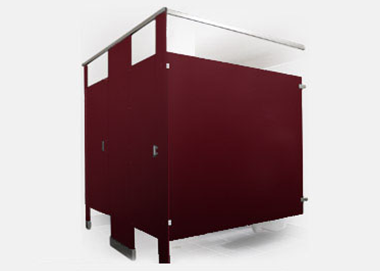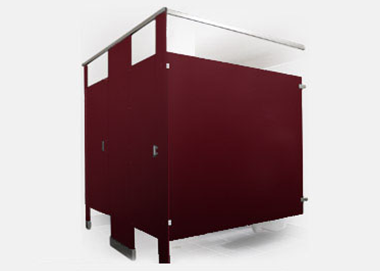 The best quality at the lowest possible price. Modern metal partitions are finished using powder coat over galvanized steel yielding a surface resistant to corrosion, grease, acids, mars and stains. The best quality at the lowest possible price.
Economical & durable, 3 year warranty
LAMINATE
STARTING FROM
$375 per stall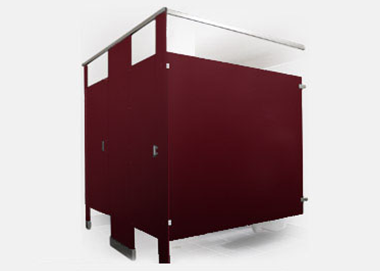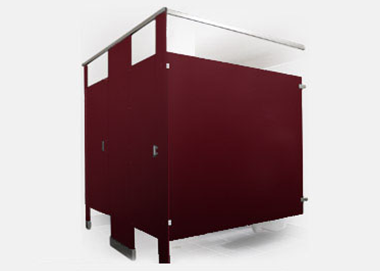 Laminate is a classic toilet partition material that offers many color and pattern choices. The high pressure laminate finishes, bonded under pressure to a solid impact-resistant particle board core, meet or exceed all NEMA standards. Edge banding of all components prior to face lamination ensures optimum water runoff and durability
A classic choice, 5 year warranty
SOLID PLASTIC
STARTING FROM
$450 per stall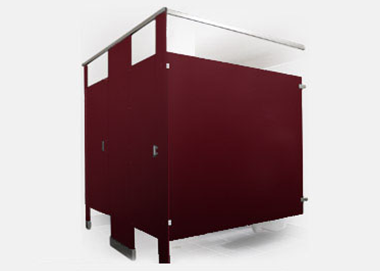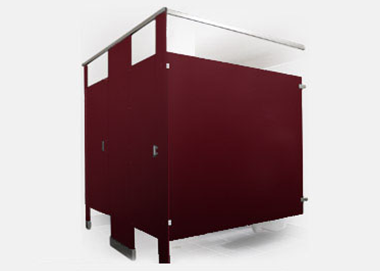 Solid plastic is highly resistant to most common cleaners, moisture, mold, mildew and graffiti. This is the ideal material for any shower room, or in any busy public restroom. Solid plastic is extremely durable, does not rust, or easily dent. Available in a wide array of colors.
Very low maintenance, 15 year warranty*
PHENOLIC
STARTING FROM
$700 per stall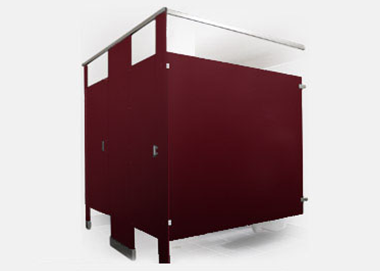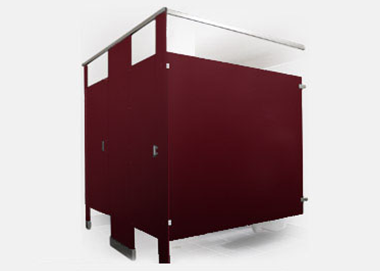 Phenolic partitions are the material of choice where durability and strength are required. These partitions are fabricated to stand the test of time. The dense components, combined with stainless steel brackets and fasteners, stand up to the most extreme conditions of moisture and humidity. Phenolic is impact, water, and corrosion resistant, and does not support bacteria.
Durable & contemporary, 10 year warranty
STAINLESS STEEL
STARTING FROM
$700 per stall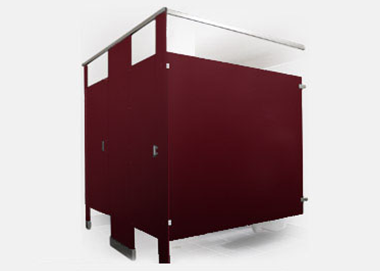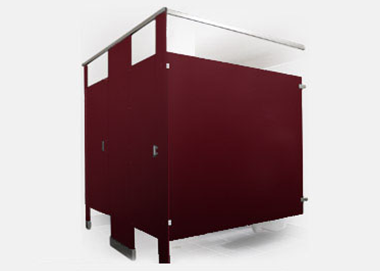 The beauty of stainless steel easily compliments any contemporary bathroom interior. Stainless toilet partitions are corrosion resistant, easy to maintain, and also allow for scratches to simply be buffed away. Partitions can be purchased in either satin or textured finishes.
High class & high quality, 5 year warranty