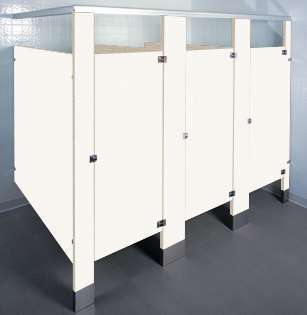 REQUEST COLOR SAMPLES
USE OUR PRICING TOOL
Laminate
SELECT A COLOR TO CHANGE THE PARTITION IMAGE


LAMINATE
When designing a public restroom, you likely want budget-conscious stalls that fit your brand image. If so, laminate bathroom stall partitions are the way to go. Our laminate partitions are an economical choice with a commercial-grade quality.
Our Moisture Guard™ laminate bathroom stalls have an industry-leading warranty. Edge Banding eliminates the black lines found on most other laminate partitions, and has increased moisture resistance and a beautiful appearance. Their superior construction comes at a fantastic price point.
Benefits of Plastic Laminate Partitions
Are plastic laminate toilet partitions the right fit for your public restroom? Laminate stalls will speak to the interior designer in you and last for years to come.
Customization: 

Our laminate partitions 

come in 48 stunning colors

. Among them are solid color, wood, stone and cloth patterns. Choose from dark designs for a dramatic look or a lighter pattern for a soft, calming appearance. 

Laminate partitions provide a beautiful aesthetic that can match any color palette or taste

.

Superior appearance: Traditional black-core laminate partitions reveal black lines at the corners. On our Moisture Guard™ laminate partitions, Edge Banding creates a seamless, beveled edge. This construction makes an already highly customizable, interior design-friendly material even more attractive and high quality.
Moisture resistance: Our Moisture Guard™ laminate partitions lock out moisture. The Edge Banding prevents water seepage better than the exposed edges of traditional laminate. While not intended for a wet environment, the design can take on some splashing and steam. In a humid climate, protect your investment with proper ventilation.
Average maintenance: 

Laminate is generally easy to clean. The material will not absorb dirt or stains, and you can 

wipe it down with mild soap

.

Affordability: Starting at only $375 per part, laminate partitions are very affordable. Our laminate bathroom stalls are one step above our most 

economical

 partitions. 

The particleboard core costs less to manufacture, while the thick laminate shell makes them resistant to dirt and grease

. With their superior design and color flexibility, laminate partitions are very cost-effective. 

Durability: Our plastic laminate partitions have a dense particleboard core. This core ensures a smooth surface that resists warping. The outer layer is a thick vertical grade laminate for a protective barrier. ATSM testing proved our Moisture Guard™ Edge Banding has three times greater durability than traditional laminate. Thanks to an improved design, our laminate partitions have an impressive five-year warranty. That warranty is longer than any other laminate partitions in the industry.
Material Details


The laminates used in our partitions are Formica or Wilsonart, depending on the color choice. The vertical-grade laminate bonds to the particleboard core under high pressure.
Reinforced quality material: 

Our laminate bathroom partitions have one-inch-thick doors and panels. 

The decorative laminate has a matte finish and wraps around the edges for extra durability

. It 

bonds

 to a resin-impregnated particleboard core with a 45-pound density. A smooth, warp-resistant base combines with beautiful laminate for a long-lasting attractive partition.

Vandal resistance: 

The fasteners that come with our bathroom stalls are 

nearly

 vandal-proof. 

As you install the brackets, you'll use a special driver that makes them easy to install, and 

virtually

 impossible to remove

. You'll protect your doors and panels against unwanted removal and theft.

Easy-install shoes: The laminate pilasters stay firmly in place with our easy-install shoes. You won't need to drill holes in the pilasters to attach them. The shoes are sturdy stainless steel, with a holding power that keeps your pilasters plumb for years to come.
Wraparound hinges: The hinges feature a wraparound construction that clamps to the door and supports. It also has a through bolt that prevents tampering from visitors.
Slotted keeper: The keeper that latches the door shut follows ADA requirements. Its slotted design paired with gravity hinges allows for access in case of an emergency.
Specifications
Wondering if our laminate toilet partitions will fit your restroom? Try our online pricing and layout tool. Using this tool, you can enter the dimensions of your room and select from a variety of popular layouts. You may choose an ADA-compliant layout and are sure to find a design that fits your space. We also offer complimentary custom design services, so you can get a layout guaranteed to fit.
Panels: Our laminate partition panels are one inch thick. The particleboard core is 7/8 inches thick, and the outer laminate is 0.050 inches thick. Mount them 12 inches above the finished floor, with equal clearance above and below. At One Point Partitions, you can select a depth for your panels based on the size of your room. Your barriers can be anywhere from 36 to 78 inches deep, depending on the dimensions of your room.
Doors: The doors to our laminate partitions also have a thickness of one inch. They should align with the stall panels, mounted 12 inches above the floor with equal clearance on the top and bottom. You can also select a door opening to fit the needs of your space and the number of stalls you want to include. You can choose a door size from 22 to 36 inches.
Pilasters: The pilasters or supports that come with our laminate partitions have a finished thickness of one and a quarter inch. In a floor-to-ceiling style installation, they have a maximum height of 108 inches. In a ceiling-hung mounting, they have a maximum height of 108 inches. You'll need X bracing for any height above 96 inches.
Privacy screens: If you would like to include some additional privacy screens in your restroom, you can select from a variety of depths. Your urinal privacy barriers can be anywhere between 18 and 57 1/2 inches deep. They come in three standard heights: 42 inches, 48 inches and 58 inches.

Pilaster shoes: Our laminate pilasters fit snugly in the easy-install pilaster shoes. They are three inches tall and made from stainless steel with a satin finish. They stay in place with vandal-resistant screws.
Wraparound hinges: 

Our wraparound hinges are 2 1/8 inches long and 1/8 inches thick. Chromium-plated Zamac ensures they will not rust. They swing freely in two directions around their axis and have a gravity bottom, so they rest in a closed position.

Fastening hardware: We use rust-resistant chromium-plated Zamac to make our fastening equipment. The hardware has theft-resistant barrel nuts and shoulder screws.
Request a Free Quote Today



Ready to outfit your commercial bathroom with the best laminate bathroom stalls in the industry? Contact the partition experts at One Point Partitions today. We'll help you with every step of the process of buying new bathroom partitions with our reliable one-on-one service. Our design experts will even give you a mockup of your new restroom, absolutely free.
Use our handy online pricing tool to get a fast quote and see how we can help you create an amazing commercial bathroom today.

Use Our Pricing Tool
Try out our new pricing tool and get prices without the wait in 3 easy steps!