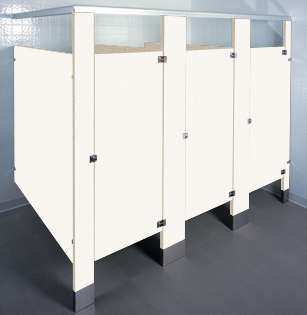 REQUEST COLOR SAMPLES
USE OUR PRICING TOOL
Laminate
SELECT A COLOR TO CHANGE THE PARTITION IMAGE
LAMINATE
If your location has a restroom that's available to the public, it's often necessary to ensure it's ADA compliant. If you want to create a handicapped-accessible bathroom or you want to remodel your current restroom so it complies with the law, the design team at One Point Partitions can help.
Using our laminate bathroom stalls, our designers can design a bathroom for your location and create a mockup for you. Our design and mockup services are free to interested parties and we don't require people to make a commitment to buying our laminate partitions before they use our design services.
We know how important it is to have a vision before you start any kind of construction project. That's why we're always happy to create that vision for people who have an interest in our laminate bathroom partitions.
Where They're Made
Our laminate restroom partitions are made right here in the United States. We're proud of our country and the hard workers who craft our laminate bathroom stalls, which is why our products are made exclusively in the U.S. Our durable laminate partitions are made to last and they're backed by one of the country's largest partition makers: Global Partitions.
Installing Our Laminate Bathroom Partitions
We provide video instructions and ample resources to make installing our laminate restroom partitions a breeze. If you have questions, our knowledgeable customer service representatives will be happy to answer them during the installation process and for however long you have our laminate partitions installed at your property.
Request a Quote
Of course, you can't install our laminate partitions until you have them. Request a quote for our laminate bathroom partitions now. Pricing starting at $375 per stall.

Use Our Pricing Tool
Try out our new pricing tool and get prices without the wait in 3 easy steps!