Last updated on July 1st, 2019 at 06:53 pm
Bathroom Partitions for Your Bars From One Point Partitions
A bathroom might seem like an afterthought in many locations, but it shouldn't be in your bar. The image you project needs to attract customers and keep them coming back. While the state of your bathrooms won't be the first thing they notice, it can leave a lasting impression on people. If you've been working to establish a cool, unique design and vibe for your bar, take it to the next level and extend it to your bathroom.
Here at One Point Partitions, we don't see our restroom partitions as simple catalog products. We offer design and layout experience that helps you turn your bathroom into an extension of the style you have going in your bar. You can create a clean, functional and inviting ambiance in your bathroom and show your customers that you have an eye for design and attention to detail.
Bar Bathrooms Don't Have to Be Boring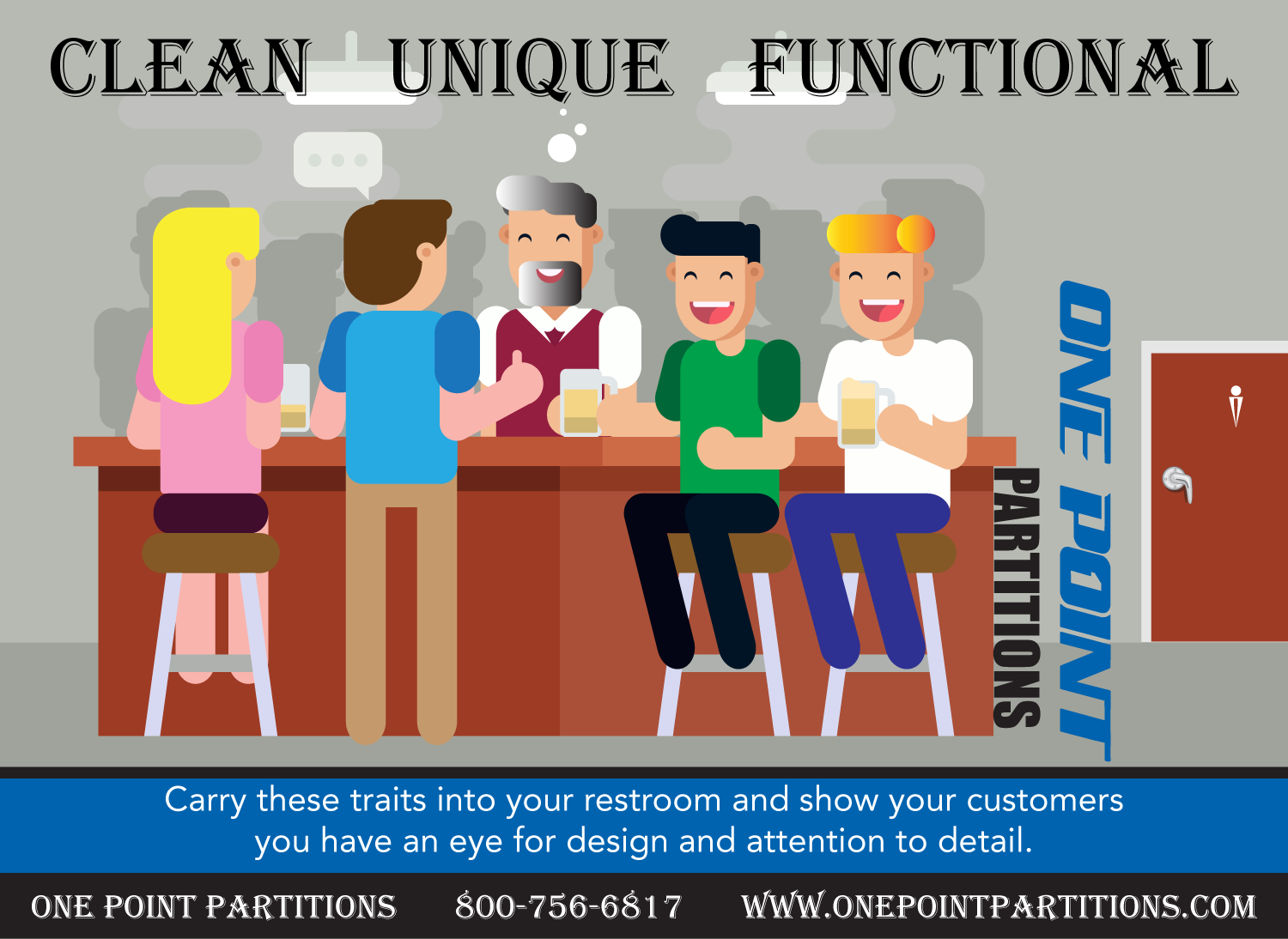 If you have some fun ideas for your bar's bathroom, you've found the right partner! Our designers love to have the chance to get creative and find cool ways to integrate our durable and practical partitions into the design of your bathrooms.
First and foremost is practicality of course, and we have that covered:
You can choose from five different materials, each with their own appeal and attractiveness, but all manufactured for durability, corrosion resistance and easy cleaning and maintenance. You can select powder-coated steel, laminate, solid plastic, phenolic or stainless steel.
Our bathroom partitions are all manufactured right here in the USA. Hardworking Americans pay close attention to detail and produce higher-quality partitions than you'll find from a foreign supplier. Your bathroom partitions are easy to install and will look great for years.
To satisfy all of our customers, we offer a wide range of colors and finishes. You can go for cool and clean with white, silver or beige or aim for something more dramatic, like a marbled finish or intense reds and blues. To make your decision easier, we can even send free samples for comparison.

Use Our Pricing Tool
Try out our new pricing tool and get prices without the wait in 3 easy steps!