Restroom Partition Products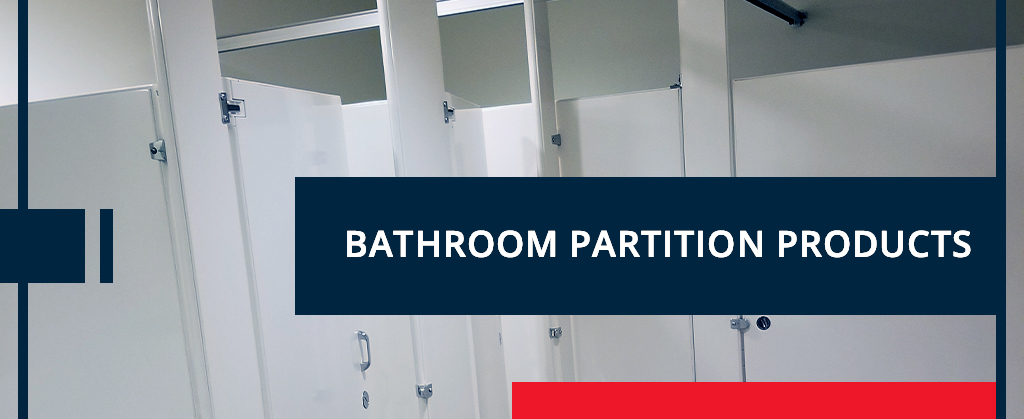 Are you looking to build a new restroom for your business, or perhaps remodel and outfit a pre-existing bathroom? It's an exciting job, but it can also be challenging. If you're going to take on this task, then we recommend choosing a reliable and knowledgeable partner to stand by your side and help walk you through the process of picking out restroom partitions.
Here at One Point Partitions, that's exactly what we do. As you design your bathroom, you'll need to make many decisions, such as how many stalls to include, what type of materials to use and what sort of layout to build. We want to walk you through these important decisions, step by step.
We have the necessary knowledge and experience to provide you with high-quality restroom partition parts that get the job done. We make it our business to keep up with all the latest news and updates in the bathroom business in general and regarding toilet partitions, specifically. Because of this, we can provide you with the most up-to-date, durable and attractive bathroom partitions on the market.
Never purchased partitions for your restroom? Not really sure where to start? That's OK. We're prepared with a breakdown of all the different types of partitions, including individual parts, available.
What Makes Different Toilet Partitions Unique?
If you've never had to purchase partitions for your restroom before, you might have easily assumed that they were a one-size-fits-all solution. Sure, you've probably seen them in different colors, but you might still have believed that they were all made of the same material — metal, or maybe plastic.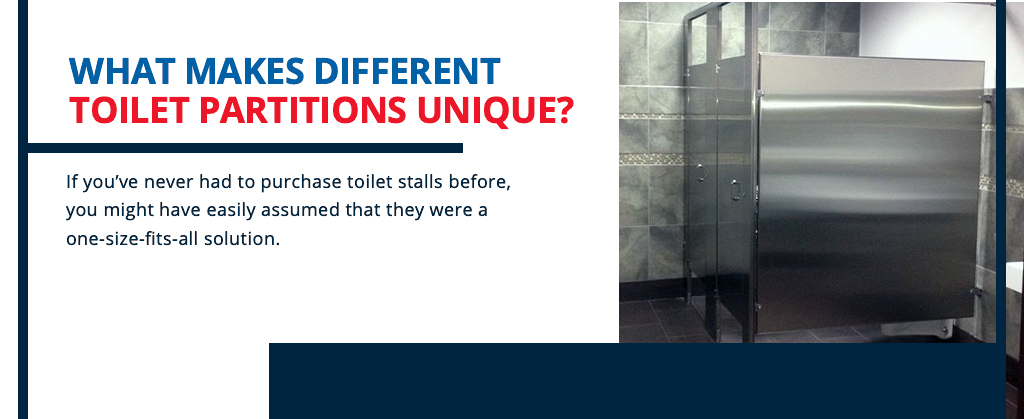 This just isn't the case. Bathroom stall partitions are available in a wide range of different materials, all of which come with their own strengths and attributes that make them well-suited to different settings.
Partitions for Toilets
No matter what kind of business you run, you must think about the impression your restroom gives customers. Having a well-designed and clean restroom goes a long way toward impressing them. Whether you are remodeling your existing space or constructing a new bathroom area, we can help.
At One Point Partitions, we strive to plan the perfect bathroom for your space. Our helpful support team helps you find the partitions that fit your needs the best. Whether you are picking out partitions for an office space or restaurant restroom partitions, we have the experience you need.
Our restroom partition systems are constructed from a variety of high-quality materials, varying in price. Whether you need high-end toilet partitions or you are looking for budget-friendly options, we can help.
First, you need to pick the material for your partitions. We have five options, each with its own benefits. If you are unsure which material to use for your restroom stall partitions, one of our team members can help you decide which material will work best for your specific needs.
From there, we need to figure out how the design of your partitions. During this process, we look at the number of toilets and sinks you're planning to include and any other amenities, as well as the room dimensions. Our online floor plan and pricing tool can also help you design your partitions.
In addition, we alleviate some of the work of the installation process by providing fast delivery of all the restroom partition door hardware you need. There are various ways you can mount your toilet partitions. Speak to us if you are unsure what the best solution is for your public restroom.
Urinal Partitions
You want your customers to be comfortable and relaxed while visiting your location, and that includes while they're in the restroom. By offering them clean, functional and attractive urinal partitions, you're helping them enjoy a safe and private bathroom experience. At One Point Partitions, we strive to provide top-quality urinal dividers from high-quality materials at reasonable prices.
We'll never treat your bathroom like a "one size fits all" situation because it's not. Instead, we help you design a bathroom that your customers will enjoy using. Our custom solutions meet every need you have. And with our expert design team by your side, you receive free advice when you need it the most.
Not only do we offer a wide range of materials and colors; we can help you create that custom urinal design that matches your business's branding and décor. This option is especially helpful if you are simply performing a remodel and don't want to swap out your existing fixtures or repaint the space.
Urinal screens provide more privacy between each station. And while it isn't the same thing as having restroom partition doors, the screen provides an economical and space-saving option. In addition, these urinal screens give each person more personal space and make better use of the space.
Start by choosing the material and color that suits your restroom. Then, design the bathroom layout with our free quote builder. All of our commercial bathroom dividers are simple to install, and we always supply easy-to-understand instructions. You even get the hardware needed to complete the job fast.
Partitions for Commercial Restrooms
In your commercial setting, having a clean and attractive bathroom is an essential part of your business. Your customers deserve to feel comfortable and safe while using your bathroom. Broken partitions that don't close properly may keep customers from coming back. But with our commercial bathroom partitions, you're ensuring your customers have an excellent bathroom experience.
Make a great first impression by replacing your partitions. Even simply replacing your restroom partition walls can make a world of difference.
Consider the following factors when picking out partitions:
Customers want to feel safe. When a person walks into the bathroom, they want a secure, private space with a locked door.
Customers want a clean space. The best partition designs and layouts make it easy to have the restroom cleaned regularly.
Customers want to be comfortable, even though they will only be in the bathroom for a few minutes. That means stalls that are at least big enough to turn around in.
With the help of our expert team, you'll be able to create a commercial bathroom space that reflects your business. Our high-quality partitions are made to last and impress. Take advantage of our free design consultation or create your own bathroom layout with our free quote builder.
High-end Partitions for Public Restrooms
There are many ways to take your partitions to the next level. High-end bathroom partitions completely transform a public restroom. There's no reason to have a sterile, plain bathroom space.
Here are a few reasons to consider installing high-end toilet partitions:
Sophistication: allow the luxury feel of your commercial space to overflow into the restroom. When customers walk into your high-end restroom, they should feel comfortable and pampered. The best part is, you can upgrade the look without redoing the entire bathroom.
Sustainable: wooden stalls may look good, but they're not practical, as they can grow mold. Why not create a luxury bathroom space with mold-resistant, durable materials instead? You also won't have to renovate the bathroom every few years, because you'll have sustainable partitions that last. Think green and reduce the number of materials that get sent to landfills.
Homey: when you install high-end partitions, you get a choice between many colors, patterns and materials. These can be used to create a space reminiscent of home. People will feel more like they're in their own bathroom, which allows them to be more comfortable.
Themed: with so many customization options, you can turn any commercial bathroom into a themed option. Allow the theme of your restaurant or business to extend into the bathroom.
To get started on luxury partitions for your public restroom, use our online pricing tool to get a quote for your project. We can also help you design full height restroom partitions for optimal privacy.
Restroom Partition Hardware
While you want to spend time focusing on your restroom partition panels and doors, you must also consider the hardware you use. After all, it doesn't matter how nice the dividers and panels are if the hardware won't hold up under constant use. At One Point Partitions, we use bathroom stall hardware that has been thoroughly tested. Our commercial bathroom partition hardware is always:
Simple to install — complete with pre-drilled mounting points and holes
Tough and solidly-built — to be used in any rough environment
Attractive and clean — providing an appealing finish
Easy to replace — so you won't have to replace everything
You may be able to find durable walls from other companies, but if the hardware isn't up to par, investing in high-quality partitions won't matter. You never know how a busted bracket or latch will affect the partition walls, and the last thing you want is expensive partitions that you can't even use.
One Point Partitions has built a reputation on providing top-quality materials and supplies to our customers. Our team carefully sources all of the bathroom stall dividers and hardware to ensure you get exactly what you need. And with a simple-to-install design, you can complete the setup with ease.
Our restroom partition brackets are attractive and help your bathroom look new again. You can choose from a variety of sizes to accommodate any installation. Additionally, our restroom partition hinges provide dependability and convenience, thanks to the unique gravity design.
But the most popular piece of partition hardware we offer is our restroom partition latches. These restroom partition locks will help keep your customers secure in the stall while offering a unique style. And you can easily install the restroom partition door latches yourself.
When you complete our online form, you can request a free quote.
How Should You Decide Which Material Is Right for You?
As you can see, there is no shortage of partition variety, from the stalls to the hardware. No matter what you're looking for, you can find it at One Point Partitions.
However, if you're not quite sure what you want, how do you know what to choose? What are the criteria you should be using to narrow down the options and make your final selection?
Here are just a few of the factors you may want to consider:
Price: big or small, flexible or not, everyone has a budget. Use it to help guide you toward the correct material. Ask yourself how much you have to spend, and then go from there.
Foot traffic and abuse levels: do you expect your new bathroom will be heavily trafficked and subject to endless abuse? Or will it only see the occasional visitor? Your answers to these questions will help determine which partition material is right for you.
Water levels: the powder-coated steel and plastic laminate partitions are not intended for use anywhere there will be high levels of water present. Even if the only moisture your bathroom experiences is in the form of extreme humidity, you'll be better off choosing a different material.
Aesthetic: As you design your bathroom, think about what you want it to look like. Maybe you are looking for a very specific color to match your tile or trim. In that case, plastic laminate might be your best bet. Are you looking for elegance and beauty? Choose stainless steel. If you're not concerned about aesthetics and simply worried about durability, solid plastic will work.
Partitions for All Types of Public Restrooms
Our commercial bathroom partitions are suitable for use in any public restroom. There are no limitations on industries or building styles. It would be impossible to name every industry that can benefit from and install our products, but a few of the most common industries we work with include:
Churches
Gyms
Hotels
Office buildings
Restaurants
Schools
Retail stores
Just think about all the places you've ever needed to use a public restroom facility, and you'll get an idea of the sheer scope of different industries we serve and the number of industries that need partitions for public restrooms. So, regardless of which industry you're in, we can find the right partitions for you.
Why Should You Choose Us as Your Restroom Partition Supplier?
What makes one seller of partitions better than another? More specifically, what makes One Point Partitions the right solution for all your bathroom needs? It's simple. We present an unbeatable combination of high-quality products and outstanding customer service that makes us the clear choice.
We want to be your partner as you work your way through this process, and we want to be with you every step of the way. We offer a free pricing tool to help you estimate your costs, and our design consultants are ready to help talk you through the entire process of designing and outfitting a bathroom.
We also offer free samples so you can make the best decision for your bathroom, and free delivery once you've made your decision. On top of all that, all of our products feature competitive prices and are made right here in America, meaning they're products you can feel good about purchasing.
If you're ready to get started, then there's no time like the present. Check out our free pricing tool to help you find a partition solution that works for you, your bathroom and your wallet.
Urinal Partitions Restroom Partitions Commercial Bathroom Partitions