Last updated on April 14th, 2020 at 01:09 pm
Bathroom Partition Products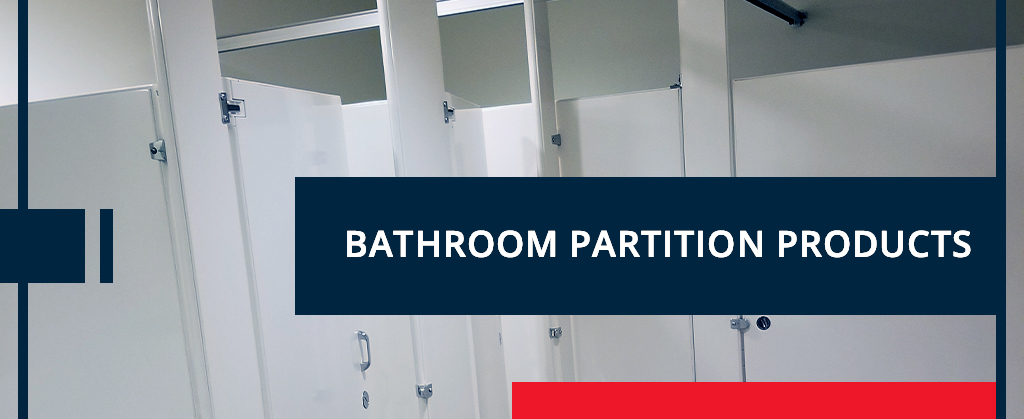 Are you looking to build a new restroom for your business, or perhaps remodel and outfit a pre-existing bathroom? It's an exciting job, but it can also present challenges. If you're going to take on this task, then we recommend choosing a reliable and knowledgeable partner to stand by your side and help walk you through the process.
Here at One Point Partitions, that's exactly what we want to be. As you design your bathroom, you'll need to make many decisions, such as how many stalls to include, what type of materials to use and what sort of layout to build. We want to walk you through these important decisions, advising you and providing you with additional information.
We have the experience and knowledge necessary and provide you with high-quality products that can get the job done. We make it our business to keep up with all the latest news and updates in the bathroom business in general, and regarding toilet partitions specifically. Because of this, we can provide you with the most up-to-date, durable and attractive bathroom partitions on the market today.
Never purchased a bathroom partition before? Not really sure where to start looking? That's all right. We've prepared this guide to break down the different types of commercial toilet partitions available today, and what makes each one unique.
What Makes Different Toilet Partitions Unique?
If you've never had to purchase toilet stalls before, you might have easily assumed that they were a one-size-fits-all solution. Sure, you've probably seen them in different colors, but you might still have believed that they were all made of the same material — metal, or maybe plastic.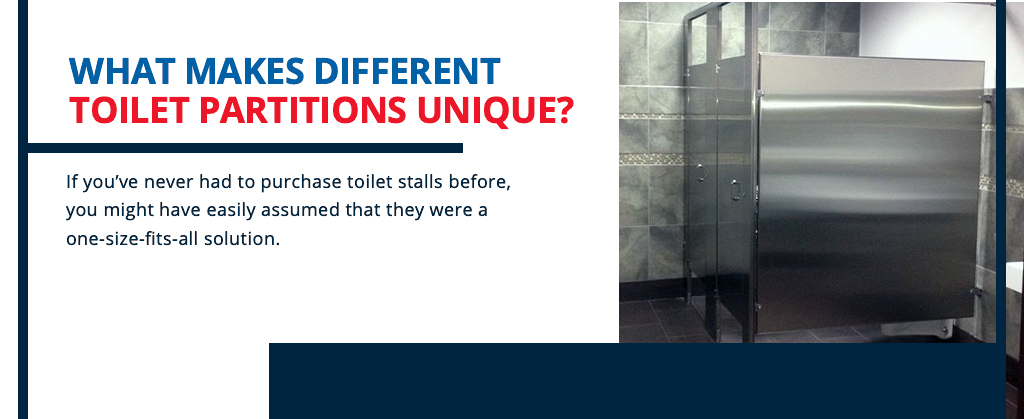 This just isn't the case. Bathroom stall partitions are available in a wide range of different materials, all of which come with their own special strengths and attributes that make them well-suited to different types of settings.
Here are the material types we'll be looking at in more detail:
Powder-coated steel: This is the most inexpensive option, making it a popular choice for more modest budgets.
Plastic laminate: Another attractively-priced model, these partitions are extremely open to customization and come in a wide range of colors.
Solid plastic: These heavy-duty partitions are built to outlast even the roughest treatment, making them ideal candidates for high-traffic settings.
Phenolic core: Phenolic core partitions are durable, reliable and long-lasting while also remaining lightweight.
Stainless steel: These partitions have it all, from strength and stability to beauty and elegance, making them well worth the investment.
You can purchase any of these material types here at One Point Partitions. To help you decide which one might make the most sense for you and be the best fit for your new restroom, however, let's take a closer look at each type individually.
1. Powder-Coated Steel
Powder-coated steel partitions are built by taking a panel of honeycomb cardboard and sandwiching it between two sheets of steel. These steel sheets are coated with colored powder which is then baked into the steel for an additional bit of flair. The unique combination of the light cardboard with the heavier steel strikes an excellent balance in this partition, creating a final product that is both light and maneuverable while also maintaining strength and durability.
Powder-coated steel partitions are the most affordably priced option on the list thanks to their lightweight cardboard core. While partitions with heavier interiors must be priced higher to make up for the cost of the more expensive materials, powder-coated steel can be sold affordably while still having a physical makeup that allows for strength and sturdiness.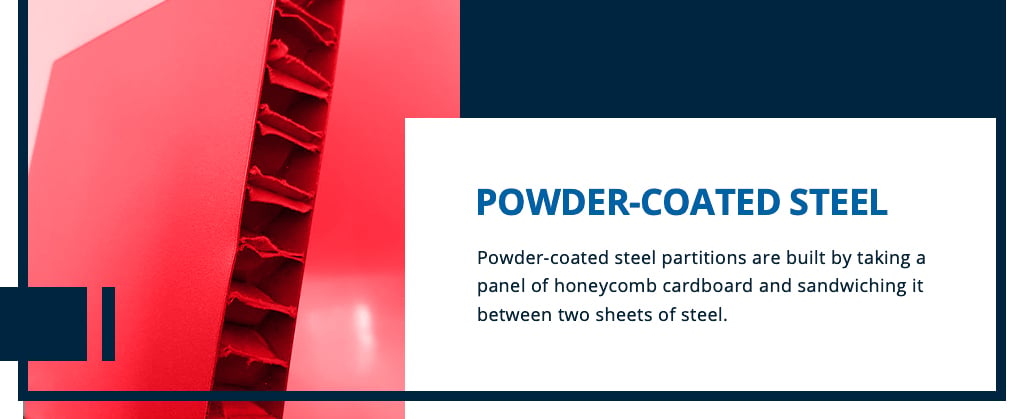 The Pros and Cons
The biggest advantage that powder-coated steel partitions have to offer is price. If your budget is on the small side, these partitions offer excellent value for your money and can be purchased at a great price. Thousands of other businesses just like yours have decided to choose this option for their new bathroom, and if you elect to do the same, you'll be in great company. Prices for these partitions typically start around $200, although they can climb much higher.
In addition to this attractive price, powder-coated steel also offers mid-level resistance from corrosion, rust and vandalism. This resistance level will not quite equal that of more expensive partitions, but it still does a quality job and makes a suitable choice for settings that expect moderate levels of vandalism and graffiti. Powder-coated steel can also be customized in a range of 15 different color options, featuring selections from grays, whites and blacks to brighter tones of red and blue.
The one potential concern to be aware of is water-performance. While these partitions offer resistance to rust and graffiti, they're not intended for use with high levels of water. This means that if you're looking to furnish a shower room, locker room, pool bathroom, or even a space with high-humidity, these will not be the best choice.
2. Plastic Laminate
Plastic laminate partitions are the next step up in terms of price. They're slightly more expensive than the powder-coated steel, but still definitively on the more affordable side of the scale. This makes them another excellent choice for anyone looking to stay within a budget. Even if budgetary concerns aren't a high priority for you, plastic laminate is a great choice for someone who isn't interested in an extremely heavy-duty model.
These partitions are built with a sheet of particleboard that's been covered over on either side with plastic laminate. The principle here is the same one we encountered with the powder-coated steel. The particleboard core keeps the price down while also keeping the partition strong, adding strength, support and shape to the stalls. Despite the many similarities between the two, these laminate partitions will ultimately be a step up from the powder-coated steel in both quality and durability.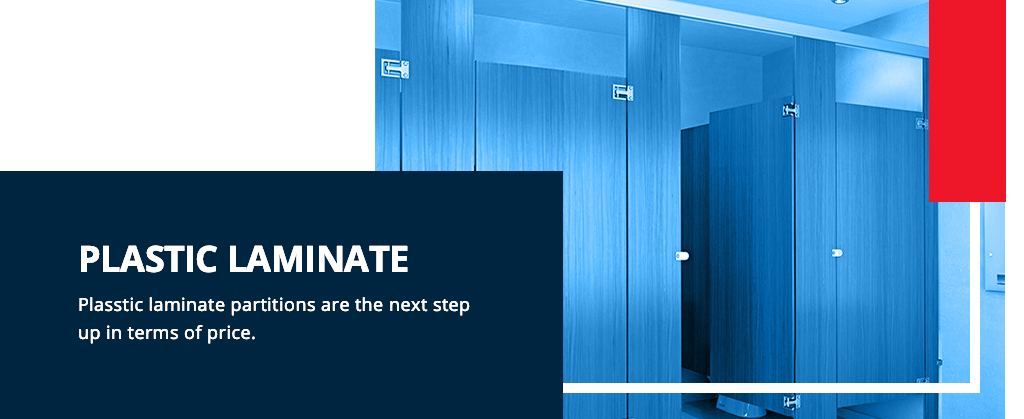 The Pros and Cons
Again, one of the biggest advantages you'll experience here is that of price. Plastic laminate partitions are affordably priced and are a perfect choice for those looking to not spend their entire budget on partitions. Even if you aren't extremely concerned about your budget, their sturdy nature alone might be a great selling point for some. After all, not every bathroom needs the heaviest and strongest partitions. If your bathroom will only experience light duty, such as a restroom at a church, plastic laminate might be an ideal material.
In addition to their great price, plastic laminate partitions are also by far the most customizable. They come in a whopping 48 different colors, from neutrals to bright colors and even options styled to look textured and patterned. From black, gray and cream to red, blue and everything in between, you can find it on a plastic laminate partition. If it's important to you that your bathroom is perfectly matched and coordinated, then this might just be the best choice for you.
As is the case with powder-coated steel, however, you will want to limit these partitions' exposure to water, as they were not designed to withstand it. Keep these partitions well away from pools and showers, and instead install them in dry spaces with low-humidity, where they will fare much better.
3. Solid Plastic
Solid plastic bathroom partitions are exactly what they sound like. They're constructed of solid plastic — an inch thick — all the way through, making for a final product that's highly durable and sturdy. Because these partitions do away with the lighter core that we've seen from other partitions, solid plastic partitions represent a higher level of strength and longevity, as they're specifically designed to last through even the toughest abuse. This makes them the perfect choice for heavy-traffic settings such as schools, malls, beaches, public parks and more.
They also represent the next step up in pricing, making them a middle-of-the-road option. This price is in return for fantastic value, however, as these partitions will far outlast some of the lighter materials we've talked about. For sheer toughness, you'll be hard-pressed to find anything that can beat this material. The prices for a typical solid plastic partition will start around $400 per stall.
Solid plastic partitions are also quite customizable, with 16 color options to choose from. With everything from neutrals to brighter colors, we think you'll be able to find the color you're looking for in a solid plastic partition.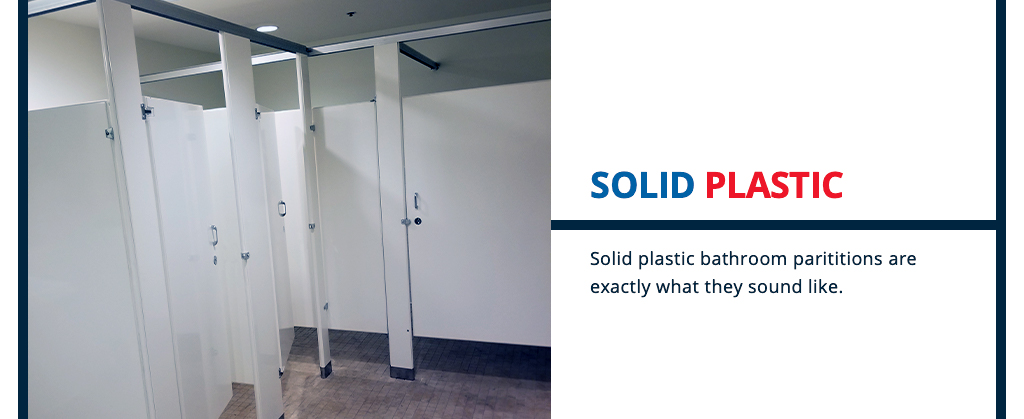 The Pros and Cons
The biggest advantage here by far is strength and resilience. Solid plastic partitions are built to take a beating and keep on going. Whether you're worried about rust, corrosion, dirt, vandalism, graffiti or even just the wear-and-tear of high numbers of people using and abusing them day after day, these partitions can take it all.
In addition to this, the solid plastic construction means that they can easily handle water contact. While this widens the range of locations where they can be installed — such as pools, showers and locker rooms — it also has another benefit, and that's ease of cleaning. You can scrub these partitions with a bucket and a rag, or simply hose them down with an open stream of water without fear of causing damage.
The only potential drawback you'll find with these heavy-duty partitions is the matter of aesthetic. What these partitions offer in sheer toughness and longevity, they may give away in aesthetic appeal. In other words, while these partitions are designed to outlast any damaging influences, they are not always intended to be the most beautiful partition. It's important to note that aesthetic isn't always the greatest good, however, and if you're outfitting a more utilitarian bathroom, then perhaps beauty and elegance aren't the foremost concerns on your mind in the first place.
4. Phenolic Core
While most of the partitions we'll look at are made from plastic, steel or a combination of the two, phenolic core partitions are a bit different. These partitions are made from layers upon layers of paper, all pressed tightly together to form the shape and size of a regular partition. These papers are then thoroughly soaked in a phenolic resin that causes the papers to stiffen and become sturdy and unbendable. The resin also does an excellent job of sealing up the cracks between papers, keeping out dirt, mold and more.
Phenolic core partitions are the second-most expensive partition on the list, but this price is well worth it. They're lightweight, like the early models we mentioned, but they combine this lightness with a surprising amount of resistance, toughness and durability.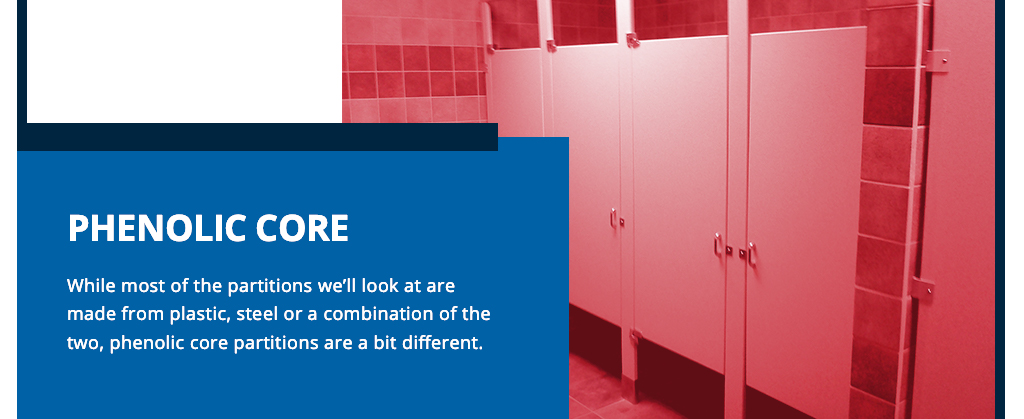 The Pros and Cons
Thanks to the effective work done by the phenolic resin, these partitions are capable of living exceptionally long lives and are generally seen as the second longest lasting partition available today. And they do this all while putting up a natural resistance to rust, corrosion, dirt, mold and any other types of damage that might seek to threaten your partitions.
While it's true that this durability comes at a price, the price is an excellent investment, considering how long these partitions will last. This means that if you're building a bathroom that you'd like to see last for many years, these partitions may be the most cost-effective option. One caveat to keep in mind, however, is that these partitions are available in a smaller range of colors than some of the other choices. You'll be able to choose from 11 different shades, mostly in neutral tones of creams and grays.
5. Stainless Steel
If you're looking for grace, elegance and sheer style, the top partition material on anyone's list should be stainless steel. As you might guess from the name, these panels are created entirely out of shining silver stainless steel. This lends them strength, durability and, of course, absolutely stunning beauty.
Stainless steel partitions absolutely top the charts in every category. From quality and longevity to durability and aesthetic appeal, these partitions are simply unbeatable. This makes them the perfect choice for settings such as luxury restaurants, hotels and office buildings. No matter where you choose to install them, however, these partitions are guaranteed to make a bold statement.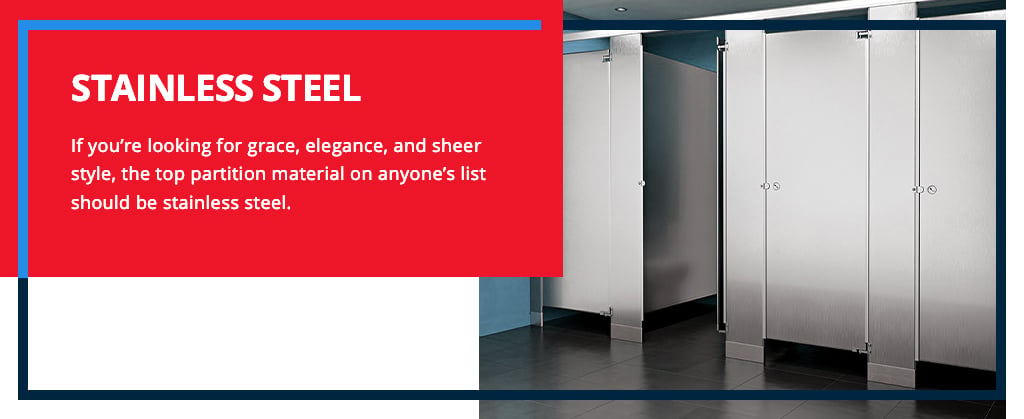 The Pros and Cons
Almost every aspect of these stainless steel partitions is an advantage worth mentioning. First and foremost, however, is the visual appeal that these partitions bring to a bathroom. They can make an ordinary bathroom look extraordinary, and a top-notch bathroom somehow look even more fantastic. Their bright silver shine isn't just all flash, either. They keep shining for years to come.
And lest the beauty of these partitions should fool you into thinking they're all looks and no actual performance value, then think again. Stainless steel partitions provide the very highest levels of protection from such damaging forces as scratching, rust, corrosion, blunt force and much more.
Stainless steel partitions typically cost about twice as much as powder-coated steel partitions, the first option we mentioned. And while this might not fit every budget, it's important to think of these partitions as the investment they are. They'll last for years, withstanding heavy traffic and potential vandalism efforts to keep serving you. In many cases, this makes them the smarter financial decision in the end than some of the more inexpensive options.
How Should You Decide Which Material Is Right for You?
As you can see based on this analysis of the different available materials, there is no shortage of variety out there. No matter what you're looking for, you can find it at One Point Partitions.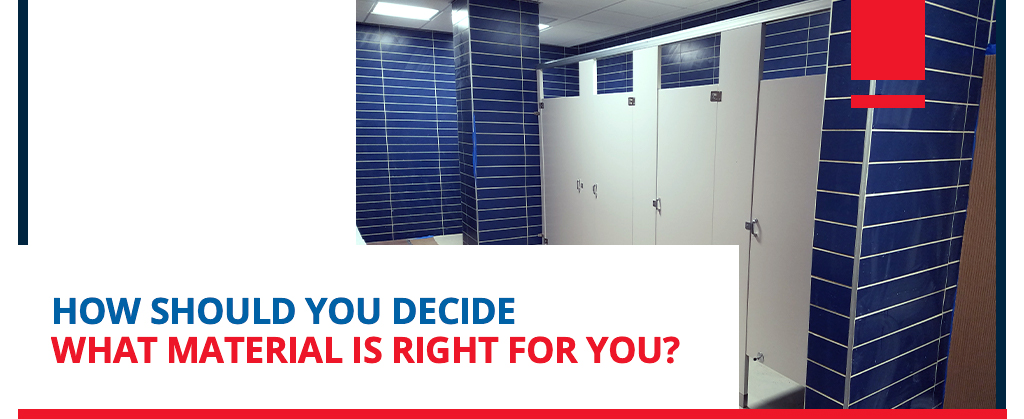 However, if you're not quite sure what you want, how do you know what to choose? What are the criteria you should be using to narrow down the options and make your final selections?
Here are just a few of the factors you may want to consider.
Price: Large or small, flexible or not, everyone has a budget. Use this as one of your first tools to help guide you towards the correct material. Ask yourself how much you have to spend, and then direct your attention accordingly.
Traffic and abuse levels: Do you expect your new bathroom will be heavily trafficked and subject to endless abuse? Or will it only see the occasional visitor? Perhaps you expect your bathroom will never incur any damage at all. Your answer to these questions will help determine which choice is right for you.
Water levels: The powder-coated steel and plastic laminate partitions are not intended for use anywhere there will high levels of water present. Even if your bathroom frequently has extreme humidity, you will be better off choosing a different material.
Aesthetic: As you design your bathroom, think about what you want it to look like. Maybe you are looking for a very specific color to match your tile or trim. In that case, plastic laminate might be your best bet. Are you looking for elegance and beauty? Choose stainless steel all the way. If you are unconcerned about aesthetic and simply worried about durability, solid plastic will work well for you.
Where Can These Products Be Used?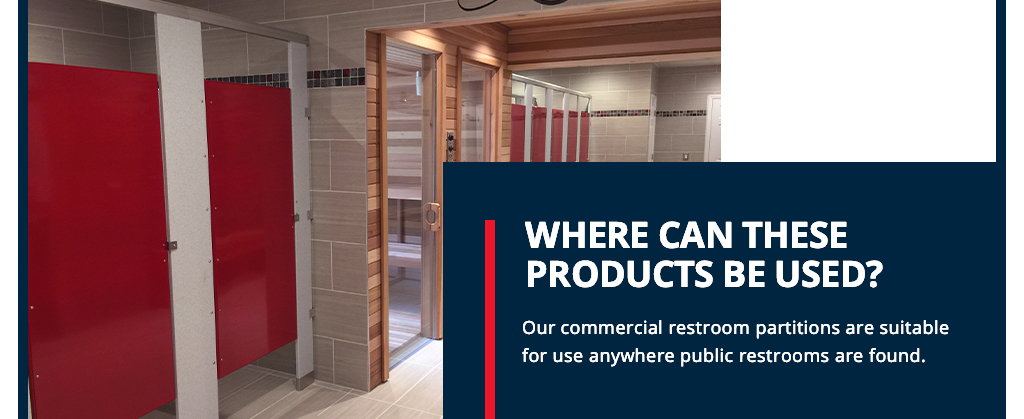 Our commercial restroom partitions are suitable for use anywhere public restrooms are found. The limits here are absolutely endless, and it would be impossible to name every industry that can benefit from and install our products. Just a few of the most common industries we serve, however, include:
Churches
Gyms
Hotels
Office Buildings
Restaurants
Schools
Stores
Just think about all the places you've ever needed to use a public restroom facility, and you'll begin to gain an idea of the sheer scope of different industries we serve and the number of industries that need to shop for restroom partitions.
If you're building a bathroom in these or any other similar industries, then our partitions might be the right fit for you.
Why Should You Choose Us as Your Toilet Partition Supplier?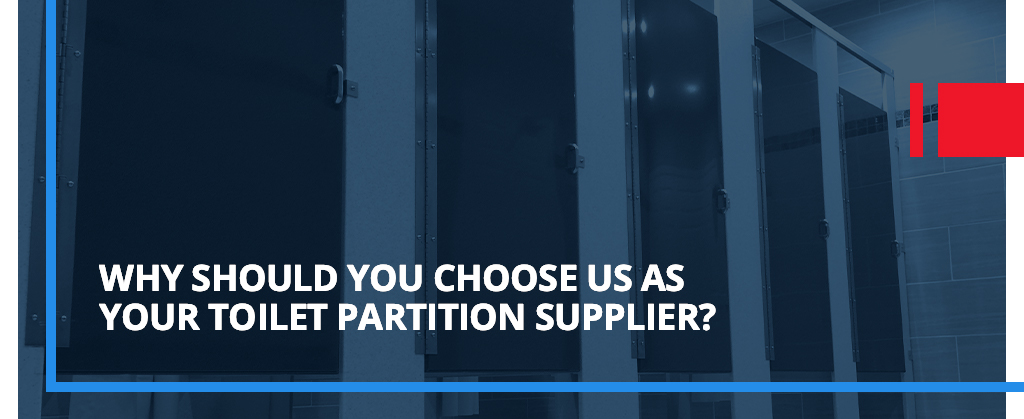 What makes one seller of bathroom partitions better than another? Specifically, what makes One Point Partitions the right solution for all your bathroom needs? It's simple. Here at One Point Partitions, we're proud to present an unbeatable combination of high-quality products and outstanding customer service that makes us the clear choice.
We want to be your partner as you work your way through this process, and we want to be with you every step of the way. We offer a free pricing tool to help you estimate your costs, and our design consultants are ready to help talk you through the process of designing and outfitting a bathroom, providing lots of advice to guide you on your way.
We also offer free samples so you can make the best decision for your bathroom, and free delivery once you've made your choice. On top of this, all of our products come at competitive prices and are made right here in America, meaning that they're products you can feel good about purchasing.
If you're ready to start, then there's no time like the present. Get started using our free pricing tool to help you find a bathroom partition solution that works for you, your bathroom and your wallet.