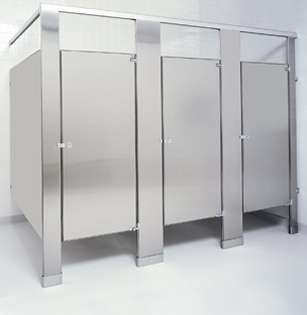 REQUEST COLOR SAMPLES
USE OUR PRICING TOOL
STAINLESS STEEL
Our sought-after stainless steel bathroom stalls are popular with many different kinds of properties, such as restaurants and churches. Nice-looking and easy to maintain, our stainless steel partitions are versatile enough to be installed in bathrooms of all sizes.
Our Design Services
If you don't have a finalized plan for your bathroom yet, don't worry. We provide free samples so you can be sure our stainless steel bathroom partitions will work in your space. We also provide complimentary design services. Our experienced team of designers will create a plan for your restroom that will make the most of the space your bathroom occupies.
Where You Can Find Our Stainless Steel Restroom Partitions
Our stainless steel bathroom partitions are available online or you can order them by calling us. If you order directly from One Point Partitions, we'll deliver your stainless steel partitions to your location for free. In addition to online availability, you can also find our stainless steel bathroom stalls at Lowe's stores throughout the nation.
Installing Our Stainless Steel Partitions
Installing our American-made stainless steel bathroom partitions is easy. We provide video instructions and other resources so you can get the job done quickly. Our friendly customer service representatives are also available to answer any questions you may have.
Get a Quote
Global Partitions, one of America's largest partition makers, fully backs every product we sell — including our stainless steel bathroom partitions. Are you ready to install our great-looking and affordable stainless steel partitions at your location? If so, you can get started by requesting a quote for stainless steel partitions now. Pricing starting at $700 per stall.

Use Our Pricing Tool
Try out our new pricing tool and get prices without the wait in 3 easy steps!