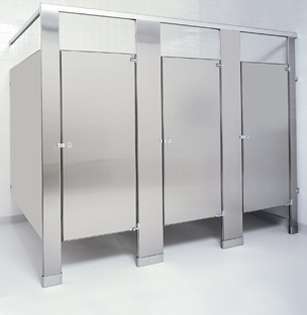 REQUEST COLOR SAMPLES
USE OUR PRICING TOOL
Stainless Steel Bathroom Partitions
SELECT A COLOR TO CHANGE THE PARTITION IMAGE

#4 Satin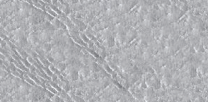 Leather Grain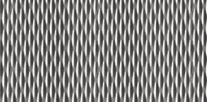 Diamond
When you're looking for durable and long-lasting bathroom partitions, it's hard to find anything better than stainless steel. The adage, "You get what you pay for" is extremely appropriate when it comes to stainless steel restroom partitions. They provide both beauty and function that lasts for years.
Benefits of Stainless Steel Partitions
Some of the benefits of stainless steel bathroom partitions include their low maintenance requirements and eco-friendliness. Though stainless steel partitions tend to require a more significant upfront investment, they are one of the most cost-effective options available. Many consider them to be a long-term investment that is worth every penny. Other notable advantages include stainless steel's:
Construction
Durability
Beauty
1. Construction
Stainless steel partitions have a lightweight honeycomb core — which allows manufacturers to use less material while maintaining the perks of a sturdy core. Though lightweight, this construction is strong enough to withstand everything from graffiti to blunt force. Stainless steel partitions are also some of the easiest to maintain and need minimal upkeep. Simply wipe them down with soap and warm water to clean and bring out that trademark sheen.
Stainless steel bathroom partitions are built to serve you for the long-term. Unlike regular steel, stainless steel is resistant to rust and corrosion thanks to the chromium and other elements within its composition. This quality allows it to thrive even in areas with lots of humidity, such as swimming pool bathrooms.
2. Durability
Stainless steel toilet partitions can withstand whatever comes their way, from the usual wear and tear to vandalism. The lightweight build coupled with the sturdiness of stainless steel means these partitions are able to outlast forceful door slamming and any other elements that befall bathrooms.
Any scratches or stains that linger can quickly and easily be buffed away. Stainless steel partitions are also resistant to heat and fire. The strength of stainless steel partitions makes them a perfect choice for public bathrooms that see a lot of foot traffic.
3. Beauty
One of the biggest advantages of stainless steel restroom partitions is their aesthetic appeal. Their timeless beauty and flawless appearance make them ideal for any setting, from executive corporate bathrooms to high-traffic mall bathrooms.
The brushed steel color can complement and blend in with any decor style or bathroom tile pattern. And stainless steel's easy maintenance makes it simple to keep the partitions gleaming. To add to its beauty, stainless steel is a more environmentally friendly and sustainable option that can be recycled and reused.
Material Details
When it comes to the details of stainless steel toilet partitions, you'll find excellence in every component. Our stainless steel toilet partitions feature top-quality materials that are all made in the U.S. The partition's stainless steel is bonded to the honeycomb core with a non-toxic glue. The resin-saturated core is also moisture resistant and sound deadening, which helps to eliminate any risk of noisy clattering doors disturbing your guests.
Quality extends through the smallest details, including:
Doors: All partition doors include a coat hook, bumper and a concealed latch for emergency access.
Hinges: The partition hinges are chromium-plated Zamac and are all die-cast.
Hardware: Additional door hardware includes recessed upper and lower door hinges and wraparound flanges.
Brackets: The brackets for the partitions are die-cast, chromium-plated Zamac.
Mount attachments: Chromium-plated steel is used to mount the door's stirrup brackets, and the doors attach to the walls with heavy-duty screws and plastic anchors.
Anchors, screws and fasteners: The plastic anchors, screws and fasteners are also chromium-plated, which makes them sturdy and long-lasting.
Specifications
Stainless steel is an ideal material to withstand heat, moisture and normal wear and tear given its construction and installation. Important points to note about our stainless steel partition's construction include:
The panel molding corners are welded to the doors, and the doors are welded to the face sheets to form a nice, rigid frame with style and utility.
During construction, stirrup brackets with a jack bolt are welded to the top and bottom of the pilasters. The jack bolt helps with leveling during installation and allows you to adjust the height of the doors as needed.
The partition doors are 1 inch thick, and the edges are sealed using a stainless steel 22-gauge interlocking molding.
The pilasters are made from two sheets of stretched and leveled stainless steel, which has a thickness of 22 gauges. The pilasters themselves are 1 1/4 inch thick.
The pilaster shoes are made of stainless steel, stand 4 inches high and feature a number four satin finish.
The stirrup brackets are 2 1/8 inch long and 1/8 inch thick.
Mounting is completed with chrome-plated and vandal-resistant fasteners.
You can install your stainless steel partitions yourself or hire a professional to complete the job. The following are important design highlights to consider during the installation process:
Doors and pilasters: The doors and pilasters are designed to stand approximately 12 inches above the floor, but this distance can be changed according to your needs. To fasten the pilasters, use the provided screws to secure the "L" anchors to the floor.
Positioning: The partition components are designed to be installed flush against the steel frame to ensure sturdiness. The stainless steel pilaster shoes should be attached to the wall using the two wall brackets.
Get a No-Obligation Quote From One Point Partitions
When you're ready to upgrade your bathroom partitions, consider investing in stainless steel from One Point Partitions. Our top-quality partitions are all made in America and include reliable standard warranties. Our partitions are also easy to install — so easy that you can do it yourself! We provide detailed step-by-step instructions and a how-to video to aid your installation, and our team of experts is always available to offer guidance.
You want to make a beneficial, informed decision about your partitions, which is why we offer a free, no-obligation quote for our products. You can submit your own design or take advantage of our team of experts to help you plan your bathroom layout. Simply fill in the online form with the details of your bathroom layout, and we'll respond as soon as possible with an estimate.
We also offer free samples, so there are no surprises when it comes to your purchase. Experience the quality and strength of stainless steel partitions firsthand to see why stainless steel is a decision you can be proud of. If you're ready to invest in stainless steel bathroom partitions or have any questions, feel free to get in touch with us online or by phone at 800-756-6817.

Use Our Pricing Tool
Try out our new pricing tool and get prices without the wait in 3 easy steps!