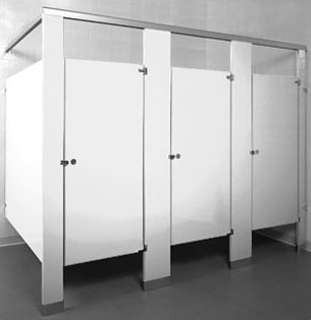 REQUEST COLOR SAMPLES
USE OUR PRICING TOOL
Powder Coated Steel
SELECT A COLOR TO CHANGE THE PARTITION IMAGE


POWDER-COATED STEEL
When it comes to price and durability, powder-coated steel is hard to beat. Using finely ground pigment and resin to both color and fortify steel, it's easy to customize powder-coated steel partitions to suit any industry.
Ideal for bathrooms, these metal partitions create a welcoming atmosphere that can hold up under everyday wear and tear. One Point Partitions also offers a three-year manufacturer's warranty on powder-coated steel partitions, making them a cost-effective investment.
Benefits of Powder-Coated Steel Partitions


There are many benefits to using powder-coated metal partitions in your bathroom, but the cost is the main factor, especially for businesses on a smaller budget. Starting at $275 per part, they offer excellent value for the price you pay and are more customizable than other bathroom partition options. The cost varies based on the project's needs, but One Point Partitions also offers a free pricing tool as well as free samples so you can make your decision with confidence.
While cost is the main selling point, there are several other benefits to using powder-coated bathroom partitions.
Lightweight
Made using a piece of cardboard with two, thin pieces of steel sandwiching it, powder-coated partitions are far lighter than other options. A layer of powdered pigment gets baked into the steel. The result is a stunning product that is lightweight and easy to maneuver. Thanks to the cardboard core and its lighter weight, these partitions are less expensive than those with heavier cores.
Customizable
One perk of powdered pigment is its variety of available colors. One Point Partitions offers 15 different color options for powder-coated metal partitions, ranging from textured shades like Metallic Silver and Pepper Dust to bold solids like Burgundy and Royal Blue and cool pastels like Sage and Almond. The range in colors allows you to match your bathroom to your brand.
Durable
Though these partitions cost less than others, they're still a sturdy option for toilet partitions. Offering mid-level protection from rust and corrosion, powder-coated toilet partitions do well in school and business offices. They're also resistant to mild vandalism — including chipping and graffiti — and are easy to clean, though we don't recommend them for areas with high humidity.
The powder-coating process also ensures these partitions will last for years, with their colors and sheen remaining as good as new. And they come with a three-year manufacturer's warranty as well, just in case.
Easy to Install
Powder-coated steel partitions are so easy to install that you can do it yourself. We provide you with written and video instructions and are also available to help should you need it.
No Maintenance
Thanks to the fact that powder-coated bathroom partitions are resistant to chipping, rust and corrosion, these partitions require almost no maintenance at all.
Environmentally Friendly
Powder coating is gaining popularity for its eco-friendliness. Unlike liquid paint, powder coating doesn't give off fumes or vapors that pollute the air. Plus, the materials used for powder-coating steel are non-toxic and relatively harmless. So, you'll be helping the environment, saving money and investing in a lasting product when you choose powder-coated steel partitions.
Material Details
Powder-coated toilet partitions provide reinforced quality, and our partitions all feature 22-gauge galvanized, stretched and leveled steel, formed and bonded with a non-toxic adhesive to a honeycomb cardboard core. The core is sound-deadening and resin-impregnated, allowing it to be sturdy and presentable.
Partitions also include robust plastic fasteners and screws, which allow the partitions to remain anchored and protected against vandalism.
The doors include chromium-plated, die-cast Zamac hinges. These include gravity-acting cam and wraparound flanges. The upper and lower door hinges remain hidden. Bumpers, coat hooks, stopper, keeper and a concealed latch with emergency access are also all included.
Like the hinges, the Zamac stirrup brackets are also chromium-plated and die-cast. They measure 2 1/8 inches long and an eighth of an inch thick, mounted with chrome-plated steels fasteners that are also vandal-resistant. These brackets attach with 2 1/2-inch stainless steel screws and plastic anchors.
We manufacture our powder-coated toilet partitions in the United States of America, and guarantee them to be top-quality products.
Specifications
Powder-coated bathroom partitions consist of inch-thick doors and panels. The doors and panels get fitted with 22-gauge interlocking molding. We weld the corners and grind them smooth to form a sturdy frame. Before applying the powder coat at a thickness of 1.3 mil, we thoroughly clean the doors and panels.
All adhesives used in the construction of our powder-coated bathroom partitions are non-toxic.
The pilaster shoes are of four-inch high stainless steel, type 304, and have a #4 satin finish. The pilasters themselves are 1 1/4-inch thick, and their vertical edges are sealed with 22-gauge steel interlocking molding. And, to ensure full-range adjustment, there are L brackets linked to the 2 1/8-inch long chromium-plated, die-cast Zamac stirrup brackets, both at the floor and ceiling. The brackets mount with chrome-plated steel fasteners, making them vandal-resistant as well.
All our bathroom partitions are easy to install and come with an instructional video to ensure you install them straight, plumb and level, with uniform clearance at the top and bottom. Generally, we recommend mounting all the doors and panels 12 inches above the floor.
Consider One Point Partitions for Your Next Renovation or Build


Providing top-quality, American-made products, One Point Partitions can get you the bathroom you want. With free samples and a free quote, we let you get a glimpse of our services without any obligations. And when you decide to buy, we offer free shipping as well.
Got a clear idea of what you want your new bathroom to look like? Use our planner tool to get a free quote as well as a layout of your design. Unsure of how you want to model your new bathroom? No problem — our team of experts can work with you to provide a detailed scale model, so you have a clear idea of what you can expect.
Don't hesitate to contact us with your inquiries — we're always here to help.

Use Our Pricing Tool
Try out our new pricing tool and get prices without the wait in 3 easy steps!