Last updated on June 22nd, 2020 at 08:24 am
What's the lead-time for partition delivery?
Enter your zip code and find out!
When you're ready to tackle a remodeling project, the cost takes top priority. Knowing bathroom stall prices ahead of time is crucial to guarantee you stay within your budget. For bathrooms, stall costs and choosing the right material for your space can be overwhelming. There are several options for you to choose and they all vary in features and price-points. Whether you are looking to design a new bathroom for your business or remodel an existing bathroom, determining bathroom stall prices and the material you should use is one of the first and most important steps in the design process.
Important factors to consider when choosing bathroom partition materials include:
Installation environment
Required durability
Desired aesthetics
Project budget
But first, you have to make a plan.
Planning and Designing
Throughout the planning and design process, it is important to follow ADA guidelines to guarantee easy accessibility. The Americans with Disabilities Act regulates the construction and compliance of accessible bathrooms. Some guidelines to follow to become compliant include:
Grab bar installation diameter and height off the ground
Stall space dimensions
Rotational space outside of the stall area
Handicap toilet dimensions
Sink and hand dryer specifications and height
Along with ADA guidelines, you also must follow OSHA rules and regulations for public business restrooms in your design and layout. The three layouts you can choose from include:
Floor-mounted overhead-braced
Ceiling-hung
Floor-to-ceiling
If you're looking for an economical solution for high-traffic areas, a floor-mounted and overhead-braced layout is the best option. This is an easily-installed, versatile design option for new construction or existing buildings. After analyzing your dimensions and drawings, the next step will be to begin the fitting by installing side and back wall brackets. Once side and wall bracket installations are completed, the pilasters get attached to the floor. Finally, install your hinges and doors.
When choosing the right materials for your installation, knowing how each will perform in your individual restroom environment is critical. Moisture and humidity are constant and unavoidable factors that can have a negative effect on materials, particularly in commercial restrooms. Baked enamel and stainless steel will begin to rust after being exposed to moisture for long periods of time. Phenolic can be prone to mildew and mold growth, whereas high-density polyethylene is resistant to moisture, dents and scratches.
Please note that the following partition material price guides are subject to change with respect to the size of your project and the cost of any third-party installation. One Point Partitions does not offer installation, but we design all of our products with straightforward assembly and standard tools in mind.
Powder-Coated Steel Bathroom Stall Prices
One of the most-popular and least-expensive bathroom partition materials is powder-coated steel. Galvanized sheet steel paired with a high-quality paint process for the powder coating creates a material resistant to corrosion, acids, grease and stains. Powder-coated steel partitions are high-quality, commercial-grade items that adhere to the most common architectural specifications and comply with handicap guidelines. Starting from $275 per stall, this material is an economical and sturdy choice.
If you select powder-coated steel for your material, the other incurred costs for your project are labor and tools. Installation costs can range from $500 to $1,200 depending on the size of the project. To get a price customized to your needs and suited to your unique project right away, use an online pricing tool for a more precise quote.
Cordless drills, drills bits, levels, tape measures and screwdrivers are some of the most common tools required for powder-coated steel partition installation. This material choice provides easy installation and repair of minor scratches, making it an ideal selection for small businesses, churches and restaurants.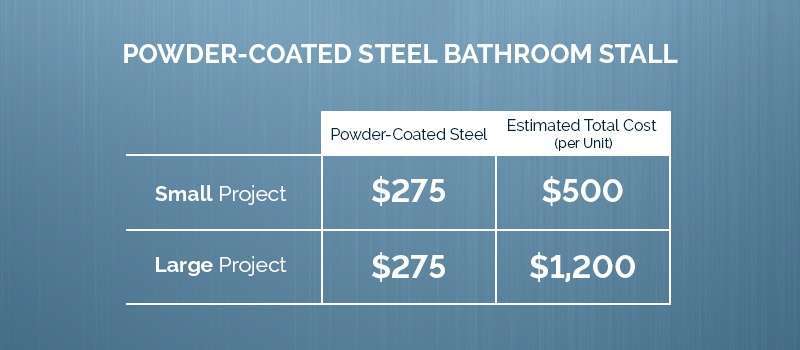 Laminate Bathroom Stall Price
Laminate is a classic and cost-efficient material option for your partitions. During the creation of this material, Formica or Wilsonart laminates are applied to a particleboard core under high pressure. Chrome-plated zamak is used for hardware to provide rust-free performance. Laminate partitions are available in a variety of colors to match your design preferences. Starting at $375 per stall, laminate partitions are a high-quality, commercial-grade selection.
Overall costs for laminate bathroom projects can range from $875 to $1,575 but ultimately depend on the size and scale of the plan. Floor-mounted, overhead-braced plastic laminate installation requires the proper tools and fasteners to complete assembly, including screws, nuts, bolts and anchors. Laminate project costs can be more accurately calculated by submitting your drawings specs online for a personalized quote.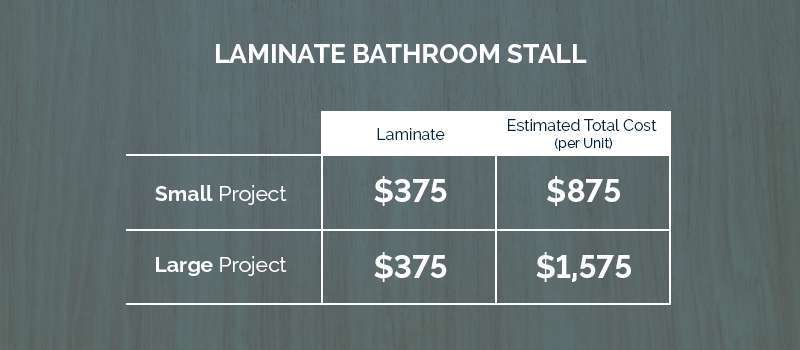 Price of Solid Plastic Bathroom Stall
Solid plastic — high-density polyethylene, or HDPE, to be exact — is a durable, heavy and waterproof material. When made from raw materials rather than from sheets of plastic, it allows for better control of quality and price. The rust-proof hardware is formed from aluminum and zamak. This type of material is perfect for busier restrooms, as it is resistant to moisture, mold, common cleaners and graffiti. Solid plastic partitions are available in a wide variety of colors to better suit your design specifications. Starting at $450 per stall, this is a great option if you are looking for a low-maintenance choice.
If you are looking to build a partition in a high-volume building, such as a school, this material choice would be perfect — with a slight cost increase compared to powder steel. This type of project would require long-lasting materials to endure the wear and tear.
Installation of solid plastic would require tools such as drills, drill bits, a tape measure and a level. Each project's needs are unique, so use an online pricing tool for a more exact cost estimate.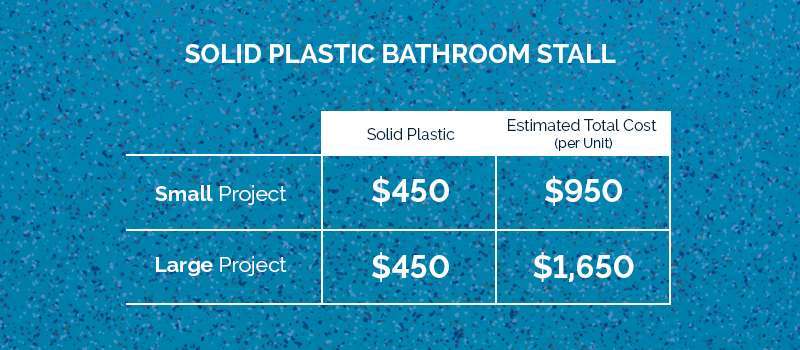 Phenolic Bathroom Stall Price
Priced at $700 per stall, phenolic partitions are modern yet durable. Phenolic is a resident fiber material that is compressed under high heat to create a tough and rigid exterior. The most common type of phenolic is black core — usually displayed on the edges and interior. The standard hardware on phenolic partitions is a stainless-steel material. Though this is a more expensive option, phenolic material is water- and corrosion-resistant and does not sustain bacteria.
Most projects that utilize this material are high-traffic environments such as amusement parks. If you'd like a more accurate price estimate for your individual project needs, upload your drawing for a personalized quote or use an online pricing tool.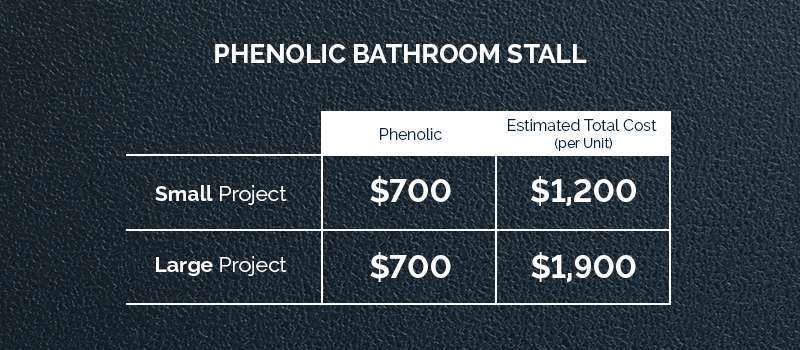 Stainless Steel Bathroom Stall Price
If your project includes a more contemporary or high-class style design and requires top-of-the-line products to accompany it, stainless steel partitions are the best choice. With a brushed finish and chrome-plated hardware, these are an easy-to-maintain and corrosion-resistant option for your commercial restroom. The cost of stainless steel bathroom partitions starts at $700 per stall.
Projected bathroom stall costs for stainless steel projects depend on the location and size of your design. You can utilize a pricing tool to get a more exact estimate unique to your project needs. Stainless steel partition installation costs typically start at an estimated $1,200, including materials, labor and tools. If you are designing an office or business project, this material is the perfect fit for a more sophisticated impression, particularly with smooth or engraved patterns.
Even though the estimated cost for this project is significantly more than powder-coated steel, it is well worth the investment for the durability and appealing look it provides.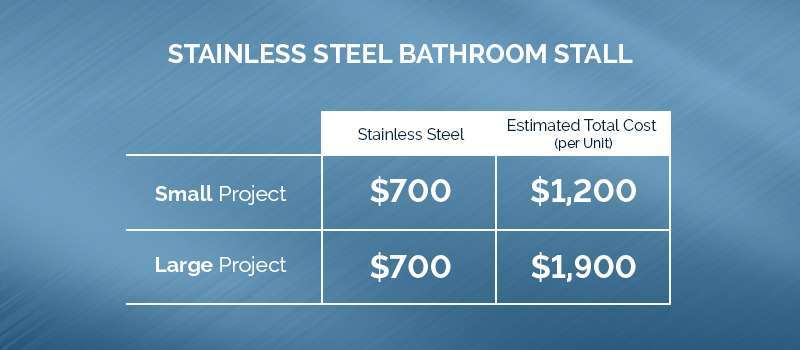 Exclusive Industry Specific Bathroom Designs
Restaurant owners know the state of their restrooms says a lot about their business' cleanliness and leaves a lasting impression. By completing a bathroom partition project for your new or existing restroom, you can match the style and feel of your overall design, guarantee customer safety and privacy, as well as add an appealing appearance to meet customer expectations. School restrooms are typically larger projects and need to deliver a functional and inviting layout. Business bathrooms should be functional, durable, complimentary of your style and easy to maintain and clean.
The price of your bathroom partition installation depends on the overall design you are looking to achieve. Now that we've covered the material specs and estimated project costs, knowing where to look for the design and manufacturing expertise to accomplish your goal is important. Your industry-specific design needs to meet federal and state regulations, withstand the number of people it will accommodate daily, express the design intentions and other important factors unique to your needs — all within your budget. Finding a company that focuses on customer service and has years of experience can save you costs and ensures a long-lasting finished product. One Point Partitions, a local business with the buying power and manufacturing footprint of a larger business, offers that and more, including:
A member of the design team to personally work with you on your project, offering detail-oriented service
Quality, American-made materials detailed on-site, along with free samples for your preview
Personalized, detailed quotes with no obligation
One Point Partition Commercial Restroom Partitions
One Point Partitions has over a decade of experience in new restroom build-outs, replacements and retrofits in existing restrooms. If you are looking to get more information on the price of bathroom partition installations specific to your design needs and budget, we've got you covered. Our designers have an understanding and knowledge of creating practical, comfortable and cost-efficient bathroom partition layouts and installation for a variety of spaces. Whether you are looking to design a bathroom for a bar, gym, hotel, office, public bathroom, restaurant, school or church, our experts are here to deliver personalized assistance throughout the entire process. Just a few of our benefits include:
American-made, high-quality materials: All our materials are proudly made in the USA, enabling us to offer the highest-quality materials while creating jobs for Americans. Designing and manufacturing in the U.S. allows us to have full control over the process and the quality.
Free design and mock-up: Our team of expert designers works with you to meet your requests and create a custom solution for your bathroom partition area. All the details and costs for your bathroom partition project to help make your decision are included in our free quote tools.
Free samples: We send you free samples so you can see the quality of our materials firsthand before making your selection. These samples provide an authentic look and feel of the materials you are considering, allowing you to match paint, tiles and other aesthetic details of your area.
Our guaranteed delivery is available throughout the country and our A+ Better Business Bureau rating and personalized service have satisfied our customers year after year. Contact us today or get a free quote using one of our easy-to-use online tools!
Check out our video on the different ways we can help you receive a comprehensive quote! We look forward to connecting with you.