Last updated on July 1st, 2019 at 06:55 pm
Bathroom Partitions for Hotels From One Point Partitions
It doesn't matter if you run a budget hotel known for your convenience and value or a high-end luxury hotel that exudes class and sophistication. In all cases, a hotel needs clean and attractive lobby bathrooms that add to the appeal of your establishment. More than in most other types of business, the restrooms in a hotel lobby can leave a strong initial impression.
You want that impression to be a good one if you want to attract new customers and keep your existing ones.
The Online Effect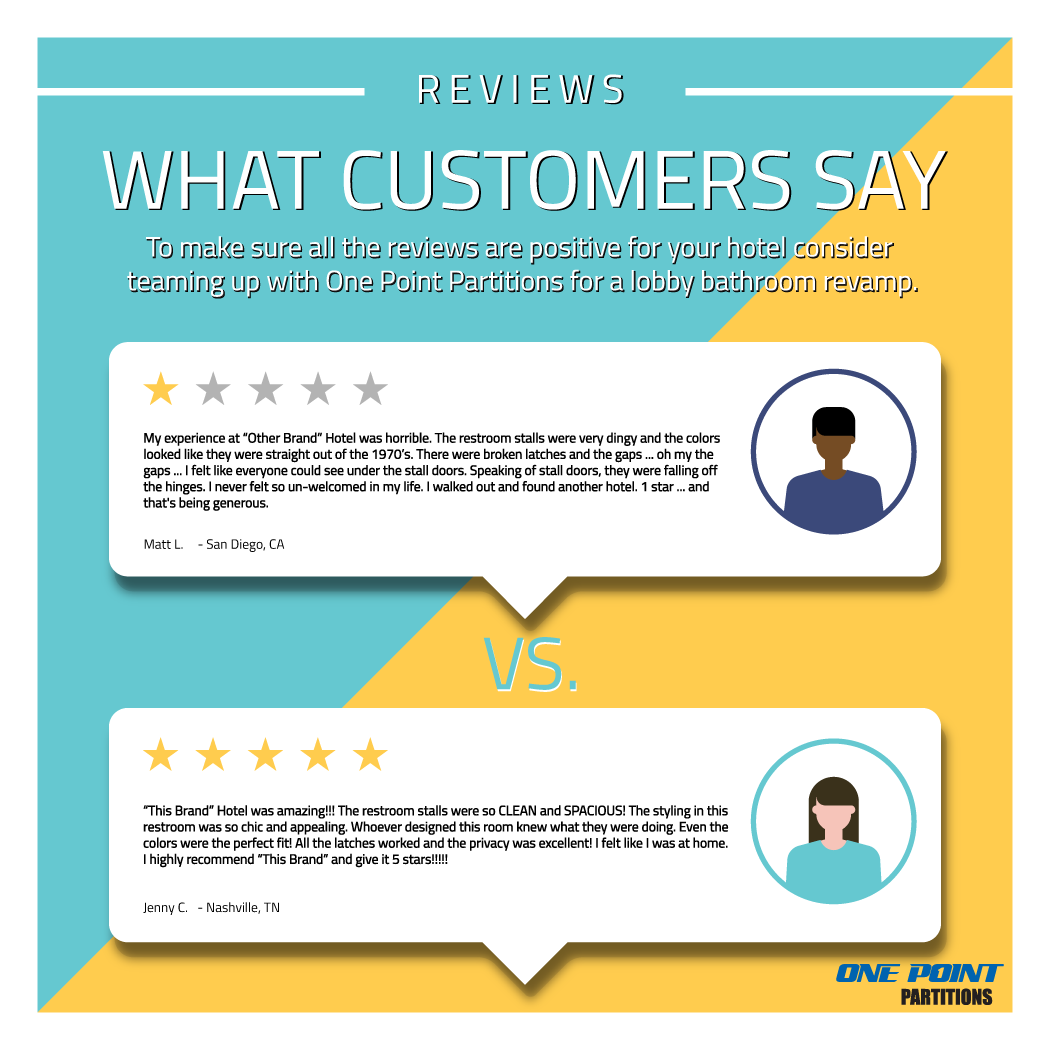 If you're like us, you often research hotels online before travelling. In just a few clicks, you can get reviews and ratings on hotels all around the country. Hotel owners and managers know they need to maintain extremely high standards in terms of cleanliness, style and comfort. This extends to the state of your hotel lobby bathrooms.
In some cases, the first impression visitors to your hotel will have is in the hotel lobby and lobby bathroom. If they find dingy, damaged stall partitions, they could very well walk out and find another hotel.
This kind of negative first impression frequently finds itself online on hotel and travel ratings sites. To make sure all the reviews are positive for your hotel, consider teaming up with One Point Partitions for a lobby bathroom revamp.
It doesn't matter if you have a small bathroom with a single stall or a much larger restroom space with multiple toilets, urinals and sinks. We have experience in all sizes of hotel lobby bathrooms.
Take Advantage of Our Experience
We make it easy to change your public hotel bathroom partitions by offering excellent customer service and unique design assistance:
One of our expert designers will work closely with you to make the best use of your existing lobby bathroom space and update the look with attractive, high-quality partitions.
You will be able to choose from any of our five types of partition materials: powder-coated steel, laminate, solid plastic, phenolic or stainless steel. We offer dozens of different colors to suit your style.
To help you choose, we can send you free samples. It's always easier to compare under real lighting conditions and match to your existing hotel lobby restroom colors.
Once we understand what your needs and expectations are, we will provide a detailed quotation that includes a free design layout and free mock-up for easy visualization.

Use Our Pricing Tool
Try out our new pricing tool and get prices without the wait in 3 easy steps!