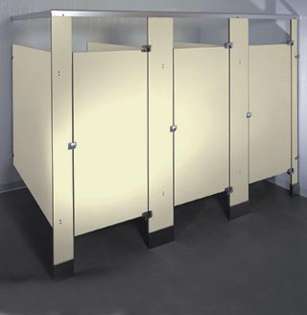 REQUEST COLOR SAMPLES
USE OUR PRICING TOOL
Phenolic Partition Color Options
SELECT A COLOR TO CHANGE THE PARTITION IMAGE
Phenolic Restroom Partitions: Durable and Attractive
When you need your public restrooms to look upscale and survive heavy wear, consider phenolic toilet partitions. Phenolic is a heavy-duty plastic made from fused sheets of fiber and decorative laminate. It's treated with a phenolic resin to create a compact, rigid structure. The laminate on our phenolic toilet partitions can also be printed in a variety of unique colors and textures.
Aesthetically pleasing and durable, phenolic bathroom partitions are a step up for any public restroom that needs new partitions. Even in areas that get heavy foot traffic, phenolic is built to last. The material holds up — even on game days that see 75,000 fans — and provides a premium experience for guests.
Benefits of Phenolic Core Toilet Partitions
Our black core phenolic partitions have a ton of benefits. Phenolic is one of our premium partition materials, with the stall price starting at $700 per part. They're a fantastic investment in quality, design and durability. You'll find phenolic to be a vandal-resistant material that's easy to clean and maintain.
Some of the other benefits of phenolic core partitions include:
Aesthetic: The laminate finish on phenolic partitions can easily be customized. We offer a total of 13 neutral colors and textures to choose from. Weathered Ash, Burnt Strand and Washed Knotty Ash all give our partitions a natural wood grain texture. Our other textured phenolic toilet partitions include mineral-inspired Graphite Graphix, Folkstone Celesta or Neutral Glace. These colors pair well with neutral and white walls and can even tie together a room painted a brighter hue. Our phenolic partitions also feature practical beveled edges.
Vandal resistance: The resin-infused phenolic core on these partitions are made to withstand daily use. The smooth surface is easy to clean, and it's rated high for vandal resistance. You can often find it in schools, public transportation hubs and other locations that have frequent vandalism issues.
Ease of maintenance: The construction of phenolic partitions helps keep its surface very clean. The phenolic-based resin bonds the sheets of kraft paper, so mold and dirt will not wedge themselves into the surface. The plastic is also naturally resistant to germs and easy to clean. You can keep phenolic partitions clean by wiping them down with a mild liquid soap. And if your bathroom is in a humid environment, such as near showers, be sure to use proper ventilation.
Moisture resistance: Like most plastic materials, phenolic is great for moisture resistance. The phenolic resin treatment provides the compacted paper with a moisture-blocking seal. In fact, phenolic is often used in pool houses, showers and any building situated in a humid climate.
Durability: The construction of phenolic toilet partitions makes the final product stiff and impact resistant. It's one of the longest-lasting materials we offer, with a manufacturer's warranty of 25 years. Phenolic partitions stay rust-free and are protected against de-lamination, breakage and corrosion.
What's special about solid phenolic toilet partitions?
These partitions combine a sturdy sheet and resin design with heavy-duty phenolic toilet partition hardware. Our phenolic toilet partitions have several features, including:
Reinforced quality material: Phenolic is an impact-resistant material that will last up to 25 years. It's all about creating a dense phenolic toilet partition thickness, which makes for a more durable and sturdy partition. That's why our resin-infused fiber sheets are compacted into a 3/4-inch thick unbendable material. This design can withstand slammed doors and all kinds of other abuse for years to come.
Vaulted, self-closing hinges: These Attractive wraparound solid phenolic toilet partition hinges are made from a heavy-duty, die-cast aluminum alloy. And the bottom hinges have gravity acting cams to ensure self-closure.
Slotted keeper: The strike and keeper that comes standard with phenolic stall doors has a satin, chrome-plated finish. It meets ADA requirements and allows for emergency access. In an emergency, you can access a stall by lifting the door until the strike is cleared of the slotted keeper.
Vandal-resistant fasteners: The phenolic restroom stall hardware used to fasten the stalls during installation come with machine screws and theft-resistant barrel nuts. They have a special driver that nearly eliminates unauthorized removal. And still, they have an easy installation process.
Easy-stall shoes: The easy-to-install pilaster shoes are made of rigid and sleek stainless steel. In a standard installation, the shoe anchor keeps your supports vertical with 2,770-pound pullout strength. The easy-stall shoes have an adjustable leveling bolt and true concrete anchor screws.
Phenolic Toilet Partition Specifications
Phenolic bathroom stalls and privacy screens can easily be customized to the dimensions of your bathroom. Here are the technical specifications for each part of the stall:
Construction: The doors, panels and pilasters are made from solid phenolic, with kraft fiber sheets and resin fused at a high temperature. The core is made from black phenolic. The material has smooth, beveled edges that are finished and polished.
Doors: The phenolic stall doors are 3/4 of an inch thick. The doors' opening can be as narrow as 22 inches and as wide as 36 inches, which is appropriate for an ADA-compliant stall. You can install the inches on the left or the right pilaster and create either an inward or outward door arc. The partition doors should be mounted 12 inches above the floor.
Panels: The panels are slightly thinner than the doors and pilasters, with a thickness of 1/2 inch, but they can be customized at a variety of depths. You can choose from a partition depth as shallow as 36 inches or as deep as 78 inches, to fit the dimensions of your bathroom. The panels should be aligned with the doors, mounted 12 inches above the floor.
Pilasters: The pilasters have the same thickness as the doors — 3/4 inches thick — to ensure a flush closure and to ensure the slotted keeper can be secured. For a floor-to-ceiling mount, the pilasters have a maximum height of 120 inches. For a ceiling-hung installation, they have a maximum height of 108 inches. However, not that the supports require X bracing at any length above 96 inches.
Privacy screens: Wall-hung phenolic privacy screens come in three standard heights: 42 inches, 48 inches and 58 inches. Their minimum depth is 18 inches, and their maximum depth is 57 1/2 inches. Depths of 27 1/2 inches and more require a pilaster or post support, which adds another 2 1/2 inches.
Pilaster shoes: The stainless steel shoes feature the easy-stall shoe system. They are three inches tall and feature a satin finish.
Stirrup brackets: The mounting brackets for the standard floor anchor and overhead brace configurations are stainless steel with a satin finish. They have stainless steel machine screws and theft-resistant barrel nuts.
Mounting style options: There are four mounting options available for phenolic restroom stalls. They come standard with floor-anchored and overhead-braced mounts. Depending on your ceiling height and the construction of your bathroom, you can use alternative mounting styles. Choose from floor mounted, ceiling-hung and floor-to-ceiling mounting styles.
Use these solid phenolic toilet partitions specifications to help you determine whether or not phenolic is the right material for your specific public bathroom needs.
Request Your Free Quote for Phenolic Toilet Partitions Today
Are you ready to see what beautiful, sturdy phenolic toilet partitions can do for your commercial restroom? Get started with One Point Partitions today by requesting your free quote. Using our phenolic toilet partition price tool, you'll be able to design a customized floor plan and calculate phenolic toilet partitions costs. We also offer a complimentary bathroom design consultation and mockup.
You can even feel our premium phenolic material in your hands by requesting free color samples. This will also give you the opportunity to match the color of your partitions to the rest of your bathroom's interior for a professional, inviting look. If you have any questions about our phenolic partitions or any of our other bathroom partitions, feel free to send a message to one of our helpful service representatives.