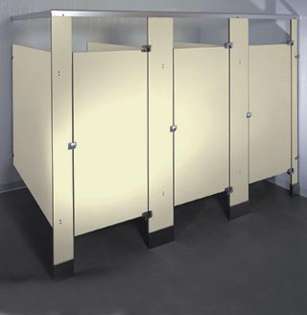 REQUEST COLOR SAMPLES
USE OUR PRICING TOOL
Phenolic
SELECT A COLOR TO CHANGE THE PARTITION IMAGE
PHENOLIC
At One Point Partitions, we're proud of our country and the workers who produce our products. That's why our phenolic bathroom partitions are only manufactured in the United States. We value our clients, too, which is why we're committed to providing the highest possible level of customer service at all times.
Our Design Services
Do you need just one phenolic bathroom stall at your location or are you creating a rest area that requires multiple phenolic partitions so several people can use the facilities simultaneously? Regardless of the number of stalls or the size of your bathroom, our team of designers will create a design and mockup that make the most of the available space.
You don't need to commit to purchasing our phenolic restroom partitions in order for our design team to create a layout for your property. It's only natural that you'd want to see the design before you make a purchase, which is why we'll get to work on your layout the moment we receive your specs. If you don't have finalized specs yet, simply share the information you do have and we'll get started on your mockup.
There is no charge to use our design services. We offer them on a complimentary basis because we want you to make the most of your space. Our team can help you maximize the utility, function and aesthetic value of your bathroom.
Get a Quote
Global Partitions — one of the country's largest partition producers, fully backs our products — giving you added peace of mind. Request a quote for phenolic partitions from One Point Partitions today! Pricing starting at $700 per stall.

Use Our Pricing Tool
Try out our new pricing tool and get prices without the wait in 3 easy steps!