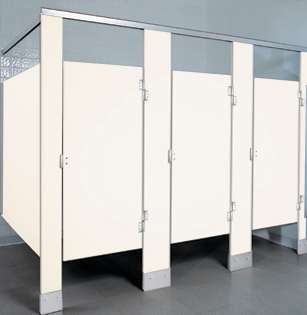 REQUEST COLOR SAMPLES
USE OUR PRICING TOOL
Solid Plastic
SELECT A COLOR TO CHANGE THE PARTITION IMAGE
SOLID PLASTIC
Available in a nice array of colors, our plastic bathroom stalls are perfect for restrooms of all sizes. Whether you want one stall or you need enough plastic partitions to create stalls for multiple occupants, you can't go wrong with our durable plastic bathroom partitions.
Our Design Services
If you're building a new public bathroom at your location or you're upgrading your existing one, we can help. One Point Partitions has a team of designers who can create a layout for your bathroom. All you have to do is provide your specs online. If you don't have specific details for your project, you can just share the information that you do have and our talented team will create a mockup for you.
We don't require you to make a commitment to buy our plastic restroom partitions before you can take advantage of our design services. Our design services are free because we feel you deserve to have the best and most user-friendly bathroom at your property that makes the most of the space it occupies.
Where You Can Find Our Plastic Partitions
Our plastic partitions are available online. We work quickly to provide you with a quote and a design you're sure to love. And we ship our plastic bathroom partitions fast so you can get your bathroom build or remodel done as soon as possible.
In addition to ordering them online, you can purchase our plastic restroom partitions at Lowe's. Our plastic bathroom stalls are made in the United States exclusively and they're backed by Global Partitions, one of the largest partition manufacturers in the country.
Request a Quote
Our plastic partitions are easy to install and are affordable for a wide range of budgets. Request a quote for our plastic restroom partitions now. Pricing starting at $450 per stall.

Use Our Pricing Tool
Try out our new pricing tool and get prices without the wait in 3 easy steps!