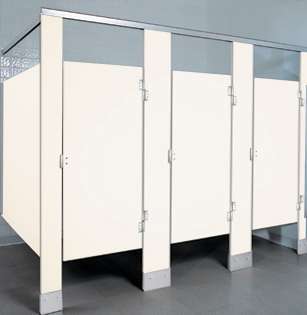 REQUEST COLOR SAMPLES
USE OUR PRICING TOOL
Solid Plastic
SELECT A COLOR TO CHANGE THE PARTITION IMAGE

SOLID PLASTIC
Dense and low-maintenance, solid plastic stalls are a fantastic choice for high-traffic restrooms. They are perfect for malls, schools, beaches, public parks, locker rooms, pool houses, campgrounds and more.
Our solid plastic partitions consist of high-density polyethylene plastic, otherwise known as HDPE. They come in 16 color options to match a variety of bathroom designs. They're also the bathroom stall of choice for the NFL's Minnesota Vikings. At U.S. Bank Stadium, they hold up to the heavy use of up to 70,000 enthusiastic fans each game day.
Benefits of Solid Plastic Partitions
Are solid plastic partitions the right choice for your restroom? Solid plastic is a versatile bathroom stall material for many reasons. Whether your public toilets see hundreds of visitors a day or will have to withstand wet conditions and everyday abuse, solid plastic toilet partitions can last through it all.
Durable: Our solid plastic partitions are heavy-duty and built to last. They are the top choice for any bathroom that sees daily heavy use. They are particularly useful in bathrooms with a high risk for vandalism. If you can't check on the bathrooms often, solid plastic needs very little maintenance. We offer an impressive 25-year warranty, which is the longest warranty of any of the partition materials we sell.
Waterproof: 

You'll find high-density polyethylene

used

in everything from

plastic piping to water bottles

. It's safe for both outdoor use and food packaging.

HDPE toilet partitions are waterproof and nonabsorbent

. In a humid region or a steam-filled shower room, solid plastic restroom stalls should be your go-to. We waterproof-test our solid plastic partitions in a 100% humidity environment. Because they resist moisture so

effectively

, solid plastic stalls are also antimicrobial. They keep your bathrooms sanitary without much maintenance. 

Mid-range price: 

Our solid plastic partitions have a middle-of-the-road price with incredible durability. A solid plastic bathroom stall

starts at only $450 per part

.

They cost more than our most

economical

partitions, with strength that outlasts all our other models

. When you consider their warranty, they're well worth the upgrade. 

Textured surface: 

Our solid plastic partitions come with a pebble-grained finish. This hard, shiny rounded surface resists pens and pencil marks.

High-density polyethylene also has a waxy, self-lubricating outer surface, which makes it hard to write on

.

Solid color: With 16 color options, you can make your bathroom a bright color or a calming neutral. Whatever color you pick, solid plastic is the same color all the way through. Their solid color makes them great at hiding nicks and scrapes that may develop after years of use. Since the color won't peel off or wear away even after heavy use or exposure to moisture, your bathrooms will look as attractive as they are on day one for years to come.
Material Details

Our partition manufacturer, Global Partitions, makes our solid plastic from raw materials. They don't buy premade sheets from another supplier, which gives us complete control over the supply. These American-made stalls have a variety of features.
Reinforced heavy-duty material: As the name implies, solid plastic is a dense material. While other partitions feature a lighter-weight core, solid plastic is heavy enough to take a beating. As such, it is impact-resistant, waterproof, easy to maintain and vandal-resistant. It's also a smart choice for fire safety. It passes the National Fire Protection Agency's 286 fire safety test and has a Class B fire rating.
Vandal resistance: 

The textured surface of our solid plastic partitions makes them nearly impossible to vandalize

. They also come with vandal-resistant fasteners. These specialized brackets are easy to install, but difficult for a visitor to remove. Your partitions will stand plumb and

firmly

in place for years to come.

Easy-install shoes: 

The pilaster shoes that come with our plastic partitions are durable stainless steel

. With a long-lasting hold, they will keep your pilasters anchored and level. They come easy to install, with no need to

drill holes into the pillars

.

Wraparound hinges: Our wraparound hinges are heavy-duty aluminum. They will clamp around the door, and you can install them to swing inward or outward, depending on your preference. They are also ADA-compliant.
Strike and keeper: The sliding bar latch also consists of heavy-duty aluminum and features a wraparound construction.
Specifications
Will our bathroom stalls fit your restroom? With our online pricing and layout tool, you can customize the size of your stall doors. We also offer free custom design services, so we can create a stall with specifications that meet your needs.
Here are the complete product specifications for our solid plastic doors and hardware.
Panels: 

Our solid plastic partition panels are a one-inch-thick material. Install them

 14 inches above the finished floor. At One Point Partitions, we give you the option to design your partitions to a variety of depths. Choose a size between 36 and 78 inches to fit the dimensions of your bathroom and be ADA-compliant.

Doors: Our solid plastic stall doors fit seamlessly with our partition panels. The material has an even one-inch thickness. To match the side panels, install the doors 14 inches above the floor. You can select a door opening width between 22 and 36 inches.
Pilasters: 

The pilaster columns between doors also feature a one-inch thickness. In a floor-to-ceiling installation, they have a

maximum

height of 108 inches.

Privacy screens: For urinal privacy partitions, you have the option to select the depth of your barriers. Choose from sizes 18 to 57.5 inches deep.
Pilaster shoes: The stainless-steel easy-install pilaster shoes are three inches tall. They feature a satin finish and fasten with vandal-resistant screws.
Wraparound hinges: Our heavy-duty aluminum wraparound hinges are eight inches each. They fasten to the doors and pilasters with a through bolt. They also feature a brushed finish.
Fastening hardware: The fastening equipment, made from durable stainless steel, features a satin finish. The hardware features theft-resistant barrel nuts and machine screws.
Strike and keeper: The wraparound strike and keeper is six inches long. It clamps firmly to the pilaster and consists of heavy-duty aluminum with a brushed finish.
Request a Quote Today

When you're building or remodeling your public or commercial restrooms, trust the partition experts at One Point Partitions. We can answer any questions you might have about our solid plastic bathroom partitions or any of our other models. We offer reliable service and free design capabilities, so you can get your bathroom up and running quickly.
If you're ready to design your perfect bathroom, use our free tool to plan your layout and request a quote today. Want to see our solid plastic bathrooms for yourself? Ask us about receiving free, no-obligation samples and a complimentary design consultation.

Use Our Pricing Tool
Try out our new pricing tool and get prices without the wait in 3 easy steps!