Toilet Partition Mounting
As one of the largest bathroom stall distributors in the country, One Point Partitions delivers thousands of durable toilet partitions to hotels, fitness centers, schools, restaurants and other public facilities each year. We create custom mockups to help our clients determine the most practical toilet partition mounting system that will cater to the unique spatial needs of their restrooms. Whether you're completing a new restroom build-out, replacing a malfunctioning partition or retrofitting your previously constructed restroom, trust One Point Partitions to make the most of your space.
What Are Toilet Partitions?
A toilet partition is a walled enclosure that surrounds a toilet in a public restroom. Intended to provide each user with adequate privacy and enough space to conveniently function, toilet partitions are much more versatile than you may realize. Partitions allow facilities to create restrooms with the capacity to serve more than one person at a time. For individuals with physical limitations or mobility issues, partitions can be sized according to ADA standards to provide the extra room necessary for them to maneuver comfortably.
Toilet partitions may also improve the aesthetic of your restroom, which in turn influences your guest's perception of your business. Research has shown that the appearance and functionality of a public facility's restroom impact the customer's opinion of the establishment and whether or not they may choose to return — this is especially true for restaurants. One Point Partitions understands how important a functioning restroom is for your guests and we're committed to providing you with the reliable toilet partitions that uphold your business's reputation for quality.
How Are Toilet Partitions Mounted?
Before you choose a mounting system, we recommend first determining what your restroom's unique needs are. This includes assessing the amount of space you have available, the volume of traffic you expect these bathrooms to see on a daily basis, if there is an increased exposure to humidity or moisture, the level of aesthetic or customization you wish to achieve and concerns for potential vandalism. Depending on your industry, you may need to choose a specific type of partition material and mounting system to achieve the desired results.
One Point Partitions carries some of the most popular bathroom partition materials including powder coated steel, plastic laminate, solid plastic, phenolic core and stainless steel. These five common materials have individual advantages that make them ideal for particular settings. Powder coated steel is an affordable option that is rust and corrosion resistant, while laminate offers an extensive selection of colors. Solid plastic and phenolic core both offer durability and long lifespans. Stainless steel provides a plethora of advantages including aesthetic appeal, extreme durability and scratch and rust resistance.
Often, toilet partitioning is one of the final installations necessary to complete a finished public restroom. Depending on the partition configuration, the components may be fastened to the restroom walls, ceiling or floor. Typically, each stall will feature two walls and a single door. Corner stalls may utilize both restroom walls at the corner, requiring only one partition and door. To install these pieces, you'll need all panels, doors, pilasters and hardware, as well as tools like a tape measure, drill, level, screwdriver, wrench, hammer, shims and hacksaw.
After you've designed your restroom with our design tool, you'll want to physically outline your design by measuring and marking off the exact locations of each anchor so that they line up with the panels and pilasters. You'll next want to be confident that you understand how each component must be installed. This includes understanding which way each piece of hardware must be positioned. Then, setup up anchor points and predrill their holes. After inserting the anchors into the floor and ceiling, install the wall brackets and posts.
Place each panel in position and attach the pilaster-to-panel brackets with the proper screws. If you're installing an overhead braced and floor-mounted partition system, the head-rail can now be attached. Then, hang each partition door and attach any latches or coat hangers that are fitted to the door. Finally, install the shoe retainers and support brackets. As long as you've followed the installation instructions and referenced the schematics, your new partition mounting system should be ready to provide users with a convenient privacy solution in your restroom.
You want your facility's restrooms to be clean and inviting spaces where your customers, guests and clients feel comfortable. Though successfully installing your toilet partition mounting system is achievable with the right tools and design, it's important to pay close attention to the details of each step. An improperly installed partition may decrease the aesthetics, functionality or safety of your restroom. One Point Partitions is pleased to help you through every stage of the installation process. Our experts are ready and waiting to answer all of your questions.
Four Variations of Toilet Partition Mounting Systems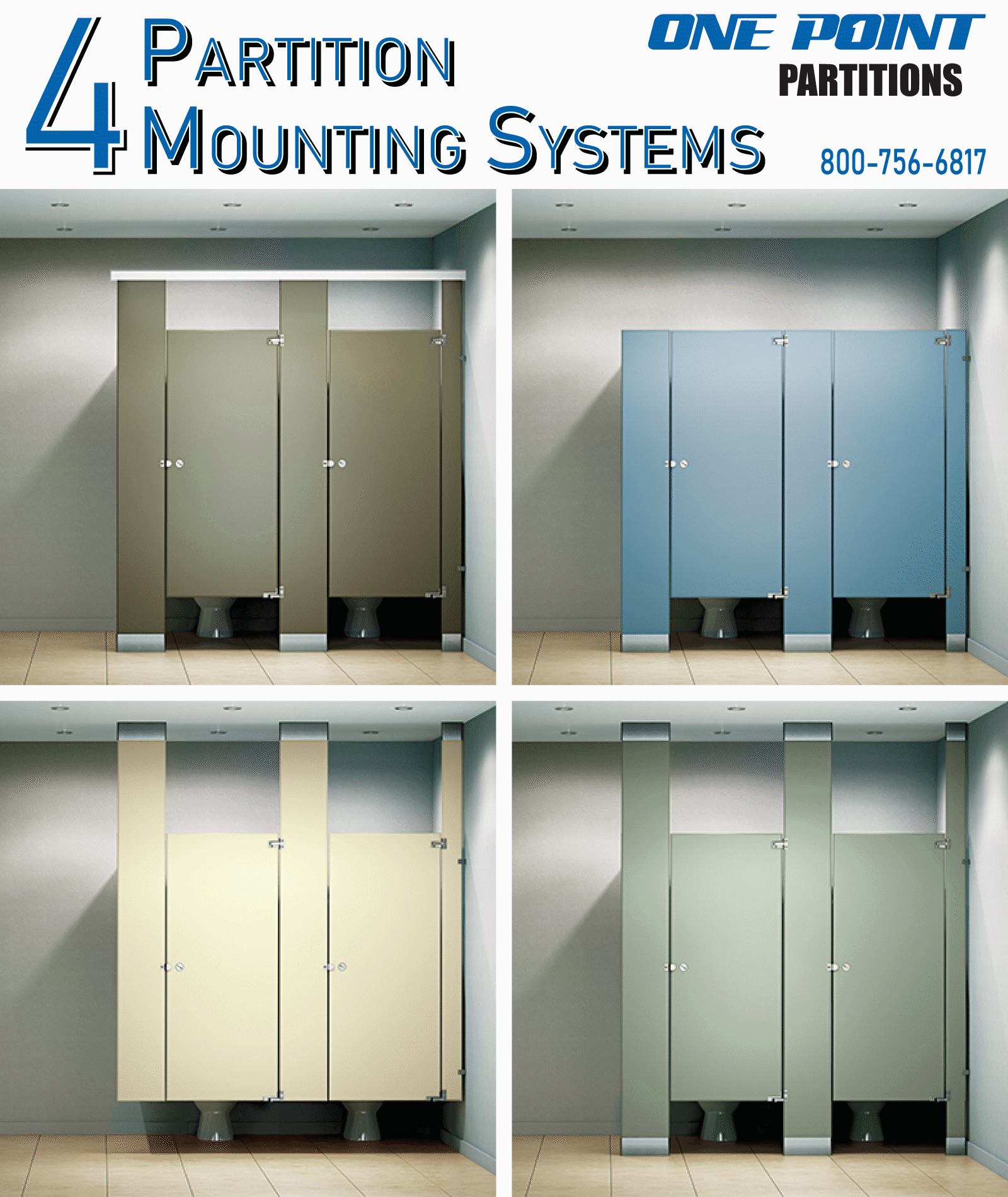 A toilet partition can be classified as one of three types — standard, ADA-compliant or European. While standard partitions feature sightlines and one-foot-high gaps at their base, European styles do not. There are four different variations of mounting systems for these restroom partitions, each with a configuration designed to accommodate the diverse needs of those that use your facilities — overhead braced and floor-anchored mounting systems, floor mounted systems, ceiling hung systems and floor-to-ceiling mounted systems.
Create a lasting positive impression in the minds of your customers by keeping your restrooms looking clean, organized and comfortable. Installing durable toilet partitions that will endure any volume of traffic ensures that your business has a reliable privacy solution for your customer and employee restrooms. Whether your facility needs a single restroom remodeled or a large order of partitions for multiple rooms, let One Point Partitions assist you. We'll provide you with top-quality partitions that can be mounted in practical configurations to accommodate any size restroom.
1. Overhead Braced and Floor-Anchored Mounting System
You've likely used facilities with the overhead braced and floor-anchored partition mounting system. A common feature of many public restrooms, these partitions can be installed in nearly any space imaginable because they do not require specialized floor construction. They're also available in a variety of material options ranging from laminate to stainless steel. Each partition material, except for stainless steel, can be constructed in a selection of colors to match a specific theme or aesthetic for your restroom.
Because these partition mounting systems have an overhead brace and are anchored to the floor, they're built to withstand significant usage. These systems are ideal for restrooms that will regularly have a high volume of traffic, such as a restaurant or bar. The perception of the cleanliness of your restroom can influence a customer's decision to return. Using a sturdy overhead braced and floor-anchored mounting system with partitions created from a reliable material, like solid plastic or phenolic core, can uphold your reputation as a clean and well-maintained establishment.
One Point Partitions can help you build out a new overhead braced and floor-anchored partition mounting system in your facility's restroom. Our pricing tool allows you to design the layout of each individual bathroom in your building, choosing the dimensions for each toilet and urinal space required. If you have already designed a layout, you can easily upload and send them to our team. Our partition experts will provide you with a quote and assist you with any changes to the layout necessary to maximize user convenience.
2. Floor Mounted Mounting System
Commercial buildings come in all shapes and sizes which means it's not uncommon for a restroom to feature a space of varying dimensions. Floor mounted partition systems cater to these uniquely shaped spaces by providing an ease of installation virtually anywhere. They are especially practical in restroom facilities which have raised or dramatically low ceilings that could not realistically accommodate a ceiling hung or floor-to-ceiling partition mounting system. These attractive partition systems should be securely anchored into a solid floor such as concrete.
Floor mounted partition systems could be ideal solutions for churches or other places of worship that seek to renovate their existing restrooms with an affordable, long lasting privacy solution. Choosing powder coated steel as the partition material will limit the amount of rust and corrosion that may build up on the walls over time. We can also modify and outfit the stalls so that they are ADA compliant and allow for handrails to be installed that will assist your members who may have mobility issues.
3. Ceiling Hung Mounting System
The opposite of floor-mounted partitions, ceiling hung partitions are braced against the restroom wall and ceiling. These modern mounting systems require structural steel ceiling supports to be properly installed. The lack of floor anchoring makes ceiling hung partitions easier to clean, especially if a stainless steel or powder coated material is used for the partition walls and door.
It's critical that your restroom is functional but that doesn't mean it can't also be aesthetically pleasing. The unique mounting system for ceiling hung partitions makes them appear to be floating in the air. One great way to improve the look of your restroom is to add a touch of color to the partitions that will contrast your wall coloring. One Point Partitions has nearly one hundred different colors available for our powder coated steel, laminate, solid plastic and phenolic bathroom partitions.
While ceiling hung mounting systems are not the perfect solution for high traffic environments, they can still cater to the needs of multiple people. For instance, these partition mounting systems may make great additions to a corporate restroom. Depending on how many employees your company has, you'll need to include a set amount of stalls and urinals. Ceiling hung partitions allow you to provide your team with functional stalls that are easily cleaned and lend an aesthetic appeal to one of the most important areas in your building.
Though all restroom stalls have open space between the partitions and the floor, ceiling hung mounting systems feature extra room around the base of the partition. These floor gaps provide a number of advantages. The uninhibited spaces also allow for emergency access into or out of the stall, enables more air to be circulated and are much easier to clean. Most importantly, they offer those with disabilities sufficient room to maneuver around the stall. The ceiling hung partition mounting system is an affordable alternative that maximizes user convenience.
4. Floor-to-Ceiling Mounting System
Floor-to-ceiling partition mounting systems are good for places that may see extensive use. These extremely stable partitions are ideal for public gathering spaces such as theaters, auditoriums, convention halls and other large spaces that serve a multitude of guests each day. You should also be aware of the rules and regulations for public restrooms and how they'll impact your space. Installing a floor-to-ceiling partition that is ADA compliant ensures that you're obeying all laws in regards to safety, accessibility and functionality in your restrooms.
Owners of gyms, fitness centers and athletic clubs would benefit from high-quality floor-to-ceiling partitions in their restrooms and locker rooms. Many of these exercise spaces see increased amounts of germs and bacteria that could potentially transmit disease. It's especially important that you keep your restroom facilities as clean as possible so that your clients can feel comfortable. You can minimize the risk of germs spreading by choosing stainless steel partitions that are easy to clean, maintain and add a polished appearance to any health club facility.
Hotels and other lodging facilities that service a revolving clientele base can also benefit from these floor-to-ceiling partitions. Though upgrading the bathrooms within each individual room is beneficial, investing in restrooms throughout your lobby, dining and exercise areas can also enhance your guest's experience. Both budget motels and high-end accommodations can benefit from the increased stability of floor-to-ceiling partitions. A floor-to-ceiling mounting system equipped with durable laminate or powder coated steel partitions will help restrooms resist the signs of wear and tear.
Toilet Partition Mounting Systems From One Point Partitions
Your business works hard to care for your customers, clients and guests. Make sure you're providing them with restrooms that meet their diverse needs as well. By selecting a toilet partition material and mounting system that is designed for the volume of clients you serve, you can install affordable partitions that can withstand any frequency of use. Our ceiling hung mounting systems will increase the aesthetic of your restroom while our overhead braced and floor-anchored or floor-to ceiling-partition systems will provide exceptional stability and support.
The partition experts at One Point Partitions will help you design a restroom that can safely and conveniently provide your customers and employees with a quality restroom experience. Our partitions are made in the U.S. from one of five quality materials that can withstand even the highest volume of customer traffic. We're proud to support our home and our workers by selling only quality, American-made bathroom partitions. We can help you install a partition system that will last for years to come.
Contact One Point Partitions today to learn more about our high-quality toilet partitions and get a free, no obligation design consultation.
Learn More About Each Product