Typical Bathroom Partition Dimensions
If you're like a lot of people, you may not give too much thought to bathroom partitions or their dimensions. If you don't manage a commercial business or a space that has public restrooms, why would you think about toilet partition dimensions, anyway?
If you run a business or a space that has public bathrooms, like a park, it's important for you to be familiar with commercial toilet stall dimensions before you begin project managing a bathroom remodel. Knowing the appropriate bathroom stall dimensions is the only way to ensure people can use your restroom stalls comfortably and safety. It's also the only way to make sure your bathroom stalls are in compliance with ADA requirements.
However, you need to understand that typical toilet partition dimensions may not always be sufficient for a given space. Not every bathroom has the same amount of space or physical features.
For these reasons, some property managers may have to abandon the typical toilet partition height, width and depth in favor of customized bathroom partition dimensions. But whether you're going with standard toilet partition dimensions or custom measurements, it's vital for you to ensure that the stalls you're going to include in your commercial bathroom remodel comply with local, state, and federal requirements.
Common Dimensions for Bathroom Partitions
Precise toilet stall dimensions are key when you're going to order partitions for a commercial or public bathroom. If you order partitions that aren't the right size, you may think you can simply cut them to fit. This process is not only difficult but may also prove impossible unless the partitions are plastic. When you cut a partition, you run the very possible risk of rendering it useless because of the resulting damage.
While restroom stall dimensions vary in accordance with the unique characteristics of your bathroom space, standard toilet stall dimensions are 36 inches wide and 60 inches deep. Minimum bathroom stall dimensions include a depth of 48 inches, but the depth can be as much as 78 inches, if necessary.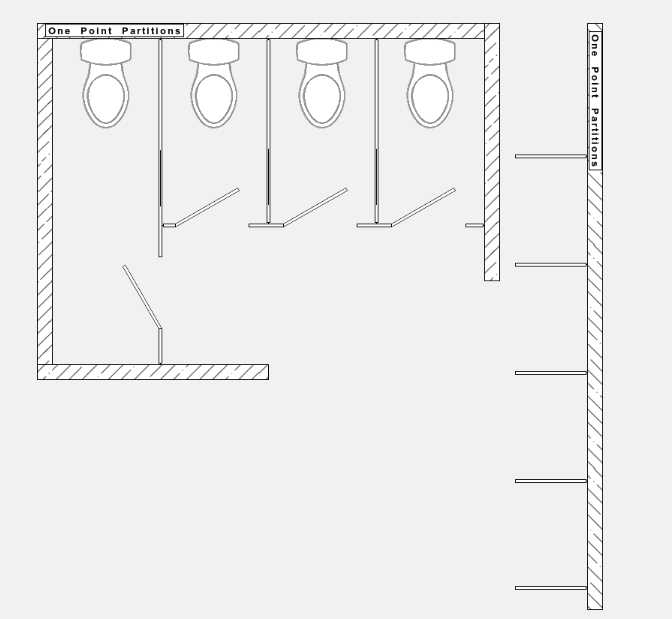 To satisfy ADA requirements, all newly constructed square restroom stalls must have doors that swing outward and with no more than four inches from the diagonal corner to the toilet. The toilet center must also be between 16 inches and 18 inches from the closest wall or partition. In addition, ADA-compliant toilet compartments must be at least 60 inches wide and 59 inches deep on the inside. They need a 36-inch or 34-inch door that a wheelchair can pass through as well.
Bathroom compartments that grant ambulatory access must be at least 36 inches wide. And all handicap stall dimensions must support doors that are at least 34 inches wide. Hiring a professional commercial bathroom remodel contractor will ensure that your measurements are correct and satisfy ADA requirements.
Our American-Made Toilet Partitions
When you order toilet partitions from One Point Partitions, you can rest assured they're ADA-compliant and made in the United States. Our partitions are backed by standard warranties and one of the nation's largest partition manufacturers, Global Partitions.
If you're not sure what kind of layout you want, you can work one-on-one with one of our in-house designers, who will create a design and mock-up for you at no charge. We'll even send you complimentary product samples, which will make choosing your new partitions much easier.
Our attractive, durable bathroom partitions are offered in five material types: laminate, powder-coated steel, solid plastic, stainless steel and phenolic. Our restroom partitions are also available in an array of colors and textures, enabling you to easily create the look you want your bathroom to have.
To see how much it will cost to have new, appropriately sized toilet partitions delivered to your location, use our convenient online pricing tool. But remember that the final cost may vary depending on the size and scope of your project. Use our online pricing tool today.
Material Options
Review our different material options available to find the right toilet partition material for your commercial bathroom.
Get a Quote