How to Design a Handicap-Accessible ADA Bathroom
If you're a business owner, you have a lot of responsibilities. You have to process payroll. You must resolve disputes between your employees and, on occasion, disgruntled customers. You have to make sure you have enough products on hand to satisfy the needs of your clients as well as your staff members. You have to pay state and federal taxes, prepare schedules, maintain your property, and develop sales and marketing strategies as well. And that's just the tip of the iceberg.
One of the biggest responsibilities a business owner or manager has is one some people overlook. When you run a business, you are legally bound to make sure your facility can accommodate people with disabilities. Doing so won't just ensure you're in compliance with the Americans with Disabilities Act, which became federal law on July 26, 1990. Making sure your premises can accommodate people with disabilities is simply good for business.
Prevalence of Disabilities in America
As a business owner, would it make sense for you to alienate more than 20 percent of your prospective customer base? Even if you're an inexperienced business owner or manager, you know the answer to that question is, "No." If you don't have an ADA-compliant bathroom layout, however, you're at risk for doing just that.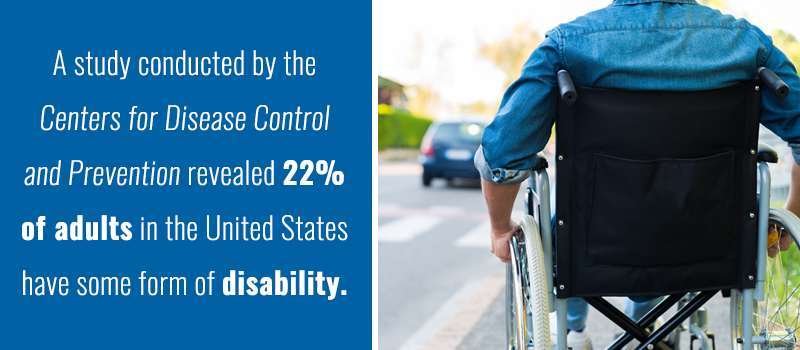 A study conducted by the Centers for Disease Control and Prevention revealed 22 percent of adults in the United States have some form of disability. While that number may be startling, it's important to note it doesn't account for people who are deaf or have difficulty hearing. This means that the actual number of Americans who suffer from a disability might be dramatically higher.
Some of the disabilities adult Americans grapple with include:
Mobility: Significant trouble walking or mounting stairs — 13 percent of the population
Cognition: Noticeable hardship with concentrating, recalling things, and making decisions — 10.6 percent of the population
Independent Living: Difficulty with running errands, e.g. grocery shopping, without assistance — 6.5 percent of the population percent
Vision: Blindness or trouble seeing, even with the use of eyeglasses — 4.6 percent of the population
Most Prevalent Areas for Disabilities
The likelihood members of your clientele have a disability depends in part on your target market and the location of your business. According to the Centers for Disease Control and Prevention's report, the highest percentages of individuals living with disabilities are typically found in southern states while the lowest percentages of people who have disabilities are located in Midwestern and Rocky Mountain states.
The percentages of American adults living with disabilities in certain southern, midwestern and Rocky Mountain states include: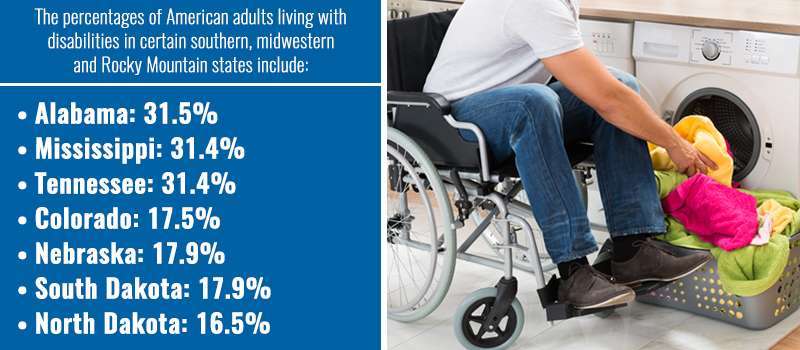 Alabama: 31.5 percent
Mississippi: 31.4 percent
Tennessee: 31.4 percent
Colorado: 17.5 percent
Nebraska: 17.9 percent
South Dakota: 17.9 percent
North Dakota: 16.5 percent
The Centers for Disease Control and Prevention's study also showed certain segments of the population report living with a disability more often than others. For instance, more than one-third of individuals who are at least 65 years-old said they have a disability of some sort. Approximately 24.4 percent of women report that they have a disability compared to 19.8 percent of the adult male population. About 29 percent of non-Hispanic black adults, 25.9 percent of Hispanic adults, and 20.6 percent of white, non-Hispanic adults live with a disability of some kind.
In addition, the Centers for Disease Control and Prevention's report revealed people who have a higher household income weren't as likely to report having a disability. The same is true for individuals who have a higher level of education.
Who Benefits from ADA Bathroom Design
Keep in mind having a compliant bathroom design isn't just necessary to accommodate your clients. The law mandates ADA-compliant commercial bathrooms for the benefit and use of your employees as well. This means even if you don't serve members of the public directly at your place of business, you're still bound to adhere to ADA  layout guidelines.
Even though the ADA Standards for Accessible Design introduced in 2010 are primarily intended to benefit customers and employees who have disabilities, ADA-compliant commercial bathrooms are beneficial to other groups of individuals, including: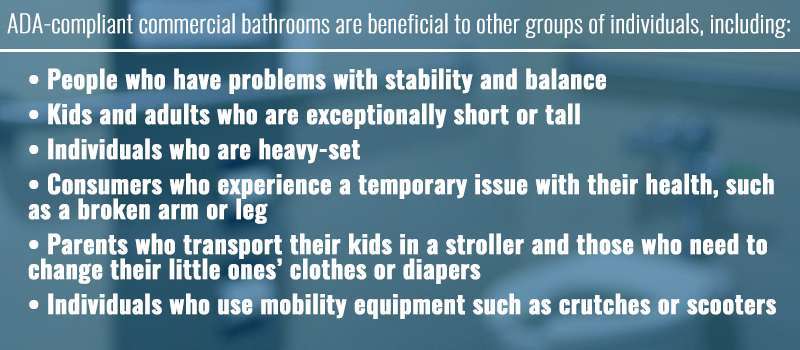 Designing a commercial handicap bathroom and having it installed benefits you as a business owner, too. Failing to comply with the requirements of the Americans with Disabilities Act can lead to legal action against your establishment. The Department of Justice is responsible for filing lawsuits against businesses accused of discriminating against people with disabilities because their properties aren't ADA compliant.
While the Department of Justice must attempt to settle a dispute through negotiation before a lawsuit is filed in federal court, it has successfully obtained court orders penalizing businesses that aren't ADA compliant for back pay and compensatory damages. Under Title III, the Department of Justice can secure civil penalties in the tens of thousands of dollars for a business' first violation and penalties of more than $100,000 for later violations.
Businesses That Must Comply With the Americans With Disabilities Act
Just about every business or money-making entity operating in any industry or sector in the United States must comply with the Americans with Disabilities Act, including state and local governments, employment agencies and labor unions. Every entity considered a "public accommodation" must adhere to the guidelines of the Americans with Disabilities Act. T
Examples of public accommodations that must comply with the ADA's Title III mandates include:
Restaurants
Hotels and Motels
Movie Theaters and Performance Halls
Physicians' Offices
Pharmacies
Retail Establishments
Museums
Libraries
Public and Private Schools
Parks
Child Care Centers
Banks
Insurance Agencies
According to ADA.gov, approximately six million businesses, 666,000 privately owned and public employers, and 80,000 governmental units across the country must follow the Americans with Disabilities Act. Clubs that have an exclusively private membership base and religious organizations aren't required to comply with the ADA's Title III requirements, however.
Ways to Skirt ADA Requirements
While compliance with the Americans with Disabilities Act is mandatory for millions of businesses, the government makes allowances for instances in which it's not possible for businesses to make their properties accessible to individuals with disabilities due to the physical limitations of their commercial space or because of financial issues. The law only requires public accommodations physically alter their buildings to comply with the ADA when it's "readily achievable" for them to do so.
What does "readily achievable" mean? It's when something can be accomplished without too much trouble or expense.
A common misconception prevalent among business owners who lease their operational space is that it's the responsibility of their landlord to make their property ADA compliant. If you run a place of public accommodation and rent your space, the legal responsibility for removing barriers and providing auxiliary aids to benefit people with disabilities falls on your shoulders and your landlord's equally.
Tax Benefits for Becoming ADA Compliant
While you may have designs for a handicap bathroom already drawn up, the costs associated with installing an ADA-compliant restroom may prevent you from acting on them. Luckily, the Internal Revenue Code was changed in 1990 to make it more affordable for businesses to make the changes necessary to renovate their commercial properties so that they're ADA compliant.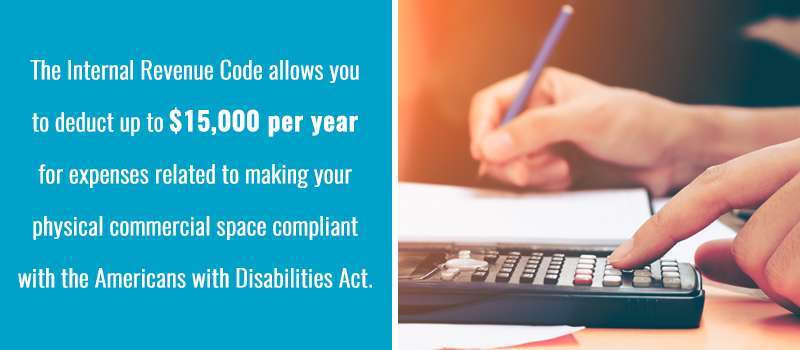 The Internal Revenue Code allows you to deduct up to $15,000 per year for expenses related to making your physical commercial space compliant with the Americans with Disabilities Act. The Internal Revenue Code also allows qualified small business owners to claim a tax credit for specific expenses related to work done to make their workspace ADA compliant.
To be eligible for this tax credit, a business must not employ more than 30 full-time workers, and its annual gross receipts cannot be in excess of $1,000,000. If your business satisfies this criterion, you may qualify for a tax credit for up to 50 percent of your eligible expenses that are over $250 and under $10,250.
In addition to making your commercial bathrooms ADA compliant, expenses related to the following projects generally qualify for the small business tax credit:
Removing architectural, physical, communication and transportation obstacles
Providing auxiliary aids such as readers and interpreters
Paying to acquire or modify equipment and/or devices
ADA Guidelines Public Accommodation and Commercial Facilities Must Follow
The Americans with Disabilities Act mandates every newly constructed commercial facility and every new structure built to house a place of public accommodation must be fully accessible to people with disabilities. Places of public accommodation as well as commercial structures must comply with the 2010 ADA Standards for Accessible Design. These guidelines provide minimum scoping and technical requirements for newly designed and constructed as well as modified public accommodations and commercial facilities to ensure they're accessible and ADA compliant.
If you operate in a space that makes it impossible for you to fully comply with the accessibility standards prescribed by the Americans with Disabilities Act, any alterations you make to your location must make your space accessible to people with disabilities "to the maximum extent feasible."
This means that any areas you modify must be accessible if it's at all possible to make them accessible. Even if you can't make an area accessible to people with certain kinds of disabilities, it must be accessible to individuals with other types of disabilities. For instance, if people who use wheelchairs can't access an altered area, those who use crutches or service animals should still be able to access the modified space.
In general, the cost of including accessibility features in a newly built facility is under one percent of a developer's total construction costs. If you alter part of your workspace, you have to make the amenities intended to serve that area accessible, including bathrooms, telephones and drinking fountains. The Americans with Disabilities Act only requires you to make these additional modifications to the extent that the cumulative cost to execute them is less than 20 percent of the expenses you incur to perform the original renovation.
ADA Requirements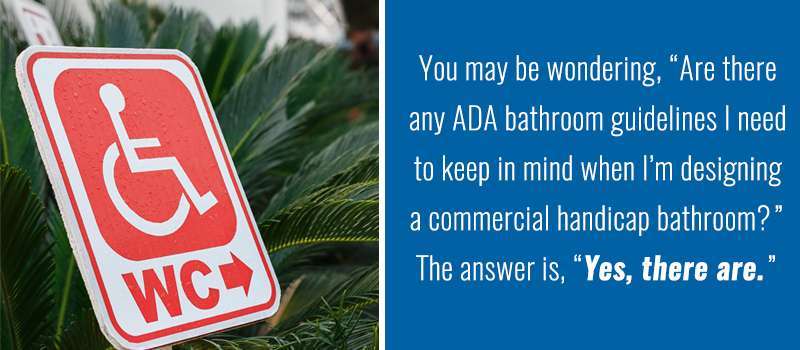 You may be wondering, "Are there any ADA  guidelines I need to keep in mind when I'm designing a commercial handicap bathroom?" The answer is, "Yes, there are."
Since the Americans with Disabilities Act first became federal law nearly three decades ago, the United States Access Board has issued various sets of guidelines places of public accommodation and commercial facilities must follow to be ADA compliant:
The original set of requirements was released in 1991 and was known as the "ADA Accessibility Guidelines for Buildings and Facilities," or ADAAG.
The 2010 ADA Standards are the newest set of requirements the United States Access Board has released. The Department of Justice now uses the 2010 ADA Standards to enforce the Americans with Disabilities Act.
Commercial properties that are built or altered on or after March 15, 2012, are legally bound to be in compliance with the mandates prescribed in the 2010 ADA Standards, including the guidelines that pertain to bathrooms.
Many states and local municipalities have adopted the 2009 ICC/ANSI Standards for commercial building projects and those involving places of public accommodation. While the 2010 ADA Standards and the 2009 ICC/ANSI Standards are similar in many regards, they sometimes differ in the contexts of scope and technical requirements.
If you're undertaking a new commercial construction project or you're planning to make physical changes to your existing workspace and the prevailing governing body uses both sets of guidelines, it's advisable for you to adhere to the more stringent requirements found in either the 2009 ICC/ANSI Standards or the 2010 ADA Standards.
It's equally advisable for you to do more than simply follow the minimum guidelines found in either set of standards. If you do "only" the bare minimum to make your commercial bathrooms accessible and practical for daily use by people with disabilities, you're exposing yourself, your design and construction teams and, if you rent your workspace, your landlord to risk for being non-compliant with the relevant set of standards.
Disabilities to Consider When Planning a Bathroom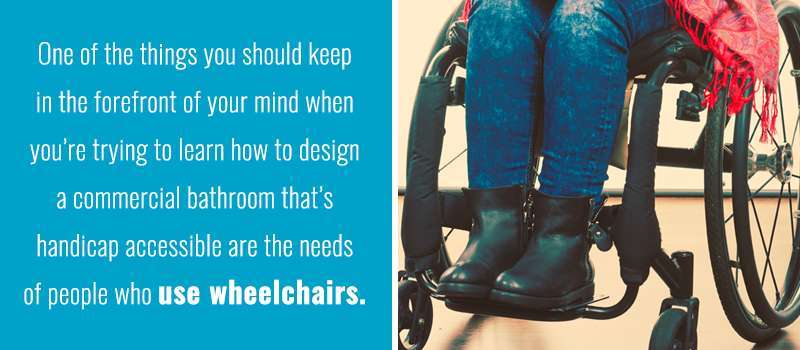 One of the things you should keep in the forefront of your mind when you're trying to learn how to design a commercial bathroom that's handicap accessible are the needs of people who use wheelchairs. In fact, the needs of people who use wheelchairs should be a leading consideration for the amount of space your commercial handicap bathrooms will require as well as your building's paths of travel.
Wheelchairs vary in size and design, and the use of motorized scooters has grown in recent years. Like wheelchairs, scooters are available in a myriad of sizes. Today's accessibility standards fail to address these trends and their ramifications on your bathroom designs, which again underscores the need to do more than simply meet the minimum accessibility requirements to avoid being accused of discrimination against disabled individuals.
You also need to keep in mind the needs of people who have sensory disabilities such as blindness or deafness and those who use devices such as canes and walkers. The needs of these individuals may require you to eliminate protruding objects from your design, and they may necessitate that you incorporate a fire alarm that has strobe lighting.
Finally, you should consider the needs of the people who tend to individuals with disabilities, including parents and opposite-sex caregivers, when you're designing your commercial bathrooms. These considerations have given rise to "family" bathrooms in places like malls and other establishments frequented by consumers who have a wide range of needs.
Specific ADA Guidelines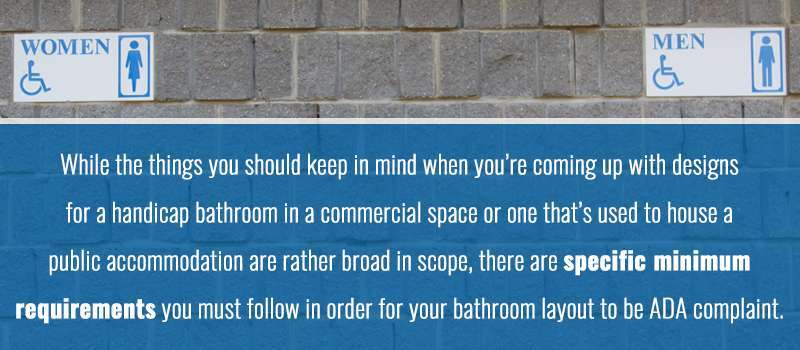 While the things you should keep in mind when you're coming up with designs for a handicap bathroom in a commercial space or one that's used to house a public accommodation are rather broad in scope, there are specific minimum requirements you must follow in order for your bathroom layout to be ADA compliant. Here are some of the ADA  bathroom layout guidelines you must follow when you're designing a commercial handicap bathroom.
Clear Floor Space
Your commercial bathroom must have enough clear floor space to easily accommodate a wheelchair. The clear space should allow someone to approach the features in your bathroom in either a straightforward or parallel manner.
It's okay for some of your bathroom's clear floor space to be underneath hand dryers, towel dispensers or bathroom fixtures, but you must ensure you satisfy the ADA requirements for toe and knee clearance. Your clear floor space should align so people can use either their right or left hands to access the space and utilize the amenities in your commercial restroom.
Mounting Heights
Bathroom accessories must be mounted to accommodate people who have a limited reach range. With this in mind, you should mount the accessories in your bathroom so that their controls — e.g. start buttons and dispenser openings — aren't more than 48 inches above the finished floor. The ADA requirements are different if your restroom's amenities are mounted above obstacles such as sinks or counters.
If your bathroom's accessories are mounted over an obstruction, they must be a maximum of between 44 and 48 inches higher than the finished floor. ADA guidelines mandate the operational parts of any accessory in a commercial bathroom can't be mounted lower than 15 inches higher than the finished floor. When you're determining where you're going to put accessories in your restroom, it's critical you position them so they can be approached head on and from the side.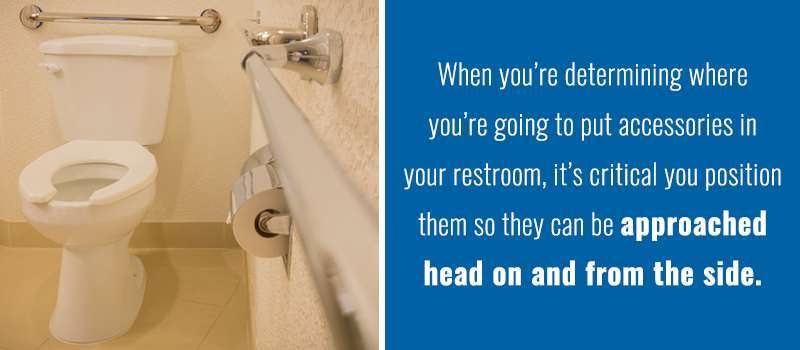 Turning Spaces
Business owners have two choices when it comes to satisfying the turning space requirements for wheelchairs in the 2010 ADA Standards:
They can choose circular space or a T-shaped turning area that's contained within a square that's at least 60 inches at arm height and 36 inches at the base.
If you choose to have a circular turning space in your commercial restroom, it must allow someone in a wheelchair to make a 180-degree or 360-degree turn freely.
If you have limited space at your facility, you may want to have a T-shaped turning area because it requires less space. A T-shaped turning area enables people to make a three-point turn easily.
It's okay if part of the space you dedicate for turning is underneath things such as restroom fixtures or amenities, but you must maintain at least the minimum amount of toe and knee clearance prescribed in the current ADA guidelines.
Left- and Right-Handed Use
To ensure your handicap bathroom design is ADA compliant, you must ensure your restroom's fixtures can be approached from both the right- and left-hand sides. If your bathroom's fixtures can't be approached from both sides, some people who have disabilities might not be able to use your restroom. To avoid legal problems, make sure the fixtures and accessories in your bathroom are symmetrical.
Handicap Bathroom Design Materials
Another factor to consider when evaluating bathroom requirements has to do with the materials you use in creating your bathroom. The 2010 ADA Standards define many specifics for bathrooms in Chapter 6 of the regulations, specifically in Section 603 (Toilet and Bathing Room), Section 604 (Water Closets and Toilet Compartments), Section 605 (Urinals) and Section 606 (Lavatories and Sinks).
In these sections, the ADA does not state that restrooms must use one material over another for partitions, stalls and screens. However, different layouts are possible with different materials, so you will want to consider what you wish to use:
Powder-coated steel: Steel is already known as a very durable material, and this characteristic is further enhanced by having pigment baked onto the metal using a powder coating process. This makes the color resistant to fading and very sturdy. Bathroom partitions made from powder-coated steel tend to be the most economical option, too, which may be an important consideration if you are also investing in grab bars and other equipment required by the ADA. However, this material is not the most water-resistant and color selection may be somewhat limited.
Plastic laminate: Bathroom stalls and partitions sold as plastic laminate are composed of layers of multiple materials, including a steel sheet, laminate and particleboard. Plastic laminate is one o the most popular choices and is cost-effective for your bathroom. It is, however, not the ideal solution for high-traffic and high-moisture environments.
Solid plastic: Solid plastic restroom partitions are an excellent choice for any bathroom because they can stand up to heavy cleaning and are resistant to rust, mold, moisture, and wear and tear. This material is also very solid and can easily withstand the heavy use and heavier weights applied to ADA grab bars.
Phenolic core: Partitions made from this material include a resin coating over a layered paper center. This a viable material for accessible bathrooms because it can handle heavy impacts well, such as those that might occur if users of your restroom bump against the partition with a wheelchair. A phenolic core stall is also resistant to corrosion, water and germs.
Stainless steel: Stainless steel is resistant to scratches and rust, making it ideal for any high-moisture areas. This resilience is great for bathrooms, since wheelchairs and other medical devices are unlikely to mar or do permanent damage to stainless steel. The primary advantage of stainless steel is that it combines a very sophisticated and attractive look with premium durability.
Entrance and Exit
There is no shortage of choices when it comes to entrances and exits for commercial restrooms. The kind of entrance and exit you choose for your bathroom will determine the minimum ADA requirements you'll need to satisfy.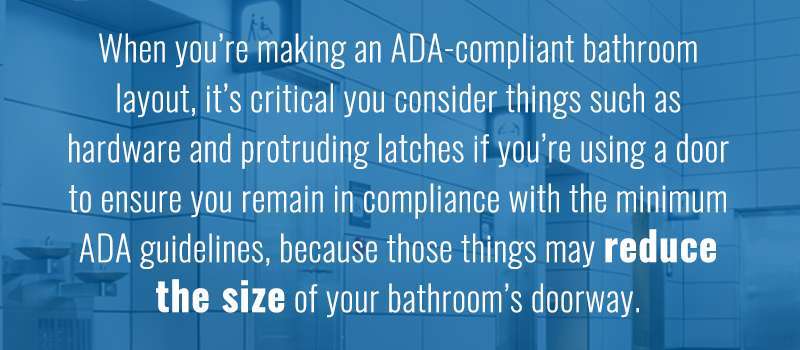 When you're making an ADA-compliant bathroom layout, it's critical you consider things such as hardware and protruding latches if you're using a door to ensure you remain in compliance with the minimum ADA guidelines, because those things may reduce the size of your bathroom's doorway. Here are some options available for your bathroom's entrance and exit:
Single Door: If you're going to have a single door leading into and out of your restroom, you should have a clear and level pathway leading to it that's at least 48 inches wide. When the door is open 90 degrees, the entranceway must have an opening that measures a minimum of 32 inches across.
Your bathroom should have an aisle that's at least 48 inches wide so people in wheelchairs can navigate the space comfortably. An access aisle that's a minimum of 48 inches in width will also allow people to enter and exit your bathroom at the same time.
Opposing Doors: If you don't want a single door, you may want to have one door for your bathroom's entrance and a second door for exiting traffic separated by an alcove instead. In this configuration, your alcove must be at least 48 inches wide in addition to the width of the adjoining door.
Your doors should swing in the same direction to make it easier for people using mobility aids such as wheelchairs and crutches to open them. Your doors should open in the direction that traffic flows regardless of whether a door is used to enter or exit your facility's restroom.
Open Vestibules: Open vestibules are popular options because they don't require doors. The point at which people enter and exit your bathroom should be a minimum of 48 inches wide so people can go into and get out of your restroom simultaneously.
Door Hardware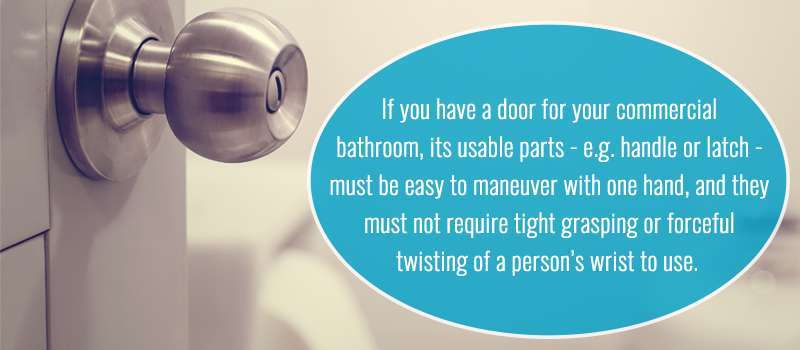 If you have a door for your commercial bathroom, its usable parts — e.g. handle or latch — must be easy to maneuver with one hand, and they must not require tight grasping or forceful twisting of a person's wrist to use. The operational components of your door must be mounted no less than 34 inches and no more than 48 inches above the finished floor. Users must be able to open the door with five pounds of force or less.
Raised Thresholds
If possible, you should avoid raised thresholds at the entry points to your commercial bathrooms. If you simply can't avoid raised thresholds, ADA guidelines mandate they be beveled and no higher than ½ inch in newly constructed locations. If your facility has existing or altered thresholds, they must be beveled as well. Existing or altered thresholds can measure up to ¾ inch, but they must satisfy the ADA's change of level mandates. Raised thresholds higher than ¼ inch must have a bevel that's 1:2 steep or less.
Water Basins
Whether you refer to them as water basins, lavatories, sinks or something else, these features are an important part of any bathroom setting, including your commercial restroom. At least one lavatory in your work bathroom must meet or exceed the requirements provided in the 2010 ADA Standards.
If your wash basin is going to sit in a countertop, you should position it as close as possible to the counter's front edge to ensure it's accessible to people with disabilities who have a limited reach. The highest point of either the counter or lavatory rim must be a maximum of 34 inches above the finished floor. The fixture must have a knee clearance of at least 27 inches from its bottom to the floor. The knee clearance must go a minimum of eight inches under the leading edge of the wash basin.
The forward approach to the lavatory must be at least 30 inches wide and 48 inches deep. The minimum toe clearance for lavatories is 17 inches. It's important to note wash fountains that have knee space are no longer allowed to hang over the clear floor space reserved for handicap-accessible toilets.
Pipes and Exposed Surfaces
The pipes and exposed surfaces underneath your wash basins must be free from sharp or abrasive surfaces. You must also take steps to protect the people who use your restroom from burns caused by hot water running through your pipes. This is particularly important to protect people who have decreased sensitivity in their lower extremities from injury. One option is to wrap your pipes with protective material. Another alternative is to install protective panels underneath your sinks.
Controls and Fixtures
Your commercial bathroom's faucets, toilets and fixtures must satisfy ADA guidelines. This means people should be able to use them without having to pinch, twist their wrists hard or grasp tightly. They should also be able to use the operable controls without having to exert more than five pounds of force.
The controls in your bathroom should be centered so they can accommodate both right- and left-hand approaches. If that's not possible, you should provide two accessories at the same location, one for right-hand approaches and a second for approaches from the left. While it's not required, it's recommended the controls in your bathroom be a different color than your countertops so users can identify them with ease.
Mirrors
If you have mirrors in your commercial restroom, they must meet ADA bathroom guidelines in order for you to remain compliant with the law. The bottom edge of mirrors installed above wash basins or counters must be no more than 40 inches above the finished floor.
Mirrors that aren't above sinks or countertops must be installed so that their bottom edge is 35 inches or less above the finished floor. You should plan to install at least one full-length mirror in each of your commercial bathrooms, if possible. This will allow everyone to use the mirrors, including any children who visit your facility and use one of your restrooms.
Soap Dispensers
Soap dispensers must be installed so their controls satisfy certain designated reach ranges identified in the 2010 ADA Standards. You must be sure you mount your soap dispensers far enough away from your faucets so using one won't interfere with the use of the other. According to the 2010 ADA Standards, soap dispensers should be mounted no more than 44 inches above the finished floor.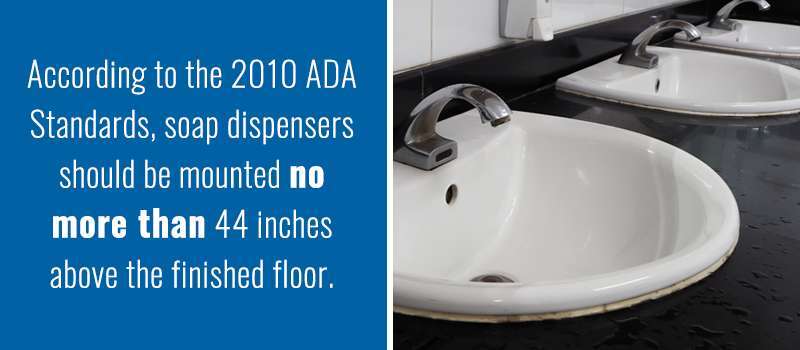 Paper Towel Dispensers, Warm-Air Dryers and Waste Bins
These things should be available in an area that's easily accessible for people using wheelchairs. Ideally, users will be able to find them right next to an accessible sink. If you're using a warm-air hand dryer in your commercial restroom, you must make sure it can accommodate approaches from both the right and the left. If it can't, you'll need to install two warm-air hand dryers.
If you're only going to need one warm-air hand dryer in your bathroom, its operational parts should be 40 inches above the finished floor. If you're installing two warm-air hand dryers, one should be installed 40 inches above the finished floor, and the other dryer should be no more than 48 inches from the finished floor.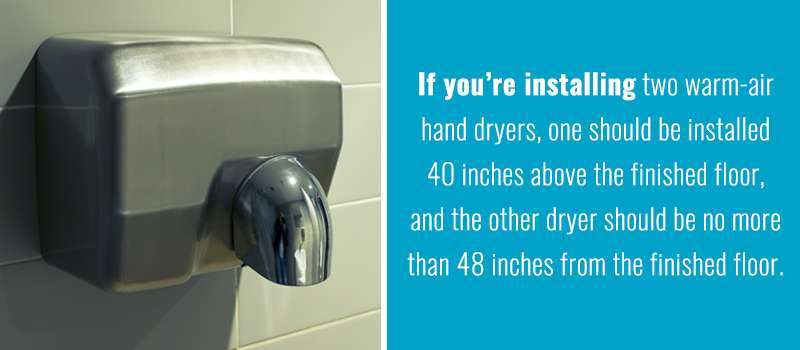 Handicap-Accessible Toilet Compartments
The 2010 ADA Standards discuss two kinds of commercial toilet compartments, the Wheelchair-Accessible Toilet Compartment and the Ambulatory Accessible Toilet Compartment. Here are the ADA guidelines for each of them:
Wheelchair-Accessible Toilet Compartment
For wheelchair accessibility, the centerline of the toilet should be between 16 and 18 inches from the sidewall for wheelchair accessible toilet compartments.
This kind of toilet compartment must have a depth of 56 inches if a toilet is wall-mounted or a depth of 59 inches if the toilet is floor-mounted.
When measuring at a right angle from the sidewall, this compartment must have a width that's at least 60 inches.
The ADA also requires a grab bar to be installed on the rear wall as well as the sidewall or partition closest to the toilet.
Coat hooks and shelves should be mounted 48 inches from the finished floor, and they shouldn't protrude more than four inches.
Ambulatory Accessible Toilet Compartment
In an ambulatory accessible toilet compartment, the toilet's centerline should be between 17 inches and 19 inches maximum from the side wall or partition.
The 2010 ADA Standards dictate the maximum width for this kind of toilet compartment is between 35 and 37 inches.
Stall doors are not allowed to swing into the minimum mandatory toilet compartment.
Both sides of the door must have pull hardware located near the door's latch.
Grab bars must be installed on each of the compartment's side walls or partitions.
Some toilet regulations apply to both wheelchair-accessible and ambulatory accessible toilet compartments. For example, both types of toilet compartments should be arranged for a right or left hand approach. Also, in either compartment type, the toilet seat height should be between 17 and 19 inches, measured to the top of the seat from the floor. Lastly, seats should not automatically return to a lifted position.
ADA Installation Instructions
When you are adding partitions or other elements to your bathroom, you need to ensure you are installing everything to be fully compliant. This means you will need to plan your layout to include the correct clearance, grab bars and other elements of an ADA-compliant restroom.
If you need assistance, the One Point Partitions team of experts can help you design your space. Our online design tool and our detailed online instructions for installation will also help you include every element you need and make sure your installation is completed correctly.
Use One Point Partitions for Your ADA-Compliant Bathroom Needs
While we've discussed many of the ADA guidelines, there are others that you must adhere to in order to have ADA-compliant commercial bathrooms at your location. To ensure you meet every requirement of the ADA design standards, contact One Point Partitions.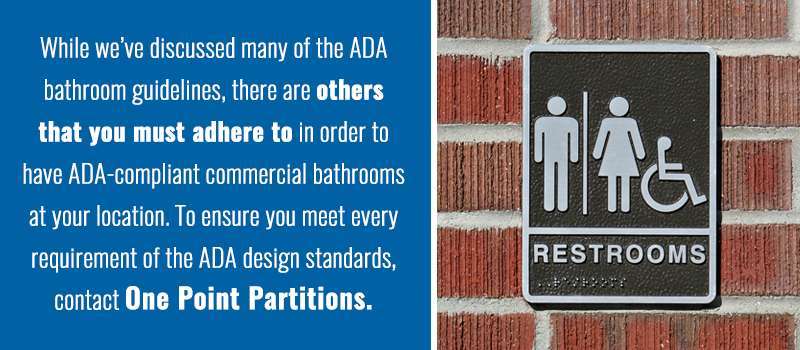 Our experienced, trustworthy design experts can come up with an ADA-compliant bathroom that's perfect for your commercial space. We know being complaint with the law is a must for any business. More importantly, we know you want people with disabilities to be able to use the restrooms at your facility comfortably and with their dignity intact. That's why we don't charge our clients for the time it takes our talented designers to create an ADA-compliant bathroom layout.
Our initial design consultation and a mock-up of your ADA-compliant commercial bathroom are free, with no obligation required. We provide free quotes, free deliveries and low prices as well.
Unlike the materials some of our competitors use, all of our materials are made in America. We offer partitions made with five different types of material available in many attractive colors. Our materials are backed by one of the largest partitions factories currently operating in the United States, Global Partitions, giving you peace of mind.
We provide excellent customer service from the moment you request a quote or design consultation, through the installation of your ADA-compliant commercial bathroom and beyond. We provide quotes, designs and deliveries as quickly as possible because we know you, like many business owners and managers, simply don't have time to waste waiting for the things you need for your facility to be in compliance with the Americans with Disabilities Act.
To learn more about how we can help you with your design needs, call One Point Partitions today.