Toilet Partitions for Business
Different kinds of bathrooms fit different kinds of businesses. When you design your restroom, every aspect counts — including your partition materials. The different types of partitions suit particular situations best. Different partition types require specific cleaning methods and offer their own levels of germ and moisture resistance.
Keep reading this guide to learn which materials will work best for your industry.
Powder-Coated Steel
When you want to get the job done with a low budget, powder-coated steel serves as an affordable and durable option. It has the lowest cost out of all our materials. Yet, it still has a high fire safety rating that lets you comply with building codes. Non-profits, government agencies and small businesses can all benefit from what powder-coated steel has to offer.
Consider this material for organizations such as:
Laminate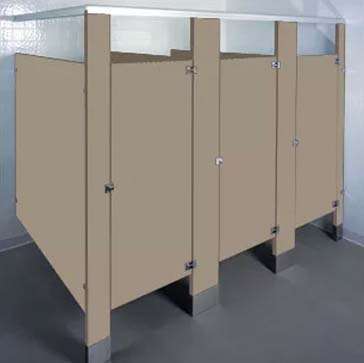 If your business doesn't have a high-moisture environment like a pool or a gym, you can use laminate to have the most control over your restroom's appearance. It has only a slightly higher price than powder-coated steel, yet it has the most design options out of all materials. Our laminate partitions come in almost 50 colors and patterns! They also offer high durability and resistance to scratches and impacts.
You can use laminate partitions in bathrooms for:
Hotels
Restaurants
Bars
Clothing and home decor stores
Solid Plastic
HDPE solid plastic costs more than laminate and powder-coated steel, but it resists the moisture generated in certain environments. It also has superior reliability that lets it withstand high traffic and vandalism. You can choose the fire-safety rating of your HDPE partition, so you don't have to worry about meeting your building code. If you expect high moisture or germ levels in your restroom, solid plastic will stay sanitary with regular care.
Use solid plastic in businesses such as:
Schools
Gyms
Pools
Outdoor recreation areas
Rest stops
Stadiums
Military buildings
Phenolic
A phenolic partition features the perks of solid plastic and laminate. Our phenolic comes in a variety of classic, polished colors and patterns. Meanwhile, it also resists high traffic, vandalism, moisture and germs. It works in a wide range of situations. However, you have to pay a higher premium to take advantage of these many benefits. If you don't mind investing in a partition that will last, phenolic won't let you down.
You'll find it used in places like:
Bars
Sports arenas
Venues
Parks and campgrounds
Stainless Steel
If you don't want to mess around, you pick stainless steel. At a higher price point and with a single color selection, you get an elegant and reliable restroom partition. Stainless steel resists rust, germs and fire while giving your bathroom a classy appearance.
Install stainless steel partitions in restrooms at:
Hospitals
Hotels
Restaurants
Office buildings
Design Your Restroom Today
It doesn't take an architect to design the perfect bathroom! Instead, you only need a few mouse clicks. Our three-step partition planner lets you create the bathroom layout required for your business and makes it easy to get a quote. For more advice on material choice, book a free design session or contact us.