Toilet Partition Materials Guide
You decided on your restroom measurements and layout. But what about your commercial toilet partition materials? Your bathroom partition materials determine the look and functionality of the entire room. They come in different colors and need specific cleaning methods. The toilet partition material types also carry germs in unique ways that you must consider.
At One Point Partitions, we offer five kinds of partitions that fit certain situations. This guide will overview each material's strengths to help you decide what to order.
Powder-Coated Steel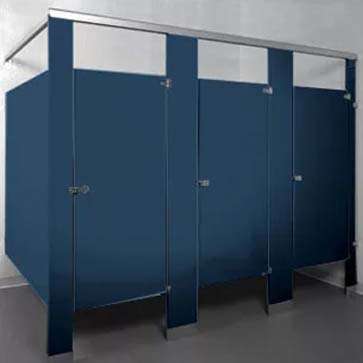 Powder-coated steel may have the lowest price point out of our material options, but that doesn't mean it can't deliver. They offer high durability and reliability, so you don't have to worry about replacing them frequently. Partitions made from powder-coated steel resist rust and corrosion, and you can add a wax sealant for further protection. Pricing starts at $275 per stall.
If staying on a budget is important, then powder-coated steel may be the option for you. Whether you're looking to include the bathroom stalls in an office setting, restaurant or other location, powder-coated steel has a look that works great in any environment. It's clean and classic, with a wide variety of colors and patterns available.
No matter the type of look you wish to achieve in your restroom, this material for bathroom partitions can make it happen. For a great balance between affordability and looks, choose powder-coated steel. This material also makes it easy to configure to any bathroom shape. Whatever configuration your bathroom is — and no matter how many stalls or the sizes that you want — powder-coated steel looks wonderful.
Laminate
High-pressure laminate boasts the most color options out of any bathroom partition material. You can order our laminate partitions in nearly 50 different colors and patterns. If your bathroom isn't an especially high-moisture environment, you can completely change the look of the room with laminate. While laminate costs a little more than powder-coated steel, it still has an affordable price. Our laminate partitions have a price that starts at $375 per stall.
Another option that fits into most budgets, laminate gives even more color options than powder-coated steel. With the variety of color and pattern options available, you can create any look for your new bathroom. For a polished, classic appearance, choose a lighter color like the Washed Knotty Ash. For a funkier design, pick the Storm Hex pattern for a more geometrical look.
When you're redoing a bathroom, whether it's for a club or a restaurant, laminate bathroom partitions help you create the right atmosphere. And, with options as low as $375 per stall, laminate won't break your budget.
Solid Plastic
Solid plastic partitions feature a non-porous material that resists moisture. They also withstand stronger cleaning materials for environments that have plenty of germs. The solid plastic makes the partitions look sleek without the higher price point of other smooth materials. Since they have such a high level of durability, they work in just about any setting, including rooms with high vandalism or traffic. Prices for solid plastic partitions start at $450 per stall.
When you need your bathroom stalls to hold up, solid plastic will do the job. If your bathrooms get more traffic or can't be checked as frequently, such as in a public park, you need a material that's built tough like solid plastic. The price per stall is a little higher than laminate and powder-coated steel, but it pays off for the level of durability you get.
Solid plastic gives a great selection of color options as well. With calming neutrals and bright, cheerful color options, give your new bathroom the exact look you want. No matter how you envision your restroom, solid plastic partitions can make it happen.
Phenolic
Phenolic, also known as compact laminate, features the best traits of solid plastic and regular laminate. The partitions include a solid resin core covered with a layer of durable melamine. This construction results in high germ and moisture resistance as well as plenty of customization options. We offer 11 different colors of phenolic that look refined enough for any setting. Our phenolic prices start at $700 per stall.
When you first see the cost compared to the other options, you may wonder why it's so much higher than the next price point down. The higher price is worth it because it combines the best traits of other materials. It has the durability and toughness of solid plastic and the amazing color options of a laminate. Phenolic bathroom partitions will last a long time and look incredible for their entire lifetime. Phenolic is a unique choice because it takes characteristics from other types of materials, giving you the best of several types of materials.
Stainless Steel
Stainless steel offers simplicity, strength and sleekness. It stands up to germs and high traffic while giving your space an elegant aesthetic. If you can invest more money in your partitions and don't expect a lot of moisture, stainless steel has some of the best benefits to offer you. They also come in a natural material with a lower environmental impact than plastic partitions. You can buy our stainless steel partitions at a similar price to phenolic — a minimum of $700 per stall.
Stainless steel has the signature appearance you can't get from any other material. The sleek, timeless look works in any style of bathroom. No matter what type of business or organization you have, stainless steel bathroom partitions match seamlessly. The price is a little higher like phenolic partitions, but it can fit into many different budgets. If you have a lower spend amount, you can still choose stainless steel if you're only putting in a few stalls.
Create a Custom Quote
Bathroom partition pricing depends on many factors, including size and layout. To help you do the math, we provide an auto-quote tool that lets you get a price estimate on the room you need. Once you have this estimate, you can figure out which materials fit your budget. Of course, we can lend a hand with your pricing estimate. Feel free to contact us online or at 800-756-6817.