A Guide to Bathroom Grab Bars


Every year, more than 1.6 million older adults go to the emergency room for injuries related to falling. Slips and falls are a common injury that can have serious consequences, including broken bones and head injuries. While these accidents are sometimes unavoidable, you can do a lot to help prevent this from happening in your home. You can clear clutter to avoid tripping over something on the floor. You can exercise at home to help improve your balance. You can also invest in secure holds to make your environment safer. Learn about the different kinds of bathroom grab bars and how they can help keep you safe at home.
Who Needs a Grab Bar?
Slips and falls can happen to anyone if an environment is not designed to prevent them. You may stand up after falling without any injuries, or you might feel sore for a few days. But, injuries can be far more severe. In the right conditions, a fall can result in broken bones, head injuries, permanent disability and even death.
Falls can happen anywhere in the home, but the risk can be even higher in the bathroom. The shower and tub are slippery when wet. Rugs on the floor can trip you. Approximately 235,000 people go to the hospital every year because of injuries that happen in the bathroom. Who are the most at risk for these types of accidents?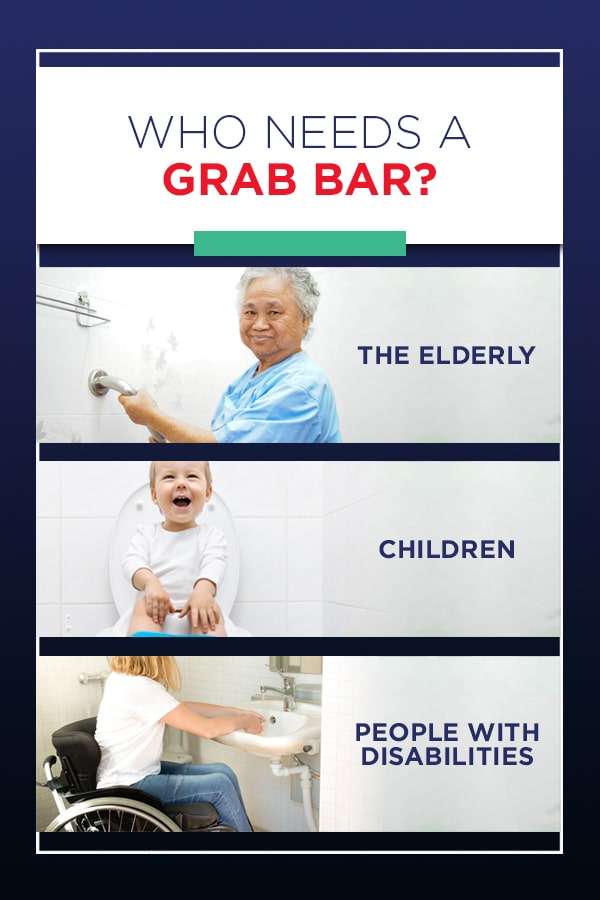 The Elderly
As we age, our bodies begin to slow down. Our reaction times slow and our balance can waver. Our muscles and bones are not as strong as they once were. These effects put the elderly at risk for slips and falls, especially in the bathroom where the floor is wet and there is not always something to help break a fall. Grab bars offer older people something to hold onto while they use the toilet or shower.
Children
The elderly are not the only people who are at risk for accidents in the bathroom. Each year, more than 43,000 children suffer injuries related to bathtubs and showers. Small children, in particular, are at risk for slips and falls in the bathroom. Kids often injure or cut their faces and necks. Toddlers especially are still developing their coordination and sense of balance. A bar for them to hold onto when using the toilet, particularly when they are first learning how, and getting in and out of the bathtub can help prevent them from falling and hurting themselves.
People With Disabilities
People with disabilities may have difficulty navigating a bathroom safely. Whether or not they use a wheelchair, mobility challenges can make slips and falls more likely in the bathroom. Grab bars can help people with disabilities maintain their privacy, independence and safety while they use the toilet and bathe. If a caretaker needs to help someone with a disability in the bathroom, grab bars are still a helpful tool to have. Both the person in need of assistance and the caretaker can use the grab bar for stability.
Grab bars are significant in helping to keep people safe in private and public restrooms.
What Are the Requirements?
The American Disabilities Act (ADA) outlines recommendations for installing bathroom grab bars. For example, ADA guidelines state grab bars should be screwed directly into the bathroom wall using studs. This ruling ensures they are securely mounted and can offer a safe place to hold onto by the toilet and in the shower or bathtub. You can choose different lengths and styles of grab bar depending on a home's bathroom and the user's needs. Whichever style of bar you use, remember to leave ample space — about an inch and a half — between the bar and the wall. You want the user to be able to get a firm grip on the bar. The grab bar should be between 1.25 inches and 1.5 inches in diameter.


The ADA also has guidelines for grab bars placed in public restrooms. Grab bars installed on the side wall of a toilet stall should be at least 42 inches long. The bar should also be no more than one foot away from the back wall of the stall. Grab bars for public bathrooms can also be placed on the rear wall of the toilet stall. This type of grab bar needs to be at least 36 inches in length. The grab bar should be located right above the toilet and extend 12 inches from it on one side and 24 inches from it on the other side. The grab bar and toilet partition are there to give the user privacy and the help they need to use the bathroom safely.
No matter what kind of bathroom it is, keep in mind that you will need to leave adequate space between the grab bar and the toilet paper dispenser.
Different Types of Grab Bars
Grab bars are installable in different directions, each of which offers various benefits. Here are the common types of grab bar installation:
Horizontal grab bars: Horizontal grab bars are installed parallel to the floor. This type of grab bar installation is beneficial for people getting in and out of a wheelchair. It provides a stable, easy place to grab. The positioning also makes it easy for the user to move their body in more than one direction. Be careful about the installation of this type of bar because it is at a fixed height, meaning any miscalculations can result in a grab bar that is difficult to use.
Vertical grab bars: Vertical grab bars are an ideal option for anyone who is still on their feet but struggling with balance challenges. This type of bar does offer less coverage than a horizontal bar because you need to be standing up within hand's reach of the bar to use it.
Diagonal grab bars: Diagonal grab bars can be a happy medium between the two other styles. The gentle tilt of the bar makes it easy for a user to move from sitting to standing because the bar is always within the hand's grasp. Plus, this type of installation caters to people of different heights.
In addition to different directions, the bars themselves can come in different styles, like:
Straight bars: Straight grab bars are the most common style, where the bar itself is completely straight and smooth. This option can install in a bathroom as a straight, vertical or horizontal grab bar.
Wavy bars: Wavy grab bars have more of a design. The simple wave can look aesthetically pleasing while taking nothing away from the utility of the bar.
Textured bars: Textured grab bars offer more grip. If you worry about the user's hand slipping on a completely smooth surface, this is a good option to consider.
Pull-down bars: Grab bars are unobtrusive. Someone who does not need to use them in the bathroom can simply ignore them. But, this pull-down option allows grab bars to be moved completely out of the way when not in use. The pull-down bar can go down when it is being used and pushed back up when it is not.
Multipurpose grab bars: Grab bars do take up space in the bathroom. If you are worried about the use of space, you can consider grab bars that serve more than one purpose. There are grab bars that come with parts that serve as soap dishes, towel racks and shelves. Your bathroom's grab bar can double as another helpful bathroom accessory.
Foot-to-ceiling bars: Unlike the typical grab bar that secures to the bathroom wall or partition, this type of bar extends from the floor to the ceiling. Situated by the toilet, it is a straight bar that the user can use to guide themselves from sitting to standing and then back to their feet again.
Suction cup bars: This type of grab bar is fixed to the wall using suction rather than screws and stubs. This is a good option if the bar is meant to be temporary. Keep in mind that suction can be powerful, but it is best not to place full body weight on this type of grab bar. A suction cup grab bar may be a good option for someone recovering from a surgery or temporary injury. If mobility and balance issues are ongoing, consider the more permanent grab bar options.
The type and style of grab bar depend on the user's needs and preferences. Finding the option that works for users helps keep them safe in the bathroom.
Shower Grab Bars Placement
Toilets are not the only area of the bathroom that benefits from grab bar installation. Grab bars can exist in walk-in showers, bathtubs and combination shower/bathtubs. Grab bars for showers and tubs also come with guidelines to maintain accessibility for users.
Shower Stalls
Grab bars in standing showers are placed depending on the user's needs. There is less space in a shower stall than a bathtub, so the bars may not need to be as long. A bar can be placed beneath the shower head to help the user step in and out of the stall. Grab bars are also installable on the wall inside of the stall. Vertical bars offer something to hold onto the entire time in the shower, regardless of the user's height.


Bathtub
If installing a grab bar in a bathtub, or a combination bathtub and shower, the grab bar can be affixed in various places. For example, a grab bar placed horizontally above the tap can be useful in helping the user step in and out of the tub. This can be particularly tricky for anyone with balance and mobility issues. You need to step up and over the edge of the tub and place a foot firmly down. Holding the bar reduces the risk of slipping during this process. Bars of lengths from 12 to 18 inches can serve this purpose well. A vertical bar can also be placed outside of the tub to help with the entry and exit process. Vertical bars offer more flexibility when it comes to the height of various users.
Grab bars can also be placed inside the bathtub to help users lower themselves to a sitting position, whether into a chair or to the bottom of the tub. These bars can be longer at 16, 32 or 42 inches. These bars can be placed horizontally, vertically or diagonally depending on preference. A vertical bar may be useful as an aid for a person standing and showering in a combination bathtub and shower.
Slippery floors are dangerous. Grab bars can help if a slip happens, but ideally, they are only a balance aid. Other additions to the bathroom, like non-slip rugs and mats for the floor of the tub, can help make the environment as safe as possible.
Grab Bars in the Bathroom
Grab bars for toilets and showers are an essential part of safety in the bathroom for small children, people with disabilities and the elderly.
At Home
Our homes are a safe and private space. We should always feel safe there, which means making necessary adjustments around the house as life changes. Maybe you have a toddler learning how to use the grownup bathroom or are caring for an elderly parent. Perhaps you or a loved one has a disability. Whatever the case, you want to make sure everyone in your home can safely use the bathroom. Choose a type and style of grab bar to install by your toilet and shower or tub at home. Consider the needs of the user, ADA guidelines and the design of your bathroom.
In Public Restrooms
The ADA requires state and local governments, nonprofit organizations and businesses — such as restaurants, offices and hotels — to offer reasonable accommodations to people with disabilities. These reasonable accommodations include safe access to public bathrooms. Grab bars are a critical element for ensuring ADA compliance in a public restroom. Keep in mind the length and placement requirements. The bar should be a minimum of 36 inches on the back wall and a minimum of 42 inches on the side wall or side partition. The bar will also need to be mounted far enough away from the wall or partition to allow the user to have a firm grip on it. Keep in mind that the bar will also need to bear at least 250 pounds. People who use wheelchairs need to place their full body weight on the bar to shift themselves in the bathroom. Grab bars should always be paired with sturdy bathroom partitions to maintain safety and regulatory compliance.
Your Bathroom Design


Bathrooms, whether public or private, are an essential room for nearly any building, and they need to be a safe place for everyone. One Point Partitions has an expert team that produces and delivers bathroom stalls to fit a wide range of customer needs. We are here to help make your facility's restrooms accessible to everyone. Use our online pricing tool to get a free custom quote and get started on your project today.