How to Design a Modern Commercial Bathroom

Stunning simplicity is the basis of modern interior design. It feels clean, fresh and new, making it the perfect style for a commercial bathroom. A contemporary aesthetic makes guests and visitors feel like they're in a high-end, clean and relaxing space.
If you want to impress your guests and bring your business up to date with today's trends, you need to know how to design a modern commercial bathroom. From structural components to the small accents, every detail of your commercial bathroom can help transform it into a fresh, state-of-the-art space.
Modern Bathroom Basics
Every trend has a few central components that make it recognizable. The most current styles are no exception, but their aesthetic comes from simple additions. From bathroom appliances to accents, you can incorporate these modern bathroom basics into a variety of areas in your commercial space.
1. A Neutral Color Scheme
Create a simple modern bathroom with a neutral color scheme. Black and white are common combinations that make a bathroom look clean and contemporary. To incorporate that current color palette, use these features like these in your commercial bathroom.
Black slate tile floor or another black flooring
White walls
Black, gray or stainless steel partitions
A neutral color scheme is a great way to make a smaller bathroom feel larger if you go with a whiter and brighter look. Alternatively, you can get a dramatic, high-end design if you go more on the darker, blacker side. If you prefer a slightly natural look with the contemporary style, use dark or ash gray wood tones to bring a clean, yet warm, feel.
2. Sleek Lines
Curves and organic shapes look beautiful in nature-inspired or classic styles, but for a modern-style bathroom, keep it straight and smooth. Use these clean shapes in the accents of your bathroom with:
Square faucets
Square, rectangular or full-wall mirrors
Straight door pulls and handles
Many features of a commercial bathroom, such as the partitions, already incorporate sleek lines, which helps create the foundation and inspiration for a modern commercial bathroom. The small details reflect that state-of-the-art style, so don't leave them out of your design plans.
3. Unique Elements
Modern design doesn't have to feel sterile or cold. Add a few unique accents or one impressive statement piece to give your contemporary aesthetic design a bit of character. Choose something that reflects your business or choose an element like:
A sculptural faucet
A statement sink
A dramatic mirror

You can even combine qualities of other styles with your modern bathroom for a unique design. Tropical themes are a current trend that pair well with the sleek touches of a modern space, so play around with tropical plants or other additions for a bit of fun in your on-trend bathroom design if that suits your business.
Mid-century modern is also a fresh combination that many commercial bathroom designs use. Inspired by the 1950s and '60s, mid-century modern often features dark wood, gold accents and unique shapes. This style is ideal for those looking to enhance their commercial bathrooms' character while maintaining the modern feel.
How to Update Your Design
With inspiration for a modern bathroom design, you'll want to know how to achieve the look for your commercial space. No matter your current design, you can either do a simple refresh or a total rehaul to create a stunning, contemporary space with these steps.
1. Choose a Design Direction
Modern style is flexible, so you'll have to choose a design direction. Decide between light and dark, clean or natural touches and other considerations for your perfect design. As you pick a design direction, you could also think about:
What fits your existing style.
What suits the space you have.
What you feel will be timeless for your industry.
With those and other considerations, you'll create a well-suited design for your building and your industry. Restaurants or hospitality businesses, for instance, often prioritize an inviting style and may want to incorporate sleek, yet natural, elements into their modern bathroom design. What you ultimately choose will depend on your specific needs, though, so pick what feels right.
2. Consider the Layout
Making changes to your bathroom's design is an ideal opportunity to make any layout changes. Significant plumbing changes will complicate a commercial bathroom update somewhat, but if you weren't happy with the flow or organization of the space, it could be worth the time. Do what you can to maximize the space and make sure you have enough plumbing fixtures for the capacity of your business.
3. See What You Can Keep
Maybe you like your current sink or faucet, or your toilets are relatively new. Keeping specific components of your existing design that already lean modern will streamline your updates. You may even be able to refresh accents, such as wall mirrors, corner tables and other small items, with a new coat of paint or other simple DIYs.
4. Add New Decor
Plants, mirrors, candles and plenty of other subtle accents can go a long way toward refreshing a commercial bathroom space, especially in a modern design. Use the color schemes and materials that suit the contemporary aesthetic and the specific style you want, then add them where you have space in your commercial bathroom.
Get creative and use the space to your advantage. An empty corner can hold an eye-catching sculpture or a tropical plant. Transform a blank wall by hanging modern, abstract art or a functional mirror that makes the room feel larger. Even light fixtures can reflect your modern theme with unique or sleek shapes and stunning metallics.
5. Refresh Larger Components
The floors, walls and partitions of your bathroom take up most of your space. Giving those components a refresh will make the bathroom feel brand-new, so don't skip them when you do updates. Paint the walls and redo the floors, then get new bathroom partitions. Those more significant changes will be useful in emphasizing your contemporary design direction and influencing your other decorating decisions.
Create a Modern Commercial Bathroom With One Point Partitions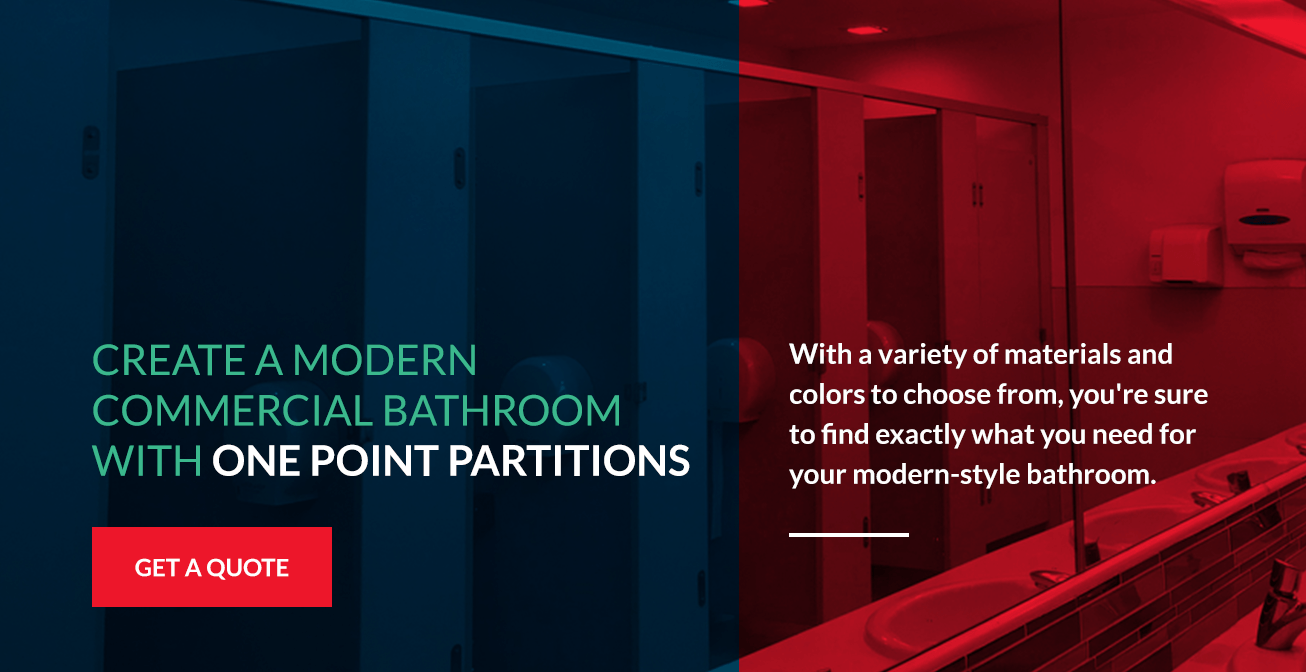 Are you ready to transform your commercial bathroom into a modern oasis or bright, clean space? Whatever contemporary style you've decided on, work with One Point Partitions to complete your upgrade. With a variety of materials and colors to choose from, you're sure to find exactly what you need for your modern-style bathroom. And when you update your commercial bathroom with One Point Partitions, you'll get high-quality, made-in-America products.
Browse our commercial bathroom partitions or contact us with any questions about our products and services. Learn more about our free delivery, free quotes and free samples to make your perfect cutting-edge bathroom today.