How to Pick the Best Bathroom Stalls for Schools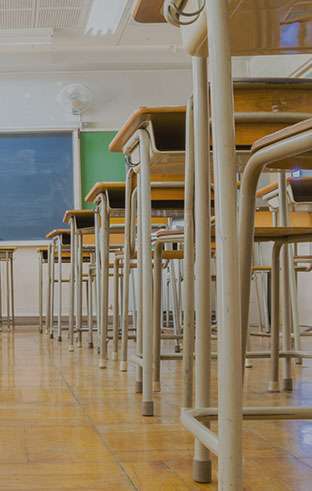 A contract installing or remodeling school bathroom stalls is a great job for any contractor to land. Because schools are such important institutions within a community, completing the job correctly could earn you many accolades and referrals, leading to long-term contracts and professional relationships. 
So what do you need to keep in mind when designing and choosing the best bathroom stall dividers for schools? For ultimate client satisfaction, read on to learn about the many factors that you should consider when installing bathroom stall partitions.
10 Factors to Consider When Choosing School Bathroom Stall Partitions
1. Future Maintenance in Bathroom Stalls for Schools
With the sheer volume of students who will use a school bathroom multiple times on a given day, it's imperative that partition materials be easy to clean, paint, and repair. 
Hinges can only withstand so much swinging back and forth and, despite administrators' best efforts, there will always be students who write or draw graffiti on the partitions. 
A school bathroom simply cannot be out of commission for a long period without causing a major disruption. When choosing which type of bathroom stall hardware and partition material to use, it's important to keep future maintenance needs in mind. 
2. Accessibility for Everyone in Bathroom Stalls for Schools
The importance of bathrooms that are fully accessible to everyone at a school cannot be overstated. School bathrooms should be a safe and easy place for all students and staff to navigate. 
Bathroom doors must be secure, yet open and close with hardware that is easy for all to manipulate.
To comply with ADA regulations, at least one stall in each bathroom must have grab bars on its walls and provide at least 60" of clearance to allow an individual in a wheelchair to enter and turn around. To make sure you've taken all relevant accessibility factors into consideration, you may wish to consult with your contact at the school.
3. School Bathroom Stall Durability
It's no secret that school-age kids are not always gentle or careful with their movements. When deciding which bathroom stall material and hardware to use in a school bathroom, take into account the fact that many students will be rough on doors, partitions, and locks. Choose materials that will be able to withstand kicking, pushing, and swinging or be easy to repair when the repetition of such movements takes its toll. 
4. Hygiene and Cleanliness in Bathroom Stalls for Schools
School bathrooms, like bathrooms at any institution, must be kept sanitary to ensure the safety of those who use them. 
When possible, choose materials that are easy to clean or have antimicrobial properties. This is all the more important in light of new requirements for sanitation related to COVID-19. 
In addition, stalls must be wide enough to enable janitorial staff to thoroughly clean bathroom partition walls, fixtures, and floors. 
5. School Bathroom Stall Design
When designing bathroom stall partitions for a school, be sure to take into account the existing layout style, color scheme, and materials used in other parts of the bathroom (e.g., sinks, soap and paper towel dispensers, tile, vents, and radiators). 
The partitions you install should make efficient use of the space and integrate well with the other parts of the restroom. For example, the new partitions should also blend well with preexisting aesthetic and material choices. 
6. Privacy and Safety in Bathroom Stalls for Schools
If a school child is concerned that they will not have full privacy when using the bathroom, they are likely to feel insecure in the school bathroom or even avoid using it. Sadly, some students even go so far as to refrain from hydrating throughout the day to avoid having to enter a bathroom they perceive as unsafe. 
Door locks must be easy to manipulate yet fully functional. Partitions must be installed with minimal gaps between the door and partition. Speaking with representatives from the school may help you gain insight into the specific concerns students have when using the school restroom so you can design and install partitions that will alleviate them to the greatest extent possible.  
7. Bathroom Foot Traffic
Do your homework to make sure you know the approximate volume of foot traffic throughout the course of a day in the school. A school that has a thousand students will have significantly different needs than one that has only a few hundred. 
For high-volume schools, the most durable materials will likely be the best investment for your client. Discussing details such as these with your contact at the school will help build rapport and show that you are mindful of the school's unique needs. 
8. Humidity and Moisture
Because school buildings tend to be fairly old, they do not always have the most up-to-date ventilation systems. This means that school restrooms are likely to be humid areas. That's why materials used to build or renovate their partitions must be able to withstand moisture. 
This is especially important when choosing commercial bathroom stall hardware, as some materials will rust easily in high-moisture environments. 
If a school has been built more recently, this may not be as much of an issue. However, speaking with school representatives and surveying the space completely will help you determine the degree of ventilation you'll be working with.
9. Budget
Schools – particularly public schools – often have limited funds to carry out needed changes. Officials are often tasked with stretching existing resources as far as possible. 
When you're hired to install or remodel bathroom partitions in a school, it's important to be mindful not only of your client's budget for the initial job, but also for future maintenance and repair. 
Making your client aware of which bathroom partition materials are likely to last the longest and be easiest to maintain will go a long way toward gaining their esteem and trust. 
10. Painting School Bathroom Stalls
Although it might not seem an obvious question to ask at first glance, finding out whether the school plans to paint bathroom partitions as part of a periodic maintenance update can help you choose the most appropriate partition type. 
Staff may run into problems when painting bathroom stalls in schools if you use partition materials that make paint prone to peeling. Finding out if the school plans to paint partitions or is considering it will help you choose materials that will fulfill your client's expectations for long-term performance.
Choosing the Right Material for School Bathroom Partitions
Now that you've learned about the key factors to consider when fulfilling a job for bathroom partition installment or remodeling, it's time to learn a little about the different materials that may be available from your supplier. 
Laminate
Among the most affordable options, plastic laminate partitions also offer the most variety. We offer 48 varieties of solid and patterned laminate partition material. Although laminate is not usually a top performer in high-moisture environments, our superior Moisture Guard™ partitions are specially formulated to hold up well in low-ventilation areas. 
Stainless Steel
Elegant in their simplicity, stainless steel partitions are a versatile, environmentally friendly option. These partitions are germ-resistant, durable, and hold up well in high-traffic environments. Plus, stainless steel partitions fit in seamlessly with a number of bathroom designs and color schemes. 
Powder Coated Steel
The most budget-friendly material for bathroom partitions, powder-coated steel is also highly reliable and durable over time. With partitions that come in 15 colors and can be easily adapted to multiple sizes, powder-cut steel is highly resistant to corrosion and rust. 
Phenolic
Phenolic compact laminate is composed of a resin core coated with a layer of melanin for ultimate durability. Highly resistant to both germs and moisture, phenolic partitions are available in 11 shades of brown or gray with weathered finish options available. 
Solid Plastic
Solid plastic partitions are highly durable and can withstand the heavy use of industrial cleaning products. Non-porous and moisture-resistant, solid plastic also offers some of the most appealing colors and patterns on the market, including options with speckled and confetti effects.
Choosing the Right School Bathroom Stall Hardware
Your choice of hardware for a school bathroom wall partition is as important as the partition's material. The two must function together well to withstand the demands of a busy school environment. 
Always choose a supplier that provides hardware components of the same high quality as their partitions. 
Consider the following factors when selecting hardware for school bathroom stalls:
Moisture-resistance and durability.

In a high-traffic school bathroom with potentially limited ventilation, you'll need hinges, locks, and mounts that won't rust and can withstand rough handling.
Maintenance.

Choose hardware easy to repair or replace at minimal expense over time.
Security.

Select door locks that are equal parts secure, easy to lock and unlock, and won't get stuck.
Ease of installation

. How easy does your supplier make it to install partitions? For optimal results, go with a

vendor

that pre-drills holes and mounting points and provides all the needed components to get your partitions up efficiently and with a perfect fit.
Create Your Custom Layout for School Bathroom Stalls Now
One Point Partitions is a trusted, customer-focused provider of bathroom stalls for schools and partitions for contractors all over the country. Our A+ rating from the Better Business Bureau speaks to our reputation of excellence and customer satisfaction. 
As our client, you'll always receive our undivided attention and receive innovative solutions tailored to the needs of your unique facility. Use our drawing tool to sketch the layout of your bathroom and submit it to us to receive custom recommendations that will help you exceed your client's expectations, or contact our expert team for a free quote today.