What to Look For in Commercial Bathroom Stalls
Choosing the right commercial bathroom stalls is a massive part of any commercial bathroom project. Offices, restaurants, bars, and hospitals require a bathroom stall installation that will serve them for years to come.
Bathroom stalls are not cookie-cutter objects. Stall sizes, color customization, thickness, and partition materials are all essential moving parts that go into creating the ultimate commercial bathroom.
Read on to learn more about what you need to consider as part of your commercial bathroom partition updates.
Commercial Bathroom Stall Sizes
There are rules and regulations dictating how many stalls you can fit into a bathroom. Truthfully, stall dimensions vary little, but under the Americans with Disabilities Act (ADA), all commercial businesses must have at least one stall that meets ADA standards.


The Occupational Health and Safety Administration (OSHA) also has its own standards regarding the minimum number of commercial bathroom stalls required, based on how many employees a business has.
The exact dimensions of stalls tend to be 36 inches wide and 60 inches deep, but depth can be as much as 78 inches, with doors opening inward. However, ADA-compliant stalls must open outward to support those using accessibility devices.
ADA standards state these stalls must be at least 60 inches wide and 56 inches deep, but you may choose larger bathrooms to further accommodate patrons who fall under the ADA.
Make sure you double-check the requirements in your jurisdiction to ensure your client's new bathroom meets the required legal standards. Failure to do so can lead to costly refits, modifications, and a loss of reputation.
How tall are bathroom stalls?
It depends, but standard commercial bathroom stalls are usually 82 inches in height, but they can be more if you have the extra vertical space available. Other local regulations may apply, so make sure you double-check these with your local authority.
Divider Thickness
How thick are bathroom stall partitions?
A commercial bathroom stall divider must be thick enough to provide users with a suitable level of privacy. Depending on the material, bathroom stall dividers will vary from a half inch to one inch in thickness.
Investing in thicker restroom partitions is an excellent idea for businesses because it helps users feel safer while providing a more comfortable bathroom experience. Better bathrooms improve first impressions and enhance the reputation of the business.
Note that the material used and the thickness of said partitions will define how many commercial bathroom stalls can be fitted inside the bathroom.
Why Do Thicknesses Vary?
Different partitions will always have varying thicknesses because of the way they are built. Partitions contain a visible outer shell and a core material responsible for the strength and durability within.
Due to the uniqueness of each partition material, there's no way to prevent the same uniqueness in thicknesses. Let's run through how different materials are manufactured to show you why their thicknesses change:
The differences in thickness are something that must be explained to customers because the material they choose must be considered in the context of the overall bathroom layout. Thicker materials will naturally mean that fewer stalls can be installed.
Despite the relatively minor differences in thicknesses, throughout the whole bathroom, it can make a massive difference.
Each material's qualities must be weighed against the needed capacity limit of a particular bathroom.
Color Customization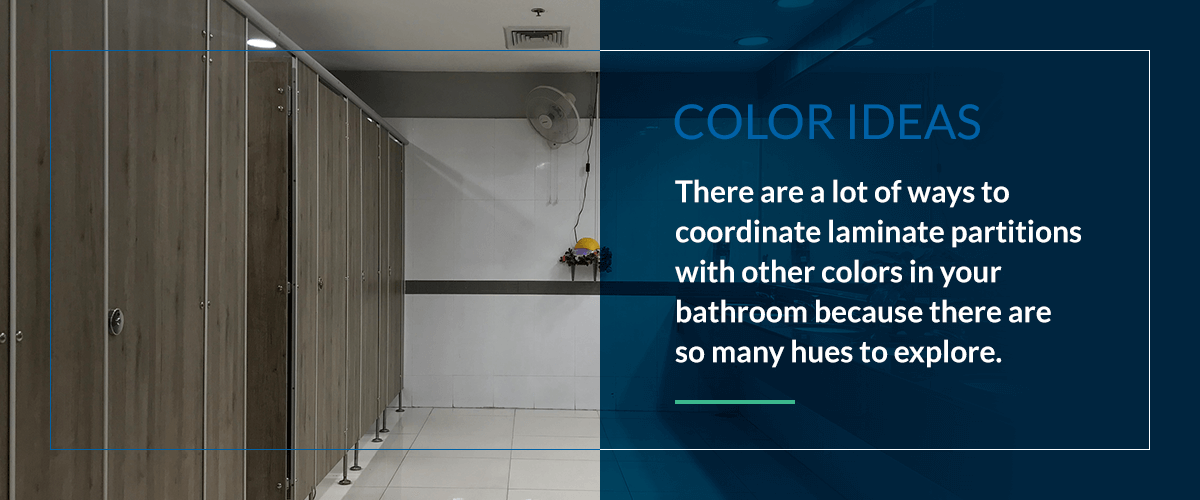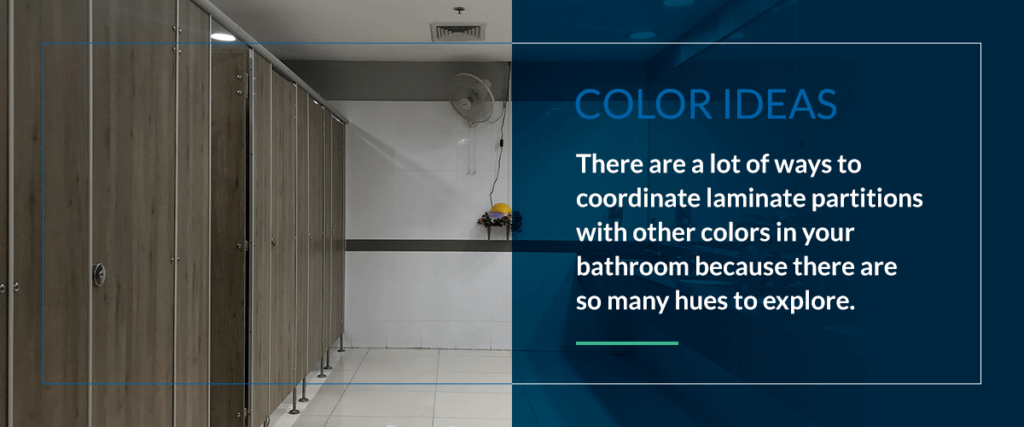 The color scheme of a bathroom allows businesses to make their bathrooms unique to them. While the bathroom is not the ideal place for branding, matching the colors of the bathroom with the brand's colors helps to create consistency across the whole business.
Not every material will offer an unlimited range of colors. For example, at One Point Partitions, our powder-coated steel stalls allow for 15 different color combinations.
Our phenolic compact laminate stall material also has 11 colors, but only in different shades of gray and brown. This material lends itself well to a weathered finish.
Plastic and steel offer the largest range of color options. If you need a shade that matches the bathroom interior or a color that compliments the theme, these are the two options for creating a beautiful bathroom.
Commercial Stall Hardware Options
At One Point Partitions, we know how important hardware is for producing a higher standard of commercial bathrooms. Standard stall locks are often flimsy and break easily. We believe that bathroom stall door hinges, locks, and more should not only be strong but clean and attractive.
Unlike other suppliers, our selection of hardware options is vast, enabling you to match the expectations of the customer, regardless of the industry.
With commercial bathroom stall hardware from One Point Partitions, you get:
Simplicity

– Install new partitions fast. All bathroom stalls have their mounting points and some have holes pre-drilled as well, so you can guarantee the perfect installation every time.

Tough

– Commercial bathrooms are high-traffic areas and must be designed to last. Hardware must be strong and robust to stand up to a large degree of punishment.

Attractive

– An appealing finish is required to ensure safety, accessibility, professionalism, and act as an excellent advert for the business.

Replaceability

– Things break all the time. Make providing maintenance simple with easily replaceable parts.
Your hardware options must have the characteristics that make them ideal for commercial bathroom stalls. Figuring out how to install bathroom stalls that impress your customers is a challenge when you lack a reliable supplier able to provide quality hardware.
Choosing the Right Material for Commercial Bathroom Stalls


What are bathroom stalls made of?
With so many materials to choose from, it can be difficult to determine the right material for the project. Every customer has different priorities, so it is vital that you have a firm understanding of what the goals of the project are. A bathroom is not just a bathroom.
One Point Partition features several distinct materials to meet the challenges of creating the perfect bathroom.
Knowing each material's pros and cons will help you decide on the best possible solution for the project at hand.
Laminate
Laminate is a classic bathroom stall material for its pattern and color choices. High-pressure laminate finishes provide an impact-resistant stall that meets and exceeds all safety standards. Designed for durability and water runoff, laminate is by far one of the best materials for commercial bathroom stalls.
Stainless Steel
Stainless steel fits in with any contemporary bathroom. These are among the most durable partitions available. Moreover, stainless steel is resistant to corrosion, requires minimal maintenance, and scratches can be buffed away in minutes.
While not everyone likes the look of classic stainless steel, you can also purchase stainless steel partitions in textured and satin finishes.
Get the high-class, high-quality solution complete with a five-year warranty from One Point Partitions.
Powder-Coated Steel
Powder-coated steel is the same material you will find in any playground. If you are embarking on a project with a tight budget and cannot afford to compromise on quality with sub-par materials, powder-coated steel is the go-to choice.
These entry-level metal partitions use a powder coating of steel over the top of a core of galvanized steel. Installing these partitions provides you with a surface that resists marks, acids, grease, stains, and more.
Powder-coated steel offers the optimal balance between quality and affordability. All One Point Partitions powder-coated steel partitions come with a three-year warranty.
Phenolic
Some commercial areas require durability above all else. Phenolic partitions are the gold standard for strength and durability. Phenolic bathroom dividers stand the test of time like no other material.
Dense components outfitted with stainless steel fasteners and brackets are capable of standing up to the most extreme conditions, such as humidity, impact, and moisture.
In an age where people are concerned with hygiene to a greater degree than ever before, phenolic has grown in popularity as the material because it doesn't harbor bacteria.
It's one of the reasons why phenolic bathroom dividers may be found in healthcare settings.
Solid Plastic
Finally, plastic offers one of the greatest arrays of colors, patterns, and textures. Businesses concerned about branding and creating a consistent theme throughout their buildings may want to consider solid plastic.
Busy public restrooms and gym shower rooms are ideal for solid plastic partitions. They are resistant to most commercial cleaners, mold, and graffiti.
You will notice that these partitions are nearly impossible to dent and rarely rust, minimizing the amount of maintenance required on behalf of businesses.
What's the Best Material for Commercial Bathroom Stalls?
With these five materials in mind, you may be wondering which one performs best. Truthfully, each partition material has its own pros and cons.
You need to sit down with your client and talk to them about what they prioritize in their commercial bathroom stall. A restaurant's stall will have different priorities than one found within a healthcare center.
With feedback from your client, you'll be able to settle on the material that allows their commercial bathroom to meet their expectations.
Create Your Custom Commercial Bathroom Stall Layout
At One Point Partitions, we don't believe in standardized bathrooms complete with cookie-cutter solutions. Instead, our customer-focused brand is dedicated to supplying stalls to customers all over the country.
We believe in custom solutions, which is why you can consult us to create a custom solution that benefits you and your clients. To get the tailored bathroom you deserve, try out our drawing tool and begin sketching out the layout of your bathroom.
Our team will work with you to deliver the five-star results you deserve. Contact One Point Partitions to learn more and get your free quote now.
Our Partition Materials