How Do I Measure for Commercial Toilet Partitions?
Last updated on August 2nd, 2019 at 01:51 pm
As a business owner, you're probably good at a lot of things. Over time, you've likely developed sound people and time management skills, for instance. You've probably mastered the art of resolving conflicts and delivering great customer service as well. Ordering inventory, processing payroll and creating and implementing marketing and sales strategies might have become things you can do in your sleep by now.
Although you may be able to do all the tasks just mentioned and everything else that comes with being a successful entrepreneur, you can't do everything perfectly. Even if you're a general contractor, you might not know how to design a commercial bathroom if you specialize in residential work, which would make installing one properly difficult.
What makes designing a successfully functioning commercial bathroom challenging? From knowing how to measure for toilet partitions to adhering to ADA and OSHA guidelines and figuring out how many stalls your facility needs, there are many things involved with creating and building a commercial restroom.
While you can study guidelines and do some math to figure out how many toilets, sinks and hand dryers you should install, the potential costs of making mistakes in a bathroom can be alarmingly high. The average cost of updating and expanding a residential bathroom so that it consumes more interior space is nearly $30,000, or about $250 per square foot.
The total average cost of redoing a bathroom includes an estimate of $4,000 for design costs. If your design is off, you'll have wasted thousands of dollars on a concept that doesn't work, and you'll probably have wasted considerably more on supplies for a dysfunctional design. Even worse, you could face costly litigation if your bathroom doesn't satisfy certain legally mandated requirements.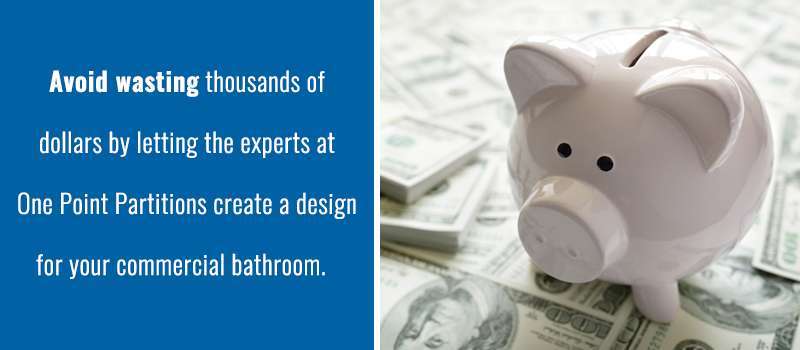 Avoid wasting thousands of dollars by sticking to what you're good at and letting the experts at One Point Partitions create a design for your commercial bathroom. Our design consultation and mock-up are free, saving you money right from the start. We work with our clients to create custom designs for their commercial restrooms that their employees and customers will love as much as they do. To make sure your commercial bathroom is done right, trust the experts at One Point Partitions.
Important Considerations
Whether you use our talented team to design a restroom for your business or you decide to create a design of your own, give some thought to a few important considerations before you begin installing a new restroom at your location. One thing you need to decide very early in the design process is whether you're going to allow your customers to use your bathroom.
While federal law requires you to make restrooms available for your staff, it doesn't dictate that you must allow patrons to use the restrooms on your property. Depending on where your business is located, the state may require you to allow members of the public to use your commercial bathroom, however.
Some states, including Illinois, Oregon and Texas, have issued a version of the Restroom Access Law. This kind of law makes it legally necessary for businesses to make their bathrooms available to customers who have a valid medical need.
Here are a few other things you should keep in mind when you're planning your commercial restroom:
Availability. With the exception of mobile jobsites, employers are required to provide reasonable, prompt access to toilet facilities for their employees. Mobile worksites must have transportation to nearby bathrooms readily available at all times. Agricultural workers must have access to toilets and hand-washing equipment within ¼-mile of where they're working.
Number of Toilets. Clearly, the number of toilets you have installed at your facility will influence how promptly your employees will be able to use them. With this in mind, it's critical for you to have at least the minimum number of required toilets in your commercial bathrooms.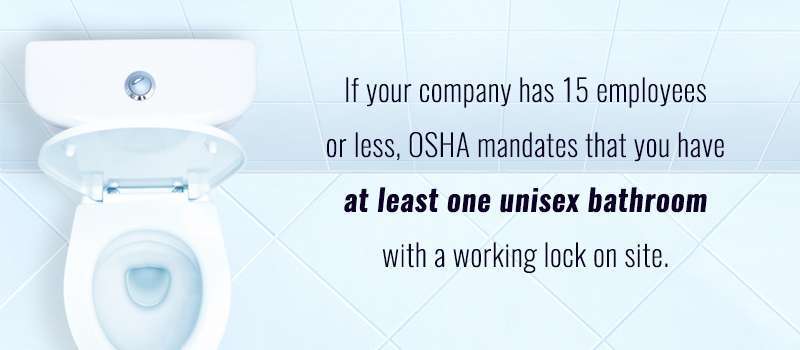 If your company has 15 employees or less, OSHA mandates that you have at least one unisex bathroom with a working lock on site. Here is a breakdown of the number of toilets OSHA requires you to have in your facility based on the number of employees you have:
Two Toilets: 15-35 employees
Three Toilets: 36-55 staff members
Four Toilets: 56-80 employees
Five Toilets: 81-110 staff members
Six Toilets: 111-150 employees
If you have more than 150 staff members, you'll need to install another toilet for every 40 additional employees you hire. If your staff swells to 400 members, for example, you'll need to have at least 13 toilets available for your employees to use.
In addition to determining the number of toilets you must install, you'll also need to figure out how you're going to allocate them between men and women if you employ more than 15 people.
Separation. OSHA requires that every toilet be separated from neighboring toilets. Partitions are often used to achieve this. Using just any partition isn't sufficient because the partitions you use must provide adequate privacy. Every stall you create using partitions must have a door.
One Point Partitions sells high-quality partitions manufactured in the United States. Our partitions provide privacy for people who use your toilets and lasting value for you. Give us a call to learn more now.
Hand-Washing. You must provide a station for people to wash and dry their hands in every commercial bathroom you have at your facility. Your hand-washing station must have running water, soap and hand towels or dryers. It's critical for you to remember that the faucets and hand drying apparatuses you put in your restrooms must be easy to use with just one hand.
Budget. Your budget will have a strong impact on your commercial bathroom design. If you're on a tight budget, you may want to consider adding more urinals in your men's rooms. While urinals don't count toward the total number of toilets you have on site, you can increase the number of urinals you have as long as the number of toilets you make available doesn't dip below two-thirds of the required total.
Look at your long-term operating costs as well the budget you've created for your commercial bathroom. The kind of toilet you install may lower your water costs so much over the long-term that it may make sense to install more expensive but more efficient units. A typical toilet uses 1.6 gallons of water to flush while a high-efficiency toilet uses just 1.28 gallons.
If an average toilet is flushed ten times per day for a year, it will consume 5,840 gallons of water over 12 months. If a high-efficiency toilet is used with the same regularity, it will use 4,672 gallons over the same period. If you have multiple toilets at your location, the reduced amount of water consumed by more efficient toilets can add up to big savings over time.
Americans with Disabilities Act. While your state may not require you to allow patrons to use your restroom, it's generally good for business for you to do so. If you've made the decision to allow members of the public to access your commercial bathrooms, the spaces must be in compliance with the Americans with Disabilities Act.
This federal law requires commercial bathrooms to have grab bars at the back and side of toilets, accessible flush controls and enough room for a wheelchair to navigate through the restroom easily, among other things.
In addition to exposing you to what could be costly litigation and fines, having a bathroom that's not ADA compliant can alienate a large number of potential clients. According to the Centers for Disease Control and Prevention, approximately 22 percent of adults in the United States have a disability. Some states have a higher percentage of adults living with disabilities while others have lower percentages.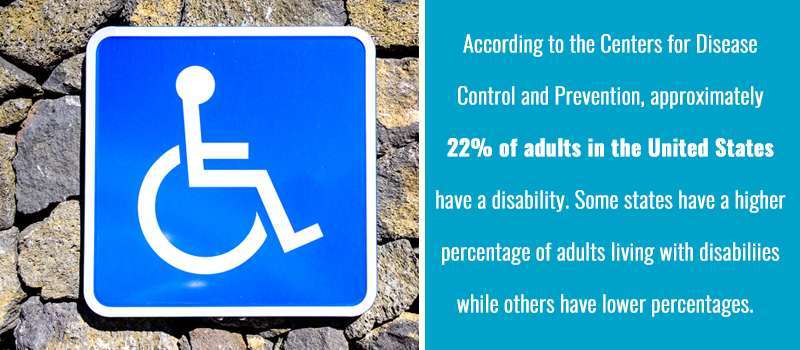 For instance, 16.4 percent of the people who are at least 18 years-old in Minnesota have disabilities while 31.5 percent of the adults living in Alabama have a disability of some kind.
If your bathroom can't accommodate the special needs that more than 20 percent of the nation's adult population have, you may lose a substantial amount of business. The business you may lose might actually end up being much higher than you expect because the CDC's study didn't include people who are deaf or those who have difficulty hearing in its count.
Depending on where you're located, you may have to follow the 2009 ICC/ANSI Standards for commercial building projects. While these standards are like the ADA's guidelines, differences exist between the two. As a general rule, you should adhere to whichever guideline is the strictest in the context of providing greater accommodation for those who'll use your commercial restroom.
Measuring for Commercial Restroom Partitions
While it would be convenient if every commercial bathroom required an average toilet partition size, that's simply not the case. Like partitions, bathrooms come in a wide variety of shapes and sizes. For this reason, measuring for toilet partitions is one of the most important steps when you're planning and/or installing a commercial restroom.
Although you may think measuring for commercial restroom partitions is as simple as pulling out your tape measure and writing down a few measurements, it's not. What you'll need to measure depends on the layout of your commercial bathroom. If your restroom has a recessed layout, you'll need to measure the following five things:
Side wall to side wall
Side wall to divider panel's centerline
Door opening
Back wall to front
Stile width
If your commercial bathroom has an alcove layout instead, you'll have to measure the same things except you won't have to measure the distance between the side wall and the divider panel's centerline. If your restroom has a corner layout, you'll need to measure the distance between the centerline of the panel and the outside of the panel as well.
While you'll need to measure different things depending on your bathroom's layout, here is a general, easily adaptable guide you can use for measuring for toilet partitions:
Create a Sketch. Start by creating a sketch of your bathroom. You don't have to create an artistic masterpiece. You just need a rendering that's sufficient for you to record your measurements of the existing walls, doors, pilasters and partitions.
Measure From the Point Farthest From the Door. You'll begin measuring using the point that's located the farthest from the door, beginning on the back wall. You'll want to measure the entire back wall and make note of its width.
Measure the Partition Wall. Since you didn't make note of the partitions when you measured the back wall, you'll measure them next. Measure the height and length of the partitions. Don't forget to include where the door closes in your measurements.
Measure the Pilasters. The Pilasters are what your partitions attach to. Pilasters are typically thinner and taller than partitions are. Measure the width and height of your pilasters.
Measure the Doors. As we stated earlier, every toilet that's separated from another with a partition must have a door. When you're done measuring your pilasters, it's time for you to measure your doors. Record the height and width of every door that's in your commercial bathroom.
Measure Urinal Partitions. If you've separated your urinals from the rest of the bathroom using partitions to provide increased privacy, you'll need to measure them as well. Just as you did with your doors, you should measure and record the height and width of your urinal partitions.
Spacing Considerations for a Stall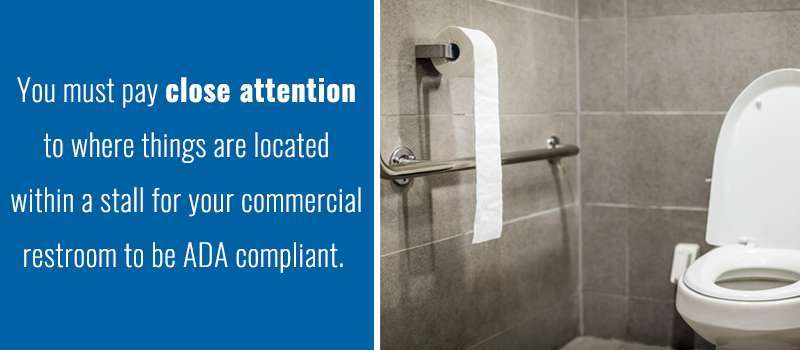 You must pay close attention to where things are located within a stall for your commercial restroom to be ADA compliant. The most recent ADA standards from 2010 provide the relevant requirements for commercial stalls and detail them in the context of two toilet compartments, the Wheelchair Accessible Toilet Compartment and the Ambulatory Toilet Compartment.
Here are a few of the ADA guidelines that apply to each kind of stall:
Wheelchair Accessible Toilet Compartment. A Wheelchair Accessible Toilet Compartment is required to have a depth of at least 56 inches if the toilet is mounted on the wall. If the toilet is mounted on the floor, this kind of stall must have a minimum depth of 59 inches. Measuring from the side wall at a right angle, this kind of compartment should have a width of 60 inches or more.
You must install grab bars on the rear wall and the side wall or partition that is located closest to the toilet. Installed coat hooks and shelves should be 48 inches from the finished floor, and they cannot protrude more than four inches.
Ambulatory Accessible Toilet Compartment. This type of stall must have a depth that measures at least 60 inches. An Ambulatory Accessible Toilet Compartment can have a maximum width of 35-37 inches. The stall's door can't swing inward, and it must have pull hardware that's close to the door's latch mounted on both sides of the door. You must install grab bars on both side walls or partitions in this kind of stall.
Why One Point Partitions
There's no reason for you to have to learn how to measure for toilet partitions or how to design a commercial bathroom with One Point Partitions around. As we mentioned earlier, we provide free design services, and we'll make a mock-up of your commercial bathroom at no charge to you.
We don't "just" offer complimentary design services provided by industry experts. We also provide free delivery, free quotes, free samples and low prices. All our products are made in America, and they're backed by one of the largest partition manufacturers in the United States, Global Partitions.
Our partitions are available in five different materials and an array of eye-catching colors. Just like providing high-quality partitions and custom commercial bathroom designs are our top priorities, so is providing excellent customer service. We're dedicated to exceeding our clients' expectations at every turn, which is why we'll respond to your questions, requests or concerns quickly.
To learn more about our high-quality partitions and our services, contact One Point Partitions now.