Bathroom Stall Sizes
Last updated on March 23rd, 2020 at 08:11 pm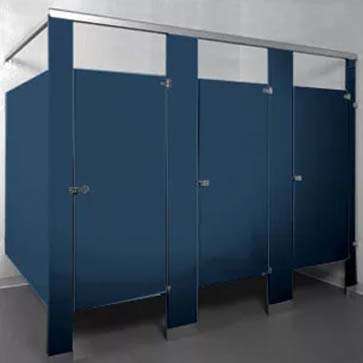 Whether you plan to remodel your bathroom or build entirely new facilities, you must factor in toilet stall dimensions. Your stall sizes will depend on official codes, the room and your personal preferences. Once you figure out how to make a compliant layout within your bathroom size, you have creative control over the other factors.
This guide will provide a general overview of toilet partition height and dimensions in bathroom design.
If you are looking to get a fast quote on updating your bathroom stalls, use our online pricing tool today!
Minimum Bathroom Stall Numbers and Sizes
After measuring your total room size, you have to outline your space based on the stall dimensions and the number of wash closets you must have at a minimum. OSHA requires a specific number of toilets based on how many employees you have. Also, the International Plumbing Code (IPC) sets a minimum width of 30″ for stalls, no matter if they have a wall-mounted or floor-mounted partition.
Remember that wall molding and treatments count as obstructions in this code. You must measure the clearance between the treatment and partition.
People with disabilities need extra room to maneuver and reach in a bathroom stall. Consequently, the Americans with Disabilities Act (ADA) created minimum measurements for accessible wash closets. If you have a restroom available to the public, you must include an accessible stall. Even if you don't have a public bathroom, you may want to make an accessible wash closet for your employees.
You must take turning room, hardware height and stall width into account when designing these stalls. For more information about the ADA's requirements, read our primer. We can also help you figure out your bathroom dimensions during our free design consultation.
Considering Bathroom Stall Material Options
In addition to considering the size of your stalls, you will want to think about the material of your bathroom partitions. The composition of your partitions is crucial for germ control and will impact the look, durability and functionality of your stalls. Choosing the right material ensures the stalls stand up to high moisture, high traffic and other environmental considerations in addition to helping you keep your restrooms clean.
You have a few options when it comes to bathroom stall materials:
Powder-coated steel: Partitions made of this material are created from sheet metal layers surrounding a honeycomb cardboard core. The metal is then sprayed with a powder consisting of pigment and other solutions. This powder is baked onto the metal, creating a durable finish. Powder-coated steel is among the most popular materials for bathroom partitions and stalls because it is economical and flexible enough for most designs. Since the pigment is baked on, it is fade resistant and will not chip or peel. However, this material is not ideal for high-moisture or graffiti-prone environments.
Plastic laminate: In this type of bathroom stall material, particleboard is covered with a thin layer of steel and then a laminate layer. Plastic laminate offers many color choices and you can even select different pattern options to create various looks. As it comes with a warranty period and is priced economically, it's easy to see why this is a popular choice. However, it is not the ideal solution for pools or other high-moisture areas.
Solid plastic: Solid plastic partitions usually consist of an inch of solid polymer plastic, making them extremely durable. In fact, plastic is the leading material for restrooms in spas, pool areas, steam baths and anywhere where moisture and germs may be a concern. This material can handle anything from harsh cleaners to heavy traffic. Even graffiti is no match for these partitions, making solid plastic a viable option for any heavy-duty application.
Phenolic core: Stalls made from this material are made with a phenolic resin coating which surrounds layers of paper. The multiple layers and top coating make stalls made from phenolic very durable and highly resistant to germs, vandalism and corrosion. Phenolic core stalls are an investment that makes sense for high-traffic public restrooms where extra durability is a consideration.
Stainless steel: If you want to give your washrooms a sophisticated feel, stainless steel stalls are an excellent choice. This material can be smooth or engraved, and it's the leading choice for many top restaurants and country clubs. Stainless steel is even tougher than plastic as well as scratch- and rust-resistant, making it an ideal choice for any bathroom stall where function and style are essential.
Your bathroom stalls are one of the most noticeable elements of your restroom. When visitors walk in, their impression of your stalls will shape their sense of your facility. Choosing the right material helps you transform the entire space.
Having trouble deciding? The One Point Partitions team of professionals can work with you to find the right stalls for your space. We also have an online design tool to help you with your layout and final look.
Taking Door Swing Into Account
When you determine the depth of your bathroom stalls, you must remember that you need room to open the door. Most bathroom stall doors open inwards to avoid safety and privacy issues. So, you have to create a clearance between the toilet and door that allows it to swing the entire way. Considering that you'll have a minimum stall width of 30″, you'll need to add at least that much depth to the wash closet.
Mounting Considerations
The way you mount your toilet partitions will determine their height, especially when you make an ADA-compliant restroom. Each mounting system features different floor and ceiling clearances. You have to subtract these clearances from your total ceiling height to get an idea of your bathroom partition dimensions.
Designing Your Bathroom Layout
If you don't have experience with planning bathrooms or don't have the time to do the math, our three-step partition planner can help. Input the number of toilets, urinals, privacy screens and ADA stalls you need. Then, pick a layout that suits your preferences. We'll give you some standard measurements to help you figure out partition size. If you need to add an extra room, feel free to create another layout.
Once you specify all the rooms and toilets you'll need, we'll give you a quote. Adjust your final measurements with our help during your design session or call us at 800-756-6817.