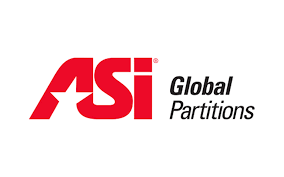 As a trusted name in the bathroom partition industry, ASI Global Partitions has been manufacturing top-quality, stylish, and affordable products for decades. Its products are made of high-quality materials for durability, backed with long-running warranties. 
That's why One Point Partitions—a US-based, nationwide supplier of commercial bathroom partitions—offers products from ASI Global. 
Below, you will discover the six best restroom materials from ASI Global Partitions and why the manufacturer stands out
Top Materials from ASI Global Partitions
As an American manufacturer that stands for quality and provides variety to customers, ASI Global offers six distinct materials to match its customers' performance and aesthetic needs. These materials include: 
1. Coated Toilet Partitions
These steel partitions are durable and decorative and made of a thermoset powder coating. The high-quality coating makes these toilet partitions resistant to scuffing, fading, and wear and tear. It also makes them easy to clean—simply wipe down as needed. 
ASI's powder-coated toilet partitions are available in different colors and finishes, including Azure, Dark Khaki, Charcoal, Almond, White, and Black. 
ASI is ready to stand by its powder-coated partitions as proof of quality and trust in its products. In addition, you get a three-year warranty against manufacturer's defects, so you can buy with confidence.
Why consider powder-coated toilet partitions?  
Lightweight

: They are made by sandwiching a piece of cardboard between two thin pieces of steel, making them easy to move around. 

Durable: 

Powder-coated steel is relatively rust and corrosion-resistant, making these partitions last for years.

 

 

Easy to Install: 

Installation is straightforward. With the detailed instructions provided, you can complete the process yourself. 

Affordable

: The cardboard core and lightweight design make powder-coated partitions cheaper than heavier ones with stronger cores. Prices start at $375 per part (door, panel, or pilaster). 
One downside of powder-coated steel partitions is that they aren't as strong or heavy-duty as some other options. 
2. Plastic Laminate Partitions
With plastic laminate partitions, you get commercial quality without spending an arm and a leg. The starting price for these partitions is similar to the powder-coated design—$375 per part. 
Unlike standard laminate products that come with unsightly black lines, partitions from ASI leverage Edge Banding for a superior aesthetic. 
What are the pros of plastic laminate partitions?  
Relatively durable: 

Made of a dense particleboard core, the partitions can effectively resist bending or twisting out of shape (warping).  

Resists moisture effectively: 

ASI's patented Moisture Guard Edge Banding locks out moisture by preventing water from seeping into the material. This makes it suitable for bathroom stalls.
However, this material is less robust than solid plastic partitions. 
3. Solid Plastic Partitions
Made of high-density polyethylene (HDPE), solid plastic partitions feature construction that effectively resists moisture, cleaning agents, and mildew. The nature of HDPE helps these partitions resist scratches and dents, making them more durable. With a 25-year warranty, you don't have to worry about production defects. 
Features that make HDPE an excellent material include: 
Waterproof: 

Solid plastic partitions are made with the same material used in plastic water bottles and pipes; hence they don't absorb liquids. This makes them excellent bathroom partitions.  

Mid-range price: 

HDPE partitions are cheaper than phenolic restroom partitions but more costly than plastic laminate. They are available starting at $450 per part. 
4. ASI Phenolic Partitions (Black Core)
ASI phenolic partitions are the intersection between the durability of stainless steel and the lightweight design of powder-coated partitions. Phenolic is a heavy-duty plastic treated with resin to form a robust structure.
Some of the biggest strengths of phenolic partitions are:  
High resistance to adverse conditions: 

The material is durable, even in wet conditions like showers, pools, and saunas

. 
Great visual appeal: 

Decorative laminate can be used when making phenolic, which boosts the aesthetic of your partitions. 
Due to its strength and high resistance to adverse conditions, phenolic partitions are more expensive, with the price per part starting at $700. As the name suggests, these phenolic partitions come with a black core. 
5. ASI Phenolic Restroom Partitions (Color-Thru)
This material has the same structural characteristics as black core phenolic. The only difference between them is the color of the core and edges. Color-thru phenolic comes with through and through surface color instead of black. 
6. ASI Stainless Steel Toilet Partitions
Due to the high tensile strength of stainless steel and a sturdy core, stainless steel partitions can effectively withstand wear and tear as well as blunt forces. As a result, they stand the test of time. 
Made of a honeycomb steel core that enables manufacturers to use less material, the partitions are light yet robust for durability. They come with a five-year warranty. Benefits of stainless steel partitions include: 
Beauty: 

 The aesthetic appeal of stainless steel makes these partitions worthwhile. ASI Global stainless steel partitions are available in three finishes: satin, diamond, and leather grain.  

High corrosion resistance: 

As an alloy of iron, chromium, and other elements, stainless steel has excellent corrosion resistance, making it durable even in high-humidity areas. 
While stainless steel partitions are strong, have a great aesthetic appeal, and are durable, they are among the most expensive. Like the phenolic partition option, the price per part starts at $700. 
Who is ASI Global Toilet Partitions? 
ASI Global Partitions manufactures commercial partitions, lockers, washroom accessories, and visual display products. The wide range of products makes ASI Global a suitable central source whenever you need one or several of the items it provides.
With offices around the globe and sales in over 50 countries, the manufacturer is a world-leading organization. Its headquarters are located in the United States in Georgia, so you get American-made products that meet high standards of quality. As a global market leader with a worldwide reach, the partition maker has operating units in other countries, including the UK, Canada, Mexico, China, Australia, and the Middle East. 
And make no mistake; this company is not new to the industry. ASI Global has been in the manufacturing business since 1960. This company has been making quality global partitions and satisfying its customers for over six decades.
Why Choose ASI Global Partitions? 
With dozens of other options in the market, what sets ASI Global apart from competitors?  
ASI offers a collection of related products. 

The company manufactures a complete collection of modern washroom products. Besides partitions, ASI offers integrated washroom accessories, lockers, and visual display products. So instead of juggling with multiple manufacturers, you only deal with one that offers global bathroom partition parts and anything else you need for a modern restroom.  

It's a trusted brand, locally and worldwide. 

ASI's products are featured in some of the world's most prominent places, such as AT&T Stadium in Dallas and NYU dormitory in Abu Dhabi.  

The manufacturer backs its products with long-term warranties 

as a sign of complete trust in their products' quality. For instance, ASI solid plastic partitions come with a 25-year warranty, which assures you of high product standards and boosts your confidence when buying. 
ASI Global Restroom Accessories
ASI Global offers different bathroom accessories that can be used with their partitions. The washroom accessories include: 
Towel bars, coat hooks, and racks

Paper towel dispensing units

Soap dispensers

Hand sanitizer dispensers

Hand dryers

Bathroom mirrors 

Toilet paper dispensers

Stainless steel grab bars

Shower accessories

Use Our Pricing Tool
Try out our new pricing tool and get prices without the wait in 3 easy steps!