Who Is Hadrian Partitions?


Founded in 1983 by Tom Warren and Keith McAlpine, Hadrian Partitions is a globally recognized brand and a key player in the restroom product industry. But Hadrian Partitions is not just a brand. It's a guarantee of quality, reliability, and unparalleled service. Hadrian offers a broad range of high-quality toilet partitions and locker products catering to various needs and environments. Its range includes powder-coated metal, stainless steel, embossed stainless steel, and solid plastic bathroom partitions and stall hardware. Hadrian has maintained a leading position in a fast-paced industry and is well-prepared to meet its global client base's evolving needs and expectations.
Top Materials From Hadrian Partitions
Hadrian offers partitions in an array of top-quality materials. Their durable powder-coated steel, stainless steel, and solid plastic toilet partitions complement any bathroom stall aesthetic.
Powder-Coated Toilet Partitions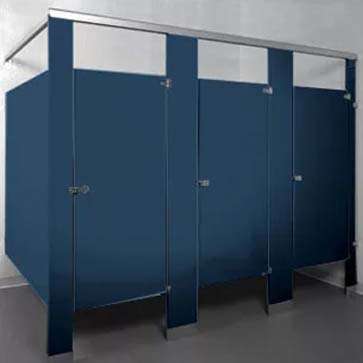 Hadrian's powder-coated toilet partitions are robust due to their full honeycomb core reinforcement. All parts are fully welded. The ADA thumb turn lever meets American Disability Act and Canadian barrier-free requirements, and the 20-gauge channel on the pilaster tops further enhances the compartments' rigidity.
These partitions offer high performance at a cost-effective price. As a result, they're a preferred choice for projects with a sharp environmental focus, with an impressive 50% recycled content, including 36% post-consumer and 14% pre-consumer material. Hadrian also minimizes waste and energy consumption and eliminates solvent emissions with an environmentally friendly powder-coating system.
Hadrian partitions are completely fireproof and emit no toxic smoke when exposed to heat or flame. They hold a Class A fire rating, and the powder-coated finish is resilient against impact, abrasions, chemicals, detergents, and acids.
The finish is also designed to withstand vandalism, allowing commercial graffiti removers to eliminate graffiti without damaging the original finish. It has an ASTM D6578-proven graffiti resistance that can handle other substances too, from permanent markers and lipstick to water-based ink markers, wax crayons, and spray paint.
Stainless Steel Partitions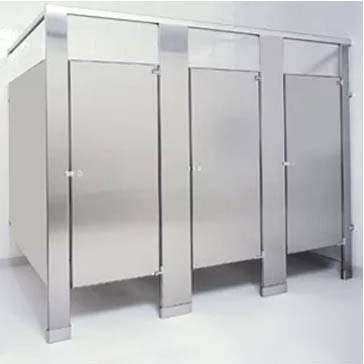 Hadrian's stainless steel toilet partitions are an eco-friendly, fire-resistant solution that doesn't compromise aesthetics or performance. Despite being less expensive than composite and phenolic-type toilet partitions, stainless steel partitions deliver a luxurious look and outstanding performance at a cost-effective price. The durability, combined with their contemporary gleam, lends a touch of elegance to any washroom environment.
Hadrian's type 304, #4 brushed stainless steel offers excellent corrosion resistance and a clean, modern look. An embossed stainless steel option with a unique textured pattern provides added protection against abrasions, smudges, and fingerprints.
For those who want the best of both worlds, Hadrian offers hybrid stainless steel compartments, combining an embossed interior for increased protection against vandalism with a #4 brushed finish on the exterior for a clean, smooth appearance.
These partitions are perfect for LEED and other environmentally focused projects, offering an impressive recycled content of 91% (76% post-consumer and 15% pre-consumer). They support a "green" environment without sacrificing style or functionality.
Special finishes, such as leather grain, are available upon request, although minimum quantities may apply.
Solid Plastic Partitions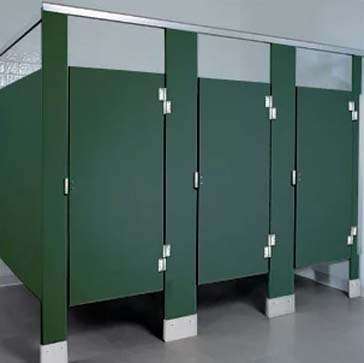 Constructed from high-density polyethylene (HDPE), Hadrian's solid plastic toilet partitions are designed to withstand high abuse and are an optimal choice for heavy traffic environments like the restrooms in schools, stadiums, parks, and airports. These partitions virtually maintain themselves, perfect for washrooms that need to endure harsh conditions.
They are incredibly resilient and do not delaminate, dent, flake, crack, or break, and allow for the easy removal of most graffiti. Hadrian also provides an industry-leading 25-year warranty on solid plastic partitions, protecting against breakage, delamination, and corrosion.
Certified with a Class B fire rating, Hadrian's solid plastic partitions meet the stringent requirements of the ASTM E-84 test. The plastic material features a solid core free of foaming agents that could cause air pockets and weaken the overall structure.
These solid plastic partitions have a minimum pre-consumer recycled content of 30%, making them an environmentally responsible choice. Their longevity also means less material is used over time as facilities do not need to replace compartments frequently.
Why Choose Hadrian Partitions?
Choosing Hadrian for your commercial bathroom partitions is a strategic investment in quality, resilience, and environmental sustainability.
Hadrian has a solid reputation for:
Designing partitions to withstand the harshest conditions and the busiest of environments. Hadrian partitions are built to last.
Offering rapid lead times and dependable delivery. When you choose Hadrian, you are assured that your partitions will arrive when you need them.
Demonstrating a robust commitment to environmental sustainability. All their partitions have significant recycled content, and the company operates with low energy consumption and zero solvent emissions.
Providing partitions in an array of different finishes to suit any project. You're sure to find a partition that complements the bathroom design you have in mind.
Be Elite: Choose the Hadrian Elite Series
For those seeking an exceptional blend of privacy, aesthetic elegance, and durability in their washroom partitions, Hadrian presents the Elite Series. This high-end collection is the epitome of Hadrian's commitment to superior quality and innovative design, delivering unparalleled privacy.
What sets the Elite Series apart is its privacy-first design. The doors and panels stand at an impressive height of 64 inches (1626 millimeters) and are mounted just 6 inches (152 millimeters) or 9 inches (229 millimeters) from the finished floor.
This significant height and minimal floor clearance create an effective barrier that shields occupants from unwelcome interruptions and prying eyes. The Elite Series boasts continuous channels that completely eradicate sightline gaps around the partition. This feature ensures that users can enjoy a level of seclusion rarely seen in public restroom facilities, creating an environment of comfort and reassurance.
But the Elite Series isn't just about privacy. Its sleek design and superior craftsmanship make it a worthy addition to any restroom. Like all Hadrian products, the Elite Series is built to last, providing excellent resistance to wear and tear even in high-traffic environments.
In choosing the Elite Series, you are not just opting for a restroom partition. You are investing in a top-of-the-line product that symbolizes Hadrian's dedication to excellence. With the Elite Series, you don't have to choose between style, durability, or privacy. You get it all. Experience the best of what Hadrian has to offer with the Elite Series.
Frequently Asked Questions
What's the installation like for Hadrian restroom partitions?
Installing Hadrian bathroom partitions is a quick and hassle-free experience. Each partition comes with detailed instructions and diagrams, making it easy for both professionals and those less experienced in construction. The partitions are available in several configurations to suit the specific needs and constraints of your restroom space, including:
Floor-anchored
Ceiling-hung
Floor-to-ceiling anchored
Floor-anchored with overhead-braced installation
Note that while Hadrian partitions installation is simplified for user convenience, it's recommended to have professionals handle the process, especially for large-scale projects. This ensures that your restroom partitions are safely and correctly installed, maximizing their durability and life span.
What kind of colors are available for Hadrian bathroom partitions?
Hadrian offers a wide range of toilet partition colors to complement your bathroom's aesthetic and create a restroom environment that perfectly aligns with your design preferences. Powder-coated steel and stainless steel partitions come in a variety of color choices ranging from lighter shades to darker hues. The solid plastic partitions, known for their durability and resistance to vandalism, offer the broadest range of colors. This includes multiple options in 100% post-consumer recycled material.
How is Hadrian partition hardware shipped?
Hadrian takes pride in its prompt and reliable shipping process. The company has set an industry standard with its fast lead times and consistent, on-time deliveries. Their stainless steel and embossed stainless steel products are especially noteworthy, with a shipping time of 48 hours.
The company has a remarkable 98% damage-free shipment rate. This commitment to efficient and careful shipping means that your restroom partitions should arrive in perfect condition.

Use Our Pricing Tool
Try out our new pricing tool and get prices without the wait in 3 easy steps!