Guide to Commercial Restroom Design

There are several reasons why you should pay special attention to your commercial restroom design, regardless of whether you're creating a brand new bathroom or managing the renovation of an existing one. The state of your business's bathroom — including its design and cleanliness, among other factors — impacts clientele more than many business owners may believe.
Your bathroom says a lot about your business overall and reveals to customers what you think of them. A dirty, awkwardly designed restroom will likely frustrate customers, who will associate that frustration with your business. They may spread the word to their friends and family, unintentionally giving your company a bad reputation.
It may not seem like a big deal, but your bathroom design can make or break your business. You should ask yourself some questions about your current restroom's layout. For example, does it adhere to standards set by the Americans with Disabilities Act (ADA), which ensures all restrooms are accessible to everyone, including people with disabilities or those who use accessibility devices like wheelchairs?
What should you do to ensure your new bathroom will be a boon to your business?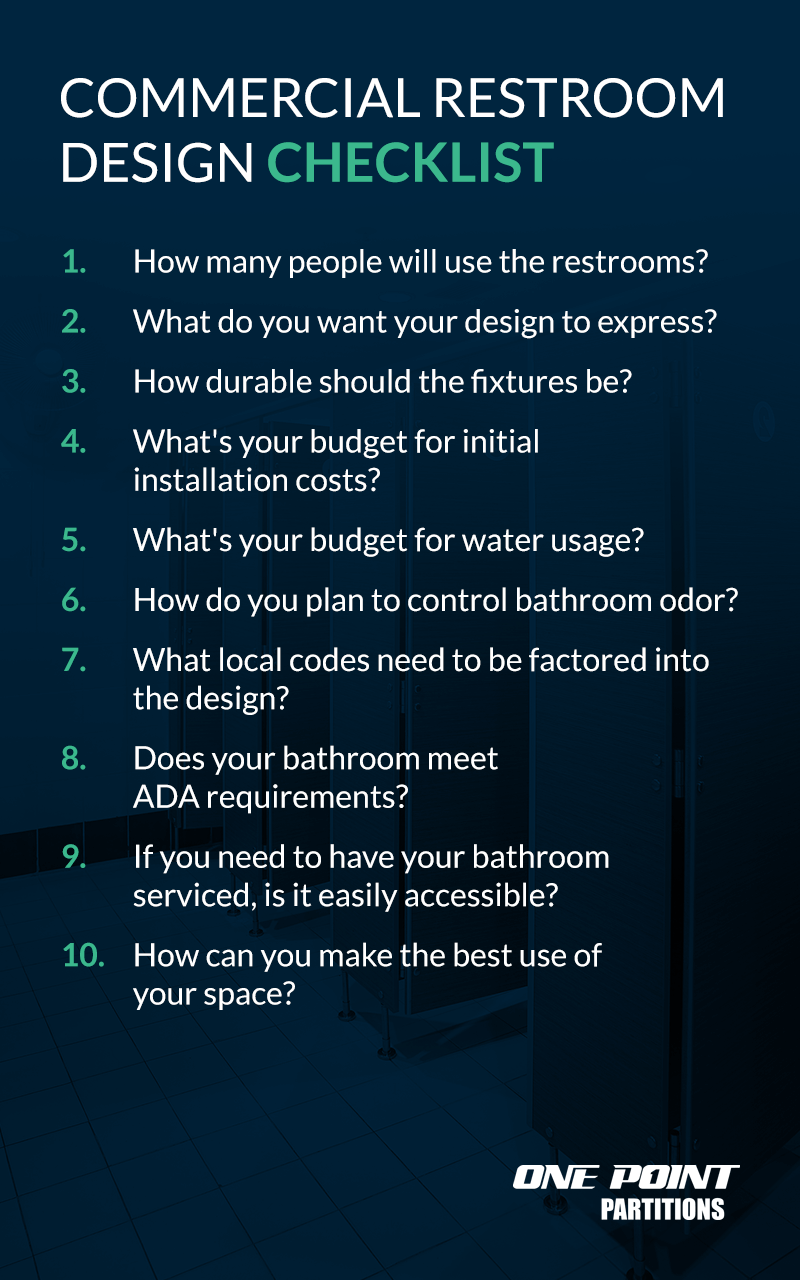 Commercial Restroom Design Checklist
Whether you're designing a bathroom for a restaurant, community center or stadium, there are 10 things you'll need to consider to ensure you plan the optimal restroom for your business. This checklist of items will help you establish how your bathroom will be used, which will guide you on how to best design it while ensuring it follows all necessary codes and guidelines:
How many people will use the restrooms?
What do you want your design to express?
How durable should the fixtures be?
What's your budget for initial installation costs?
What's your budget for water usage?
How do you plan to control bathroom odor?
What local codes need to be factored into the design?
Does your bathroom meet ADA requirements?
If you need to have your bathroom serviced, is it easily accessible?
How can you make the best use of your space?
These questions will give you an idea of what criteria you'll need to meet before you begin the steps of a commercial bathroom remodel. Take these questions seriously — designing a bathroom is more than putting together some stalls and sinks. The more you understand your customers' needs and expectations of you as a provider of public bathrooms, the better you'll be able to make your commercial restrooms benefit your business.
Here's how to start creating your restroom:
1. How Many People Will Use the Restrooms?
Another way to put this question is to ask yourself how big should a public restroom be. This question can be tricky to answer since you can't accurately quantify how many people will use your restroom. However, you can accomplish this task more easily by considering what your high-traffic times are. Public restrooms, such as those in restaurants or shopping malls, are used the most during the busiest times of the day or season.
For restaurants, this could be during dinner or brunch rushes, while for shopping malls, it could be evenings and weekends. You'll also need to consider the overall year. What are the busy times for each season? For retail outlets, the holidays tend to be the busiest periods. Restaurants usually see a spike in clientele on special occasions, like Valentine's Day.
Your bathroom's size should correlate to the largest number of people you expect to use it. Using this estimated number is a great way to decrease crowding and long lines to the restrooms. However, if your busiest time only happens occasionally, it may not be beneficial to have a large washroom. One good idea is to establish the average number of patrons you expect will use your restroom and design according to that quantity.
On the other hand, if your bathroom will be used exclusively by your staff rather than the general public, your calculations will be a bit different. The Occupational Safety and Health Administration (OSHA) has established specific guidelines for public restrooms for employees, which includes the minimum number of bathrooms based on the amount of staff members.

2. What Do You Want Your Design to Express?
Bathrooms are a part of your business, meaning your commercial bathroom layout should match your company's aesthetic. This point goes for both design and maintenance. Five-star hotels have bathrooms that reflect the sophistication and class of the rest of the establishment. They are clean and sleek, and they blend with the rest of the decor. Corporate bathrooms give off an air of professionalism and tidiness while simultaneously ensuring accessibility to everyone.
You're unlikely to find expensive fixtures and tiles in a mall bathroom that's used several times a day, just like you're unlikely to find cheap plastic in a five-star hotel bathroom. Address all of these considerations at the start of the design process, so you can easily adjust your ideas to include any additional guidelines for bathroom layouts.
Your bathroom is a part of your establishment and will likely be seen as a reflection of your staff and overall business, so it's important to know what type of impression you want to give.
3. How Durable Should the Fixtures Be?
When deciding what fixtures to furnish your bathroom with, keep in mind that your commercial bathroom will see a lot more traffic than your restroom at home does. The fixtures and materials you use to furnish your commercial bathroom should be durable enough to handle high traffic. The tricky part comes when you have to consider the costs of the fixtures in relation to your budget.
Opting for economy fixtures may be okay if you expect your bathroom to see very little traffic, such as an employee bathroom at a small store. But for restrooms that will be used much more, scrimping on the fixtures could lead to them wearing out much sooner and requiring you to invest in replacements or repairs more often. That will end up costing your business more in the long run.
Similarly, opting for pricey fixtures doesn't automatically ensure their durability. You should account for maintenance as well, since certain materials — like wood, for example — may look stunning but require a lot of upkeep to retain their aesthetic. This issue is especially true for places like bathrooms, which see a lot of moisture and humidity.
Research is your best bet for finding durable, attractive and practical bathroom fixtures. Look for manufacturers who have established a reputation for durable products and explore those options while keeping your budget in mind.

4. What's Your Budget for Initial Installation Costs?
While it's unwise to go beyond your budget to get the best materials and fixtures, there is a way to stretch your cash flow and make the most of it without sacrificing quality. You'll need to consider various design decisions without straying too far from your budget, such as how many lighting solutions you can have or how many stalls and urinals you can install.
If you're able, the best thing to do is partner with a professional designer who is familiar with designing within a budget. Their professional experience and years in the industry will help them come up with unique ideas that you, as a layperson, may not have even thought to consider.
5. What's Your Budget for Water Usage?
Many people take water for granted, but as a business owner providing a public bathroom, you'll have to budget for water consumption. Aside from estimating how much water your public bathroom will use — from flushing toilets to running taps — you'll also want to consider the potential of water conservation.
There's no way to limit how much water your patrons use, but there are ways to encourage water conservation, such as using waterless urinals or faucet switch motion sensors. Certain fixtures, like motion-sensor faucets or toilets that flush automatically, may be costly upfront but will likely be cost-effective options in the long run. You should always factor the initial cost into your budget to manage your expenses, but remember to consider the long-term benefits, too.

6. How Do You Plan to Control Bathroom Odor?
Bathroom odors are an inevitable part of any restroom, but this may be a more sensitive topic for public washrooms. Considering your bathroom's main purpose, it will eventually begin to smell bad, and controlling that odor is an important consideration to make while designing your bathroom. This is especially true if you're planning to control bathroom odor using ventilation. Discuss ahead of time what sort of ventilation you'll have installed and how you'll maintain it, so it continues serving its purpose.
Similarly, certain materials and fixtures can help with controlling bathroom odor. For example, flooring with grout can collect malodorous substances and should be cleaned thoroughly on a regular schedule to prevent the entire area from smelling foul. The toilets you choose can also help control bathroom odor, with most commercial toilets designed with that factor in mind.
Of course, odor-blocking products are always a good option for odor control. Make sure you purchase products designed for commercial bathrooms rather than residential ones.
Once again, bathroom sanitation and odor control are important because they will inevitably reflect on you and your staff. Customers tend to associate the state of a company's bathroom with the company itself. Planning to control this aspect of commercial bathroom use will help you manage the issue down the road rather than scrambling to find solutions after the fact.
7. What Local Codes Need to Be Factored Into the Design?
This is one consideration without a universal answer since building codes and guidelines will vary from place to place. Research your local building codes to ensure your bathroom design adheres to them. If you're building a brand new restroom, understanding the building codes is even more important since you could be denied a building permit if your bathroom design violates these regulations. One of the best ways to ensure that your bathroom project is up to code is by hiring a commercial bathroom contractor.
Building codes ensure your establishment is safe for everyone, and these rules often offer instructions on the best way to adhere to them. Therefore, thinking of the code as a guide for designing your bathroom layout could make your task a bit easier. You will have a set of specific guidelines to follow, which can help you clearly define your restroom's design and avoid feeling stuck or lost during the process.
How many toilets you need to have and how many people can occupy your bathroom at any given time tend to be the more common regulations. Depending on whether your new commercial bathroom is for public use, like at a restaurant or church, or for corporate employees, you'll also have to make sure you adhere to OSHA guidelines as necessary.

8. Does Your Bathroom Meet ADA Requirements?
Commercial bathrooms are meant to be used by the general public, which means they must be accessible to everyone, including people with disabilities. The ADA established its requirements to ensure all people can access public facilities with ease, and bathrooms are no exception. Your new commercial restroom's layout should be ADA-compliant to provide ease of access for all individuals.
An ADA bathroom layout requires at least one accessible bathroom stall that is wide enough to fit a wheelchair comfortably. Generally, this means at least 30 inches of space within the stall and a door wide enough to allow accessibility devices as large as wheelchairs to enter and exit without issue. The wheelchair should also have enough room to rotate comfortably outside the accessible stall, and there should be a clear path leading from the stall to the nearest sink.
The ADA requirements also specify the heights for toilets and grab bars, and they state how these and other accessories must be centered within the bathroom stall to ensure ease of accessibility.
9. If You Need to Have Your Bathroom Serviced, Is It Easily Accessible?
While, ideally, you never want your bathroom or anything in it to break down or be out of service, there will be times when a professional will need to come in to service the bathroom. In that case, you want to make sure the issue can be fixed quickly and easily. When designing your commercial restroom, you'll want to make sure the bulk of the work isn't occurring in the middle of the restroom's walkways, which can turn off patrons or interfere with employee productivity.
It's essential to plan thoroughly and design your bathroom's layout in a way that will allow service people to repair any issues without obstructing the facility.

10. How Can You Make the Best Use of Your Space?
If you have a very small space — or one that seems too large — you may feel like you're unable to make the most of it. Whatever the case may be, you have ways to manipulate the space to make it seem bigger or smaller rather than crowded or cavernous. Take a second look at your bathroom and try rearranging where you planned your fixtures to go. Small changes can go a long way and make even a tiny room seem bigger than it is.
For example, if you're short on space, consider installing floating sinks or leaving the area around the sink empty. Mirrors are another popular way to make smaller rooms look bigger and more modern. Sleek fixtures and mirrors can also give commercial bathrooms a more sophisticated look.
Working with a professional designer can always help you get more use from your space if you're especially stumped with your restroom's layout.

Where to Get Help With Your Bathroom Design
While the previous tips will hopefully help you with designing your new commercial bathroom, it is not unheard of to seek extra help during the design phase. After all, the various requirements, necessary best practices and minuscule details can get overwhelming, especially if this is your first time designing a commercial bathroom.
On top of that, you'll need to pick the appropriate materials and fixtures, which will require you to shop for prices and research how to take care of these components, so you can get your money's worth. You know your business better than anyone else, and by collaborating with a bathroom design professional, you can match your expertise with their industry knowledge to create the most efficient and code-compliant commercial bathroom.
Your bathroom partitions are another thing you'll need to consider, including which material and style will best suit your new bathroom. At One Point Partitions, we have over a decade of experience selling and installing bathroom partitions for commercial restrooms in a range of industries, including churches, hotels, schools and restaurants. By offering partitions in a range of colors and textures, we pride ourselves on helping business owners like you create the perfect commercial restroom layout.
Our experience extends past bathroom partitions, too. Our team of designers has years of knowledge, and we offer their expertise free of charge. The team will work with you to create the bathroom layout that best suits your establishment and adheres to all building codes and regulations.

Refine the Details of Your Bathroom Design With a Professional
If you'd like to give layout design a try, we offer an online design tool that allows you to experiment with a range of design elements to create a digital mockup of your commercial bathroom. Using that mockup, we'll provide you with a free quote to help you budget your project. We even offer free samples so you can match your bathroom's aesthetic to the rest of your business, ensuring that you're satisfied with your decision.
If at any time you want to reach out for professional assistance with your bathroom layout, our team of designers is available to help. Enlist our services if you have an existing space into which you need to fit a bathroom. We can use the available dimensions and your business's design requirements to create a mockup of your commercial bathroom.
Our design team can also help you pick the right materials for your establishment. For example, if you're designing a bathroom for a pool or a room that will see a lot of humidity, we'll let you know which materials are best suited to withstand moisture — as well as which colors and textures will suit the look you have in mind. Through it all, we'll keep your budget at the forefront, so you can rest assured we won't go over.
Even if you're in the very early stages of planning your bathroom design, it doesn't hurt to touch base with a professional to get advice on factors such as how much space you should allot for your new bathroom. Connecting with a professional can save you a lot of time, money and energy during the process of constructing a company restroom, allowing you to get the most from your investment. Your employees and customers will both appreciate the care and effort you put in.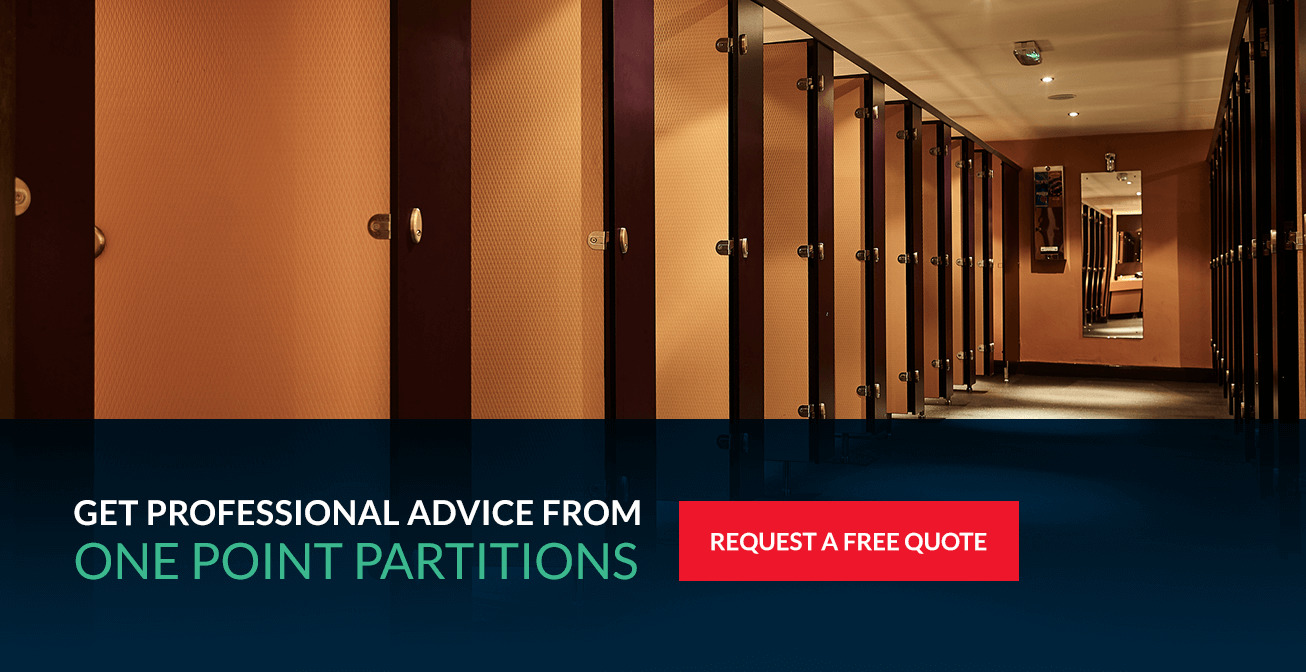 Get Professional Advice From One Point Partitions
Whether you're designing a brand new bathroom from scratch or simply renovating an existing restroom, One Point Partitions is here to make the entire process easier for you. From our design services and online design tool to the various materials and colors we offer in bathroom partitions, we're dedicated to making sure you get the commercial bathroom of your dreams. Our quick service, design and delivery help you complete your project efficiently and effectively.
Get in touch by calling 800-756-6817 anytime between 8 a.m. and 4 p.m., from Monday through Friday, or request a free quote online now.