The Best-Looking Hotel Bathrooms Around the United States
A bathroom is just a bathroom — a place to wash one's hair, brush one's teeth and, of course, take care of business when nature calls.
Well, at hotels across the United States, that definition just won't cut it.
Designed to be inviting, stylish, on-budget and on-brand, the best hotel bathroom designs in lobbies and rooms balance form with function. Reflecting broader trends in the hotel industry and interior design, top hotel bathrooms want to be more than just the place you do your business — they want to embody the hotel experience.
What's within these top-rated guest and lobby bathrooms in the U.S. — and are their designs fast fads or the future? We're investigating what makes a great hotel bathroom, from furniture and features down to what kind of mirror should hang on its walls. 
Essentials of an Attractive Hotel Bathroom
From economy hotels to five-star rated boutique and luxury lodges, there are a handful of bathroom features U.S. consumers continually say win them over.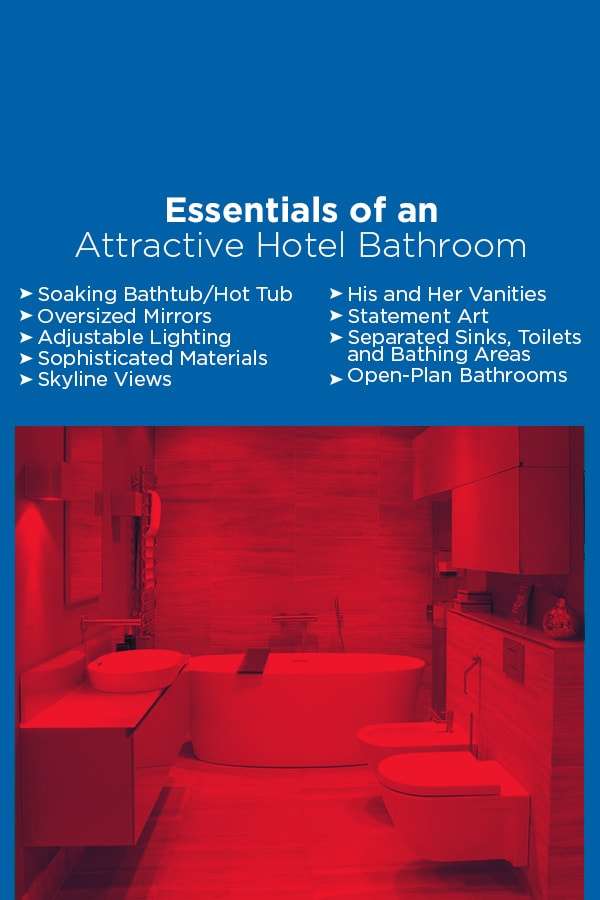 1. Soaking Bathtub/Hot Tub
Spa-inspired baths and showers have made their way into hotels. Looking to emulate the calm, soothing environments in their guests' bathrooms, hotels are adding new fixtures and amenities that make a two-hour bubble bath seem too short:
Multiple jet settings. Many hotel soaking tubs come with jets you can program to desired pressures, bringing mini massages to guest stays.
Walk-in showers. Also known as "shower columns," these ever-popular fixtures have ceiling-mounted rainfall showerheads, body sprayers and even a detachable hand-held showerhead for direct sprays. 
Hot tubs. Some hotels are going the extra mile by installing hot tubs in rooms and bathrooms, adding a spa's sauna-like touch to specialty suites.
2. Oversized Mirrors
Oversized mirrors have numerous benefits. They pick up natural and artificial lighting — brightening bathrooms of any size — and they make the space appear larger and more spacious. Plus, with such a wide range of shapes and mounting options, hotel bathrooms can add real signature and style to both a guest's room and lobby restrooms just based on the chosen oversized mirrors.
3. Adjustable Lighting
Too dim or too bright — the battle over the best amount of light disappears with in-bathroom light controls. Adjustable lighting brings a Goldilocks balance for those with differing light preferences — or someone trying to go to the bathroom late at night without waking up their roommates. Hotels can install adjustable lighting in their lobby and unit bathrooms in many forms:
Multicolored LEDs: LED lights are more eco-friendly, and they tend to create warmer light hues that flatter more skin tones. Hotel bathroom designers took note of this and began implementing a more extensive array of LED fixtures above bathroom mirrors and vanities.
Backlit mirrors: LED lights can also be installed inside mirror frames themselves, doubling as a bathroom light and the room's standout feature.
Chromotherapy lighting: Chromotherapy lighting involves multi-colored, adjustable light fixtures where guests can set what color (or colors) they want their bathroom lighting to be. Chromotherapy lighting is also called therapy lighting and is used in spas and saunas — and is thought to support various emotional states.
4. Sophisticated Materials
The best hotel bathrooms look the part. When it comes to creating their memorable and elegant environments, though, sophistication doesn't have to mean expensive.
Many of the materials popular in today's bathroom countertops, tiles, floors and more are cost-prohibitive for the majority of hotel bathroom design budgets — think solid quartz, marble, granite, soapstone, travertine and wood boards. Fortunately, each also has high-quality manufactured or engineered alternatives that look just as good — and come at a fraction of the cost.
Hotel bathrooms enhance their lobby or room material choices with colors, patterns and accents greeting any guest who makes a pit stop. Together, it creates a sophisticated retreat that guests typically wouldn't get at home.
5. Skyline Views
Knockout views of cities and landscapes are the cherry on top of a beautiful hotel. Views transport your guests, adding that "wow" effect they'll photograph, share and talk about well after they've checked out — and will likely have them returning to your establishment on their next trip.
However, the traditional hotel room and lobby bathrooms tend to be separate and outright isolated from these spectacular skyline views. More and more, designers are looking to remedy this problem, using creative and unconventional room layouts, bathroom partitions, glass paneling and even windowpane technology to allow guests to fog windows when they need privacy or keep them clear for jaw-dropping vantages.
6. His and Her Vanities
Hotel bathrooms of nearly any size are configurable for his and her vanities. The additional countertop space allows rooms with two or more guests to set up and spread out their toiletries without cluttering the entire space. His and her vanities also save guests time, as no one has to wait or fight over using sink and countertop areas. It's a win-win for all — hotel bathrooms appear more accommodating and luxurious while guests feel more pampered.
7. Statement Art
Another design trend in top-tier hotel bathrooms? Statement art pieces. Rather than keep the paintings and prints relegated to bedrooms, more and more hotel designs are incorporating artistic touches into lobby bathrooms themselves. Think mosaic tile art on the floors or walls, a featured painting, a wall mural, an ornate, oversized mirror or photography collages hung on lobby bathroom walls, each enhancing the overall brand identity of your establishment.
8. Separated Sinks, Toilets and Bathing Areas
Many hotels across the country employ bathroom layouts with sinks and vanities separated from the toilet, shower and tub. Utilizing full walls, half walls and bathroom partitions, hotel rooms use this configuration to add privacy to the unit. Separated vanity and bathroom areas also allow more than one guest to use these spaces simultaneously, adding function to this layout form.
To maximize their space's privacy, a hotel's lobby or public bathrooms can be outfitted with restroom partitions in a range of base material and design customizations, including:
Powder-Coated Steel
Laminate
Solid Plastic
Phenolic
Stainless Steel
9. Open-Plan Bathrooms
A recent trend in boutique hotel bathroom design takes the open concept fad literally — with open-plan bedroom-bathroom units.
At most, these rooms use paneling and half-walls to designate bed and bath areas, but nothing more — no walls, no doors. Some hotels commit to the concept all the way, installing see-through glass panes without curtains or privacy screens.
Open-concept hotel rooms certainly illicit strong responses. Industry experts agree, though, that the trend delivers a novel and memorable experience for guests, all through the use of this unique hotel bathroom twist.
Why Are Hotel Bathroom Designs So Popular?
The bathroom is an essential part of the hotel experience. Its style, appearance, amenities and upkeep all contribute to a guest's satisfaction with their overall stay. It's understandable, then, why hotel bathroom designs receive so much attention — and why new, innovative design ideas can cause industry talk.


1. They're an Escape
Guests can be traveling for their work or with their family, on a friends' trip or a quick, impromptu getaway with a spouse or partner. They can be passing through or intentionally visiting the location, maybe for the first time or the tenth.
Across traveling scenarios, a hotel is an escape from the everyday. It offers respite and relaxation, a place to experience the new while remaining comfortable and cared for. Most guests look for hotels that balance these desires while staying within a reasonable budget. The best hotels and their designs reflect these escapist needs, with decor, furniture, amenities and even room technology departing from the expected.
2. They're Always Changing
Hotel bathrooms are representative of hot design trends in the overall interior design world. They're strategically made to match consumer tastes of the day while still showcasing the hotel's signature brand. Just consider things like open-concept hotel rooms — a direct result of the immense popularity of open floorplan homes and apartments. Other bathroom features, like the occasional telephone installed next to hotel toilets, still linger from yesterday's consumer demands.
During your next few hotel stays, keep an eye out for evolving bathroom and hotel trends reflected in:
Color schemes
Bathroom materials
Decorations
Lighting and light fixtures
Pillows and bedding
Partitions and wall structures
Bathroom technology
3. They're a Top Guest Concern
As noted in recent Gallup surveys, hotel guests across market segments most value a "tailored guest experience." Tailored will, of course, mean different things to different people. From economy to luxury establishments, however, guests consistently cite bathroom appearance and amenities as integral to the overall impression of their stay.
In particular, hotel guests want lobby and in-unit bathrooms to be:
Clean and well kept
Stocked with quality soaps, towels and toiletries
Spacious without going overboard
Contain upgraded appliances, like showerheads, faucets and tubs
Have helpful customer service, if problems arise
4. They're Inspirational
Hotel rooms always spark a little intrigue. Guests crave something that's a little bit better than what they get at home, perhaps in mattress quality, sheet thread-count, television channel affordances, city views and — of course — bathroom styles and amenities. They may even look toward the best hotel bathroom designs they've seen as something to emulate, picking features and decor they first experienced in your establishment.
5. They're an Extension of the Hotel Itself
Bathrooms represent all that a quality hotel is — relaxing and rejuvenating, luxurious but convenient, on-brand but consumer-focused. If guests are impressed with their room's or the lobby's bathrooms, chances are they'll be impressed with the overall hotel.
Do the Best-Looking Hotel Bathroom Designs Have More or Less Privacy?
The short answer? It depends.
The long answer? It still depends. Less privacy does not equate to less comfort when bathrooms are well configured, just as more privacy is not synonymous with a superior guest experience. What's more, terms like "private" or "open concept" should not be conflated with the overall value or ranking of a hotel, which they often are.
Hotel lobby bathroom designers balance space, budgets, guest tastes and the hotel's overall branded image when configuring restrooms. There are pros and cons to both the traditional, separate private bathroom and a more contemporary, flexible and fluid bathroom layout.


1. Pros and Cons of More Private Hotel Room Bathrooms
Standard hotel bathroom layouts contain two areas: A sink or vanity adjacent to the toilet and shower area. Full walls and a door separate the two, all configured to be slightly removed from the rest of a guest's room.
Pros
Common pros to private hotel bathrooms include:
Familiarity: Most hotel patrons will know and expect this conventional bathroom layout.
Functionality: Separate bathroom installments allows multiple guests to take care of hygiene needs at the same time.
Comfortability: There are many rooming situations where private, walled-in areas to take care of bathroom business is not only more comfortable. It's necessary — an example being when rooming with a colleague on a business trip.
Cons
Common cons to private hotel bathrooms may be:
Loss of views: The walls and doors necessary for entirely private bathrooms block a hotel's coveted views.
Less light: Natural and artificial light cannot permeate through a hotel room as organically in separate bathroom layouts.
Confinement: Private bathrooms may instill a sense of confinement or claustrophobia, which could clash with a hotel's overall brand or the atmosphere guests seek.
2. Pros and Cons of Less Private Hotel Room Bathrooms
In the "less is more" camp, designers create cozy, intimate hotel spaces without massive walls or aesthetically-limiting layout conventions. Rooms will still have a designated bathroom space, but those spaces are built around things like privacy planes and custom partitions instead of solid walls.
Pros
Rooms with more fluid layouts between bedroom and bathroom will certainly be more memorable, as well as carry these other design benefits:
Enhanced natural lighting: Fewer walls mean natural window light can permeate the entire unit, rather than just small areas.
Panoramic views: Views from the hotel can be appreciated no matter where you are.
Enlargened rooms: Open-concept layouts have the bonus advantage of making rooms of any size appear bigger — a great environmental amenity for your guests.
Cons
Rooms with more contemporary layouts may experience the following:
Noise: Nearly all open-concept layouts — in hotel rooms, homes, offices and more — carry increased noise levels.
Guest inconvenience: Less private bathrooms may be uncomfortable or downright inappropriate for guest rooming situations and lobby restrooms.
Personal preference: Some guests may not like the contemporary, trend-setting aesthetic of less private hotel bathrooms.
Free Design Consultation With One Point Partitions
It's an inevitability for hotel owners and managers across the nation — bathroom renovations, in rooms, lobbies, lounges, hotel bars, restaurants and more, make a statement about your overall hotel. You want that statement to stand out.
When hotel bathroom redesigns are on the horizon for your establishment, ask yourself if you'd prefer:
The traditional web of consultants, contractors and subcontractors managing bits and pieces of your renovation.
A one-stop, full-service partnership that can help design, source and install bathroom partitions in your hotel's lobby, spa or public-facility bathrooms.
One Point Partitions is one of the nation's largest distributors of custom bathroom partitions for commercial use. We don't settle for the same-old designs and configurations. We push ourselves to provide premium partition materials in over 50 colors and patterns, plus experts to help install them on-site. We've worked with dozens of clients in the hospitality industry, meeting and exceeding their renovation expectations.
Design Your Best Hotel Lobby Bathrooms in the U.S. With One Point Partitions


Contact our team for a free lobby bathroom quote or material samples, as well as any further information to help revamp your establishment's best-looking bathroom designs.