How to Create a Luxury Bathroom Experience on a Budget
Forget that storefront for a second: The state of your bathroom may be influencing your business, inviting or driving away customers before you can say "out of order."
Industry research points to the importance of a luxury bathroom experience for patrons: Nearly half of all building or environment-related customer complaints focus on the restrooms. Other studies report over 95 percent of consumers would avoid a business — especially a restaurant — with dirty, run-down or neglected bathrooms.
Want to provide that luxury restroom atmosphere without the luxury price tag? Commercial bathroom renovations take restrooms from plain to posh. They add fixtures and details to support a high-end, novelty experience as welcoming as your customer service.
Some commercial bathroom renovations can be do-it-yourself projects, while others will require professional help. We've outlined how to create a luxury bathroom in ways that are affordable, achievable and — ultimately — true to your aesthetic.
Reasons for a Commercial Bathroom Redesign on a Budget
There are many motivations for a business to revamp its bathrooms with high-end touches in mind.
1. Because You've Just Moved In
You've just finalized the new building for your office, restaurant, shop or business. It's the ideal size, in a great location, with plenty of parking and amenities your target customers love — great! Now, what do its bathrooms look like?
Chances are, the restroom facilities are not only bland and standard — they're unbranded. Restroom renovations put your stamp on your new space without draining your overall budget.
2. Because You Have Privacy Concerns
A bathroom's original layout or design may not meet the standards of today's consumers. Guests visiting your space want comfort and convenience in their restroom experience. That means stall heights, sight lines and stall configurations that support privacy while maintaining spatial sensibility. Instead of individual washrooms — which are cost-prohibitive and impractical to handle even average customer traffic flows — businesses can redesign their space using furniture and layout improvements that organically hack privacy in the room.
3. Because You're Redoing Your Entire Commercial Space
Giving your business a facelift? In the midst of a business rebrand that includes changing store aesthetics? The bathroom often falls to the bottom of the list in terms of design attention and brand cohesion. Commercial bathroom redesigns on a budget remedy that disconnect, making your store or office unmistakable no matter where guests are.
How to Create a Luxury Bathroom Experience
Upscaling your business's bathroom involves creative designing, planning and furniture sourcing, both on your own and with a little professional help. What it doesn't include is an interior design degree or a bottomless budget. Here are top suggestions for how you can redo your commercial bathroom without breaking the bank.
1. Mirrors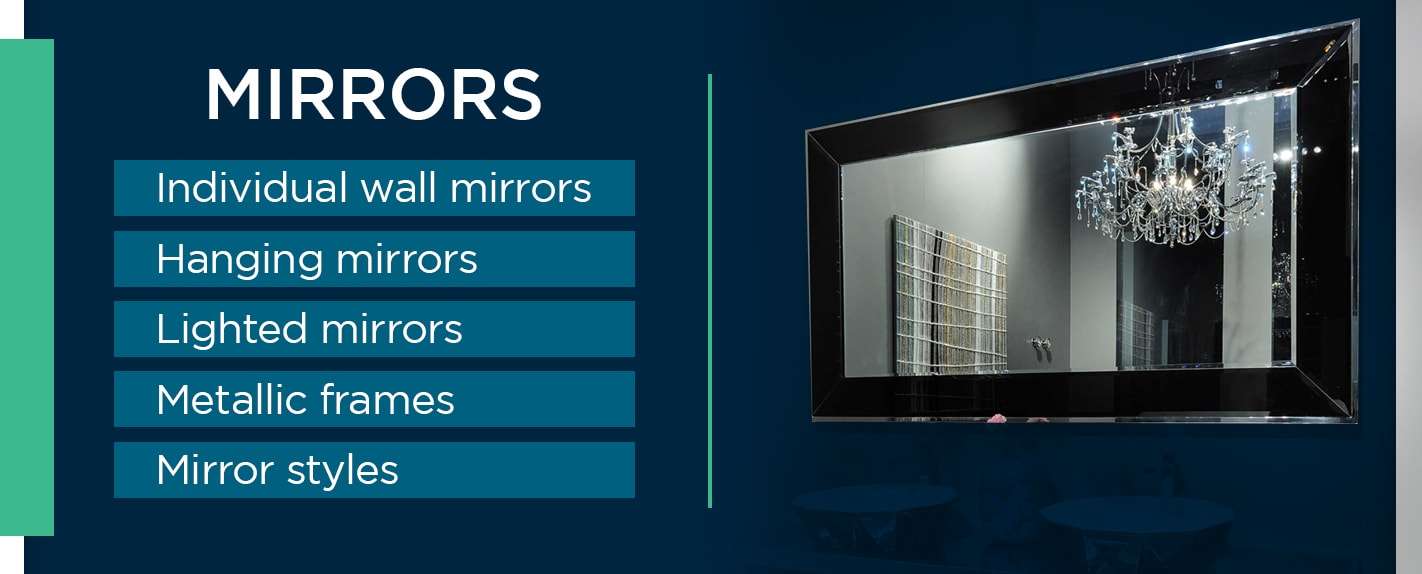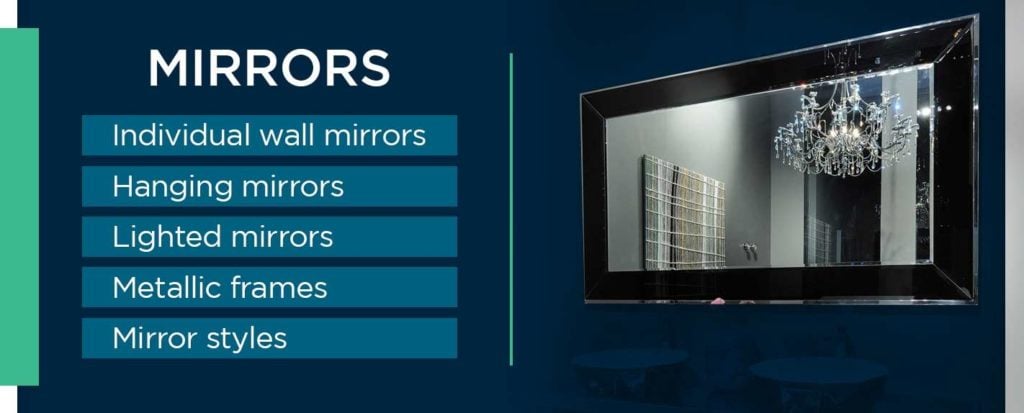 Mirrors are a staple bathroom feature — and one of the best ways to imbue space with elegance and flair. While most commercial bathrooms opt for simple, wall-mounted glass mirrors in wall-to-wall rectangles and squares, you can set a more luxurious standard with inventive mirror frames, placements, lighting and more:
Individual wall mirrors: Installing individual mirrors in front of sinks adds a personalized touch to wash areas, compared to one long, shared mirror within most public bathrooms.
Hanging mirrors: Hanging mirrors instead of wall-mounting them turns each into a unique art fixture. Plus, there are all sorts of artistic ways to hang mirrors, using threads, ropes, metal chains and more to fashion the final installation.
Lighted mirrors: Adding light fixtures around your mirrors lends your bathroom a backstage dressing-room finesse. Businesses can opt for direct spot lighting over each mirror or even install LED-backlit mirrors with bulbs worked into a mirror's frame.
Metallic frames: Framing each bathroom mirror elevates plain glass panes into standout room features. Opt for metallic frames in gold, silver, bronze, brass or copper tones for an expensive-looking finish.
Mirror styles: Antique or vintage-style mirrors, with their edge detailing or ornate frame embellishments, exude luxury without extra design help. When opting for that luxe look, avoid minimalist, industrial or rustic decor unless they're particularly refined.
2. Countertops
Countertops will be one of the first things visitors notice about your bathroom. With dozens of base materials, detail work and finishes, a commercial renovation can alter the look of an entire room just by changing out bathroom countertops.
Countertop Choices
Select from any of the following for bathroom countertops on a budget:
Countertop paint: Countertop paint is one of the most economical options for redoing bathroom counters. Paint choices can be finished to look like marble, granite, quartz and other high-end, high-demand countertop bases, yet cost a fraction of the amount.
Engineered quartz: Natural quartz countertops start at $50 per square foot and regularly exceed $100. However, engineered quartz holds the same marbled appearance without the hefty price tag. Plus, engineered quartz doesn't require sealing like its natural stone cousin while still maintaining all the stain and scratch-resistant properties. 
Cultured marble: Like engineered quartz, cultured marble is a durable and highly customizable countertop material. From creamy whites to jet blacks, you can source cultured marble countertops as low as $8 per square foot. 
Manufactured soapstone: With its elegant veining and polished-stone sheen, manufactured soapstone is a common countertop choice for bathrooms. While regular soapstone would cost renovators even more than natural quartz and marble, manufactured soapstone cuts the cost down to reasonable price tags.
Other laminates: High-end laminates are a durable, stain-resistant and ultra-customizable choice for commercial bathroom revamps on a budget. Renovators can source laminates from local stores between $2 to $4 per square foot.
Countertop Styles and Features
How you design your new bathroom countertops is just as important as the countertop material. Consider the following features:
Vanity-style: Vanity-style bathrooms set up private, single-user sink areas. Think separate sinks, mirrors and hand-drying towels installed as individual wash stations rather than a long, joint row of countertop sinks.
Undermounted or vessel sinks: Undermounted sinks are those installed below the counter, with no rim between the countertop and the sink itself. They give a sleek, contemporary and luxe look that also enhances countertop design. In contrast, vessel sinks are freestanding, sitting atop the counter rather than installed within it. Unlike undermounted or even standard drop-in-sinks, installing vessel sinks requires drilling only two holes into the countertop — one for the sink drain and one for the faucet — before installation is complete. Imagine that, do-it-yourselfers!
Countertop decorations: Adding plants, pottery, statement art pieces and even task lighting to your countertops lends commercial bathrooms an at-home sense of comfort with an upscale twist.
3. Tiles and Flooring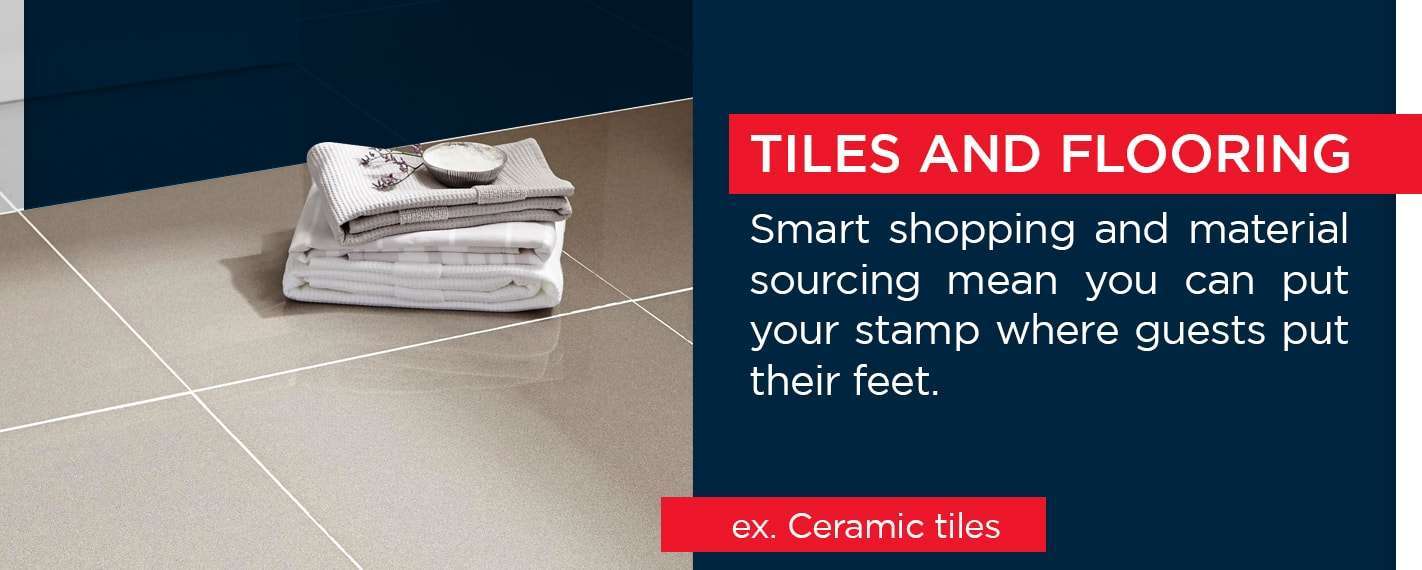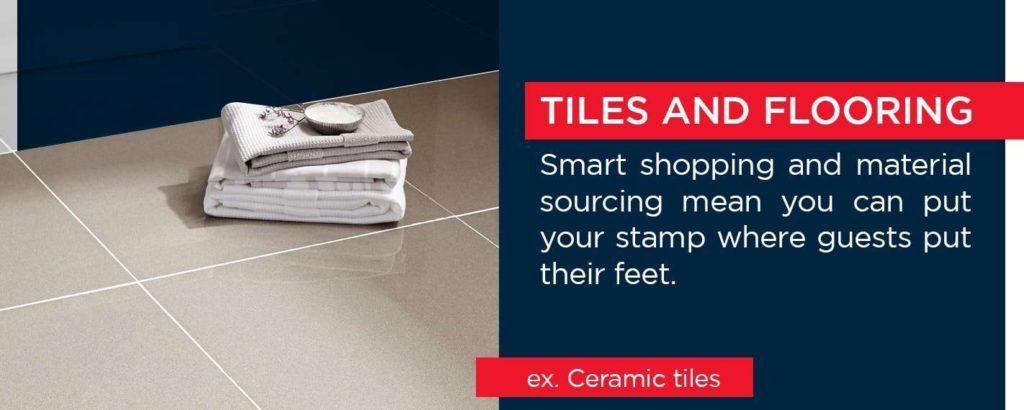 Flooring may seem out of the question for bathroom redesigns on a budget. Smart shopping and material sourcing mean you can put your stamp where guests put their feet, creating an opulent-looking bathroom from floor to ceiling.
Ceramic tiles: Source ceramic tiles for your renovation for as low as $1 per square foot. Ceramic tiles work especially great when redoing your business's bathroom with a vintage or antique aesthetic in mind. Think black and white penny tiles or even mosaic installations, making the floor the bathroom's focal feature. 
Slate: Slate flooring gives bathrooms a modern, sleek, luxurious appeal. Their dark hues and subtle saturations are available in both natural and engineered forms renovators can find for under $2 per square foot.
Travertine: Travertine is a type of limestone ranging in sandy golds to eggshell whites. You'll find travertine in many Spanish and Mediterranean-style designs, with basic tiles starting around $2 per square foot.
Dark wood vinyl: Wood and wood vinyl are gaining popularity in bathroom and kitchen renovations. Dark wood vinyl in particular balances a high-end bathroom atmosphere with a warm, classical natural touch. Most home improvement retailers sell wood vinyl varieties starting under $2 per square foot.
Vinyl tiles: For a genuinely cost-conscious commercial bathroom revamp, businesses can opt for vinyl tiles available in nearly endless colors and styles. The thickest vinyl tiles can even pass as real stone or wood boards, yet come at a fraction of the cost — from $1 to $6 per square foot. 
4. Amenities
Commercial bathroom amenities are essential to creating a luxury bathroom experience for your guests. Many include spa-inspired touches or elements found in high-end restaurants and hotels whose aim is to "wow" guests with each visit.
After all the work you've put into designing your commercial bathroom, these amenities add a finishing touch with both function and flair. Even more, you can accomplish each as a do-it-yourself project where you get to pick, put together and place the final product.
Individual hand towels: Choosing linens over paper hand towels will instantly boost the experience of your business's bathroom. You'll surprise and delight guests when they get to dry their hands with a fresh cotton towel instead of a harsh and environmentally unsustainable paper one. Just make sure to clearly label the shelves containing clean linens and the baskets or disposal areas containing used ones. 
Seating: Consider adding an armchair, bench or even a small sofa to your bathroom for guests waiting on friends and family.
Toiletry basket: Many high-end restaurants and establishments will include a small toiletry basket in their bathrooms for guests to refresh.
Breath mints: A basket of fresh breath mints is a small but memorable touch for guests as they leave the bathroom.
Statement art: More and more luxury bathroom designs today include statement art pieces, typically large paintings placed on countertops or hung on high-visibility bathroom walls. However, ornate mirrors, plant life and mosaic floor tiling can also become the focal point of your bathroom redesign, showing how much thought you put into the room's overall appearance. Be sure not to overwhelm the public with multiple clashing statement pieces!
Fireplace: Small electric fireplaces installed into bathroom corners can warm and enhance the entire space. You can find small units locally or online, with some as low as a few hundred dollars.
"Hotel" shelving: Hotel-style shelving is a functional and aesthetic addition to commercial bathroom walls. These shelves most commonly hold linen towels, though you can add artwork, plants or other decorations to shelving that costs as little as $20 to $100.
Separate stall and sink areas: This bathroom design amenity adds refinement and privacy to your restroom. You don't need a large bathroom area to achieve separate water closets, either. Consider creative bathroom partitions or even positioning toilet stalls themselves to help divide the two.
Music: Playing music in your bathroom is a final amenity that will influence and impress guests.
5. Bathroom Partitions
Bathroom partitions are a standard feature in commercial restrooms, most commonly lending privacy to toilets in the form of a toilet stall. Additional commercial partitions can help designate room areas, such as separating sinks and mirrors from toilet stalls.
While you can do many of the commercial bathroom renovations listed earlier at least partially by yourself, bathroom partitions do require professional assembly. Select from a partition company who can source, customize and install your bathroom fixtures, providing a smooth and complete partnership to upgrade your organization's washroom.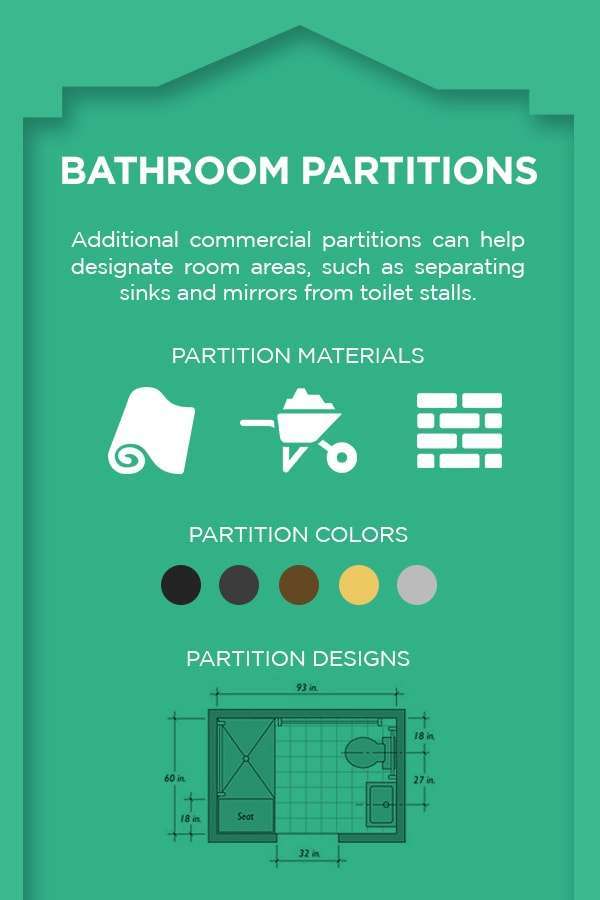 Partition Materials
There are five main materials for custom commercial bathroom partitions:
Partition Colors
One Point Partitions can customize toilet and washroom partitions in more than 50 colors.
From bold, bright single hues that'll make any room more vibrant to subtle, elegant or refined marble-veined partitions, some of the most common color schemes for high-end commercial bathrooms we see are:
Partition Designs
You can design custom bathroom partitions ahead of time in our free online design tool, which allows businesses to plan partitions and renovated stalls to scale, mimicking their bathroom's actual layout.
Your business can design partitions in several configurations, each maximizing space, providing proper traffic flows and maintaining ADA compliance.
Redo Your Commercial Bathroom on a Budget and in Style With One Point Partitions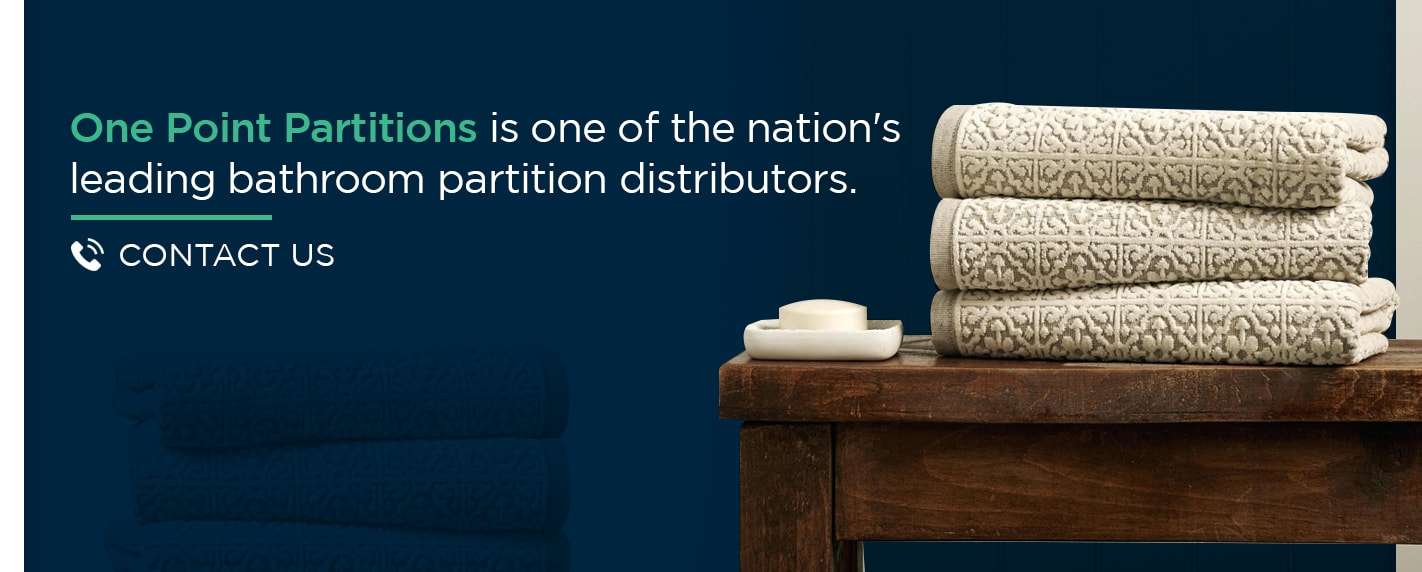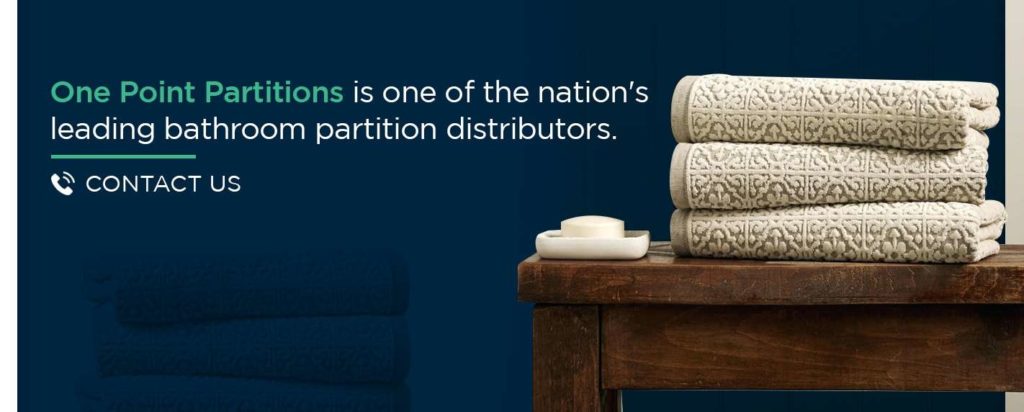 You have a bathroom that requires a facelift — and a business that requires smart spending and keen budget maintenance.
One Point Partitions is one of the nation's leading bathroom partition distributors. Our process can help guide you through the design, layout and installation of quality custom stalls for your guests' luxury bathroom experience.
Contact One Point Partitions to greenlight your next commercial bathroom redesign today.